The Covid-19 pandemic, as well as having had a dramatic impact on car usage, is also reinforcing the bond between British drivers and their cars, new RAC research reveals.
The nationwide lockdown restrictions first imposed in March unsurprisingly led to a marked decline in traffic levels. But the 2020 Report on Motoring has found that motorists are now more reliant on their vehicles than in the past – largely due to concerns about the safety of public transport and a lack of adequate alternatives.
READ: Coverage of this story in The Guardian, The Scotsman and Mailonline.
Car use drops in wake of pandemic – but only for some drivers
Almost half (49%) of the UK's 40 million drivers report that their vehicle usage has declined in the past 12 months – by way of comparison, only 21% of motorists said their usage had fallen in 2019.
Three-quarters (75%) of those say that Covid-19 is the main reason that they are driving less, with a further 18% citing the pandemic as a contributory factor. But interestingly, a third are using their vehicles just as much as last year and 17% are using them more.
Clearly, the rise in the number of people who started working from home rather than commuting to an office or other workplace since March played a significant role in the drop in car use.
But the figures suggest that the switch to homeworking could, in a limited number of cases, become permanent: while 67% say they typically travelled to and from work by car pre-Covid-19, 64% expect to do so in the future.
At the same time, while 18% of car owners said they normally worked from home prior to the pandemic, 24% expect to do so even as we emerge from the crisis.
And more than a third (36%) of motorists believe they will work from home more frequently – even if not all the time – in the post-pandemic world.
Nonetheless, for many motorists, working from home is not an option – which could help explain why car use levels are unchanged for a third of them (33%).
It should also be noted that the Report on Motoring research was carried out before the re-opening of schools in September – a development that is likely to have led to a rise in vehicle use for many families.
Indeed, statistics from the Department for Transport suggest that car use started to return to normal levels from the start of September, while separate RAC Insurance data shows a marked rise in morning traffic between 8am and 9am, as a result of the return of the school run.
Meanwhile, most motorists (55%) do not expect their car use to change as the UK comes out of the pandemic. Of the 22% who expect to use their vehicles more, the main reasons are for leisure (83%) and commuting (50%).
Having access to a car has become more important
Only 31% of motorists say they have become more dependent on their cars in the past 12 months compared with 35% in 2019 – a figure that should not come as a surprise given this year's movement restrictions.
But despite this decrease in dependency, drivers say that having access to a vehicle has become crucial: 57% of motorists say that having access to a car is more important given the pandemic than in it was before.
To underpin this finding, the majority of motorists (52%) say they will use public transport less in future as a result of the pandemic – and the potential for tightly packed buses and train carriages to increase the spread of infection.
Meanwhile, for the first time since 2002 fewer than half of drivers (43%) say they would use their cars less if public transport was improved – down sharply from 57% in 2019.
While drivers were asked to consider their use of public transport in non-pandemic times, the coronavirus has likely had a significant impact on how drivers answered.
Nonetheless, taken at face value, the declining appeal of public transport seemingly represents a seismic shift compared to recent years, and suggests drivers are more wedded to their cars than they have been for a long time.
Government data also supports this, with public transport use still lagging far behind motor vehicle use in terms of recovering to pre-lockdown levels. Over the longer term, the number of bus journeys taken in England has fallen.
The challenge for central and local government and public transport operators to win back widespread confidence and patronage, thereby returning usage to pre pandemic levels, is starkly revealed .

Theo De Pencier, Non-executive director, Transport Focus
It is also the case that more drivers (79%) say they would find it 'very difficult' to adjust to life without a car (73% in 2019).
While the most common reasons, like last year, are being able to carry heavy items (68%) and staying connected (59%), more than half (54%) say this is because they see cars as a safer form of transport during the Covid-19 pandemic.
Fewer drivers say they cycle regularly in 2020 compared to last year – just over a fifth (22%) do so at least once a month, down from 30% in 2019.
Given that only 3% said they cycled to work before the pandemic it is unlikely that the 'working from home' factor alone is responsible for this drop. The proportion using public transport this often has also fallen from 43% to 31%.
It seems counterintuitive that drivers are less inclined to cycle in 2020 than they were last year, despite the fact that roads have emptied during lockdown. Perhaps the UK's quiet roads have had the effect of encouraging those who can drive to simply get behind the wheel even more to take advantage of relatively congestion-free journeys, rather than see their car sitting on the driveway gathering dust.

Graeme Paton, transport correspondent, The Times
Cost pressures ease – but not for all
As car usage dropped during the Covid-19 lockdown, the cost of fuel is understandably less of a concern for motorists in 2020. More than a third of drivers (36%) say their overall fuel expenditure has dropped this year – only 5% said the same in 2019.
While the cost of fuel dropped to lows not seen since 2016, the majority of drivers weren't able to take advantage of these low prices due to the coronavirus movement restrictions. Even as the lockdown was eased, prices haven't rebounded to levels seen at the beginning of the year.
Indeed, only 6% of drivers say their top driving concern in 2020 is the cost of filling up, down from 12% last year.
Nonetheless, three in every 10 motorists report that their spending on fuel has risen this year – with high-mileage drivers, those who clock up more than 10,000 miles a year, most likely to say this.
Meanwhile, 13% (up from 9%) say their insurance premiums have fallen in the past 12 months. This could at least partly reflect the decision by some insurers to offer partial refunds to policyholders based on their usage reduction during lockdown in the spring. This is also reflected by the Association of British Insurers' motor insurance premium tracker, which shows the average cost of fully comprehensive cover fell during the summer of 2020.
It's encouraging to see car dependency has fallen this year and that walking has replaced shorter journeys for many people. But in order to lock in this reduction and its benefits as we begin to travel around again, the Government must urgently address the perception of public transport and do more to encourage people out of their cars. To do this, there need to be policy and fiscal measures to improve public transport, alongside actively promoting and incentivising more sustainable forms of transport, particularly in the post-Covid era.

Darren Shirley, Chief executive, Campaign for Better Transport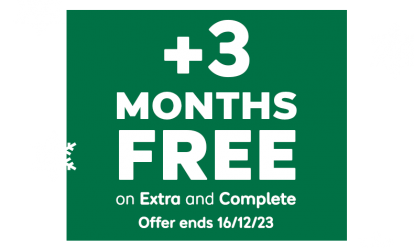 With 12 months of cover, new customers get an extra 3 months for free*.
*Added after 12 months, excludes Basic cover. New customers only. Ends 16/12/23, 7am