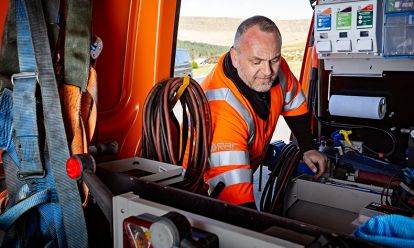 You can get covered in our half price sale from just £5.75 a month.* We're the UK's best breakdown cover provider as voted for by Auto Express drivers 2021.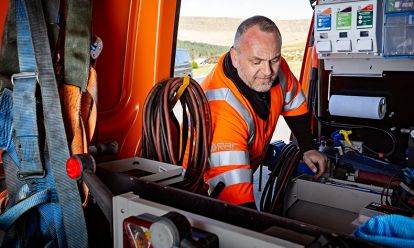 BY ANDY ENRIGHT
Introduction
Volkswagen took a long time bringing their Touran mini-MPV to market but when it arrived it was received as a job well done. Available in either five or seven-seat guises, the car was as well engineered as you'd expect from Volkswagen and was powered by a wide range of competent engines. If lacking a little in styling flair, the Touran certainly couldn't be accused of skimping on space and versatility. It's still probably the most competently screwed together and solid feeling of any mini-MPV and scores high on the sensible scale. Used examples are now starting to appear and they make a sound bet for the longer term buyer.
Models
Models Covered:
(5dr mini-MPV 1.4TSI, 1.6, 1.6 FSI, 2.0 FSI petrol, 1.9, 2.0 TDI diesel [S, SE, Sport])
History
There's a story, probably apocryphal, that Volkswagen's designers were already well advanced in their assault on the mini-MPV market when Vauxhall launched the seven seat Zafira in 1999. Suddenly Volkswagen's five seat offering looked a little inadequate and the designers went back to the drawing board. Fast forward to 2003 and Volkswagen at last had an entrant in the lucrative mini-MPV sector in the rather generic shape of the Touran. Why the wait?
Surely it doesn't take four years to bring a car from the design stage to production, even one as well thought out as the Touran? Those intervening years saw a huge growth in the mini-MPV sector, with Citroen, Vauxhall and Renault largely carving the spoils up between them, Volkswagen and, surprisingly, Ford having nothing to offer. There is, however, a sound technical reason why Volkswagen was so late to the party.
With an entirely new platform designed for the 2004 model year Volkswagen Golf, the top brass in Wolfsburg felt it wasn't cost effective to build a stopgap mini-MPV based on the 'old' Golf chassis. Instead, they reasoned, it was better to bide their time until this superior set of running gear was available. The Touran was the second car in the Volkswagen Group to adopt a chassis that adopts a sophisticated independent rear suspension system. This is said to offer superior comfort and better handling, minimising the lurching body roll that can afflict some mini-MPVs. An entry-level TDI 90 diesel engine was introduced in the winter of 2004 and a 168bhp 2.0-litre TDI followed in 2006.
The next landmark in the Touran's lifecycle was a big one. The 2006 facelift addressed criticism that VW's MPV was a touch frumpy with a significant restyle to the front and rear. This made the car look lower and altogether more dynamic and the interior too was refreshed. At the same time, the 1.4-litre TSI petrol engine was introduced with its turbocharged and supercharged technology. The 1.6-litre and 2.0-litre FSI units were ditched at this point.
What You Get
Slip inside and it has the same quiet feel good factor of all contemporary Volkswagen products. The build quality is superb and the ergonomics first rate. Three trim levels are available, S, SE and Sport, and every version gets a six-speed gearbox with the option of a six-speed automatic. The diesels are also available with the revolutionary twin-clutch DSG gearbox, as seen in the Audi TT 3.2 V6.
But what of the seats? You can't bring a mini-MPV to market these days without having some sort of new seating stunt for shiny-suited salesmen to demonstrate. The Touran has more than one up its sleeve, offering the most practical interior seen since the launch of the groundbreaking Zafira.
Available in standard five or seven seat guise, the Touran's seating system is certainly flexible. The rearmost pair of seats, whilst only really suitable for kiddies, can fold flat into the floor which means that for most of the time you'll have an easily accessible and spacious luggage bay. You can even fold the middle seat of the middle row, making a four seater that can transport long items like skis with supreme ease. All three of the middle seats slide backwards and forwards on separate runners.
Quick release levers take care of seat removal and it's good to see seats that don't weigh a tonne. With 39 separate storage areas around the cabin, you may need to make a mental checklist of what you left where. Included in that number are under seat trays to keep valuables out of sight, three fold-down roof mounted cubbies, a rear under floor bin and more cup holders than the Real Madrid trophy room. Pockets in all four doors can accept a litre bottle and there are the usual MPV accoutrements such as seat backs that double as tables and aircraft -style fold down trays. Access to the rearmost set of seats is refreshingly easy due to the thoughtful way the middle row flips and slides forward.
What You Pay
Refer to Car & Driving for an exact up-to-date valuation section. Click here and we will email it to you.
What to Look For
Although Volkswagen's reliability record has come under increasing scrutiny of late, the Touran seems to stand up very well. As with any mini-MPV, check the load area for damage and the rear seats for kiddie devastation but otherwise there's little to look out for mechanically. Check that the front tyres show an even wear pattern and that the car hasn't suffered any parking knocks and that the wheels haven't been kerbed beyond salvation.
The Touran has cultivated a mature image that deters leaden footed drivers but do look out for cars which have been used as ex-airport taxis or fleet motorway floggers. Pay close attention to odometer readings and look for the usual signs of intergalactic mileages. Otherwise a used Touran is a sound purchase.
Replacement Parts
(approx based on a 2004 Touran 1.6 ex Vat). A clutch assembly will be around £170 and a new alternator should be close to £130. Brake pads front and rear are about £45 and £40 respectively. A replacement headlamp is close to £145.
On the Road
Four engines are available, three of them familiar fare. The first is the 100bhp 1.6-litre petrol unit that represents the entry-level option. A 115bhp direct-injection 1.6-litre FSI engine (from £15,630) represents the rather modest pinnacle of the petrol powered bunch although many buyers will be tempted by the broadly similarly priced TDi 100 diesel engine. Offering a decent slug of mid range power, 159g/km CO2 emissions and fuel economy that nudges 48mpg, this is likely to be the favourite of private and corporate buyers alike. Should you be tempted by a little more clout when you acquaint pedal with metal, Volkswagen can offer an all-new TDI 136 2.0-litre turbodiesel.
It's certainly a good deal quicker than the 100bhp engine, reaching 60mph in 10.4 seconds, but it retails at around £3,000 more which is a lot of money in this price sensitive market sector, the SE model opening at £18,410. The reason why budget mini-MPVs have sold so well and the more premium products such as the Honda Stream and the Chrysler PT Cruiser have struggled is that the mini-MPV is often viewed as a grudge purchase, one that has been forced upon the buyer by the onset of children, and one which is often viewed as an overhead rather than a covetable good.
Overall
If you want both quality and quantity and don't mind paying the requisite premium, the Touran is a wise choice. Don't expect any huge bargains as these cars are in big demand but choose wisely and you should land yourself a tough car which is future proofed for many years to come.