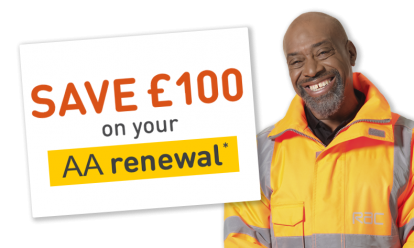 Save £100 on your AA renewal when you switch to a 24 month RAC Breakdown Cover plan. Join the UK's best breakdown provider as voted by Auto Express drivers 2021.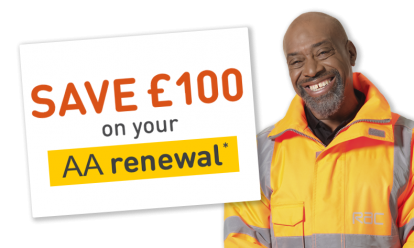 By Andy Enright
Introduction
Building goods that people need ought to be a fairly straightforward procedure. When it comes to cars, identify how people use their vehicles, how they want to use vehicles and build product to fit. Honda did exactly that with the CR-V. Despite huge commercial success, many sniped that the CR-V marked the suburbanisation of Honda, that a company once known for its radical and extreme engineering, for taking big risks and making headlines had somehow gone soft and middle-aged.
Of course, it's not really true. Honda just became better attuned to the needs of its customers, realising that the sharpest-handling SUV was less of a draw than the SUV with the best crash protection, the slickest seating system, the best ride quality and the best record for reliability. The fourth generation CR-V debuted in early 2013 and here we run the rue over whether a used one makes the grade.
Models
5dr compact 4x4 (2.0 petrol, 1.6, 2.2 diesel [S, S-T, SE, SE-T, SR, EX, Black Edition, White Edition])
History
The CR-V is a car that has stayed true to its original concept. It is, was and has always been a vehicle that offers safe and cost-effective family transport, 4x4-styling cues, a raised ride height and no real off-road ability to speak of. Back in 1997, it was a cool alternative to the usual family hatchback, something that spoke of a rugged outdoorsiness. While the ubiquity of SUVs now means they're more associated with the school run than clambering an Alp, the CR-V has seen the market swing towards it and away from models with low-range gearboxes, knobbly tyres and body control more associated with a bulk freight carrier in a Biscay gale.
The second generation model of 2002 barely deviated from this formula and neither did the third generation car of 2006. That model was a bit odd-looking, especially at the rear end, so sharpening the styling, building in added practicality and improving the perceived quality of the interior were all priorities for the fourth generation model which was announced in 2012 and which started arriving in UK dealers at the start of 2013. Where the original had six or seven rivals to counter, this latest car has thirty so it's inevitable that its market share has been diluted. Honda added the Black Edition and its sister vehicle the White Edition in February 2014.
What You Get
Honda has really concentrated on improving the utility of the fourth generation CR-V. Even in the four-wheel drive models, the floor is completely flat. Headroom in the back has also been improved, with the rear passenger's hip point being lowered by 38mm. Big windows make the rear feel airy and access is excellent. In fact, the length and height of the car have been reduced by 5mm and 30mm respectively compared with the previous model, without reducing the interior space at all. So it's even bigger inside, yet is easier to park.
It also has one of the cleverest seat folding mechanisms around. Not only do the seats fold flat, but in order to do that, you just pull a little fabric handle, the seat base tumbles forward, the seat back dips down and the rear headrest tuck in snugly. Even with the rear seats in place, there's a cavernous 589-litres of space, so there really is room for five and their luggage in the CR-V. Drop these rear seats and within seconds you have 1,146-litres at your disposal. The load length has been increased by 140mm to 1570mm, while the height of the load lip has been reduced by 25mm to make it easier to load heavy or awkward items. The boot of the CR-V can now accommodate two mountain bikes or four sets of golf clubs.So what do you get if you just want a basic S specification model? Quite a bit actually, although even at this end of the range, it needs to impress in order not to be mauled by its increasingly impressive Korean rivals. There's 17-inch alloy wheels, dual zone climate control, cruise control, height and lumbar adjustable driver's seat, an auxiliary and USB connection for the stereo, a multi-function steering wheel, that brilliant One-Motion rear seat folding mechanism and heated door mirrors. As you ascend the range you'll find gear such as a power tailgate, HDD satellite navigation, leather seats and a panoramic glass roof.
Safety is very well taken care of with even the entry-level cars getting a whole host of kit including vehicle stability assist, trailer stability assist, hill start assist, hill descent control and the usual roster of airbag and clever braking technology. It's only the top two trims in the range that offer the option of a camera and radar system that brings into play adaptive cruise control, collision mitigation braking and lane keeping assist.
What You Pay
Please contact us for an exact up-to-date valuation.
What to Look For
Honda's CR-V has racked up an impressive reliability record. Very few of these vehicles will have been driven off-road but there may be a few rogue examples out there. To be sure, check the underside of the car for knocks and scrapes. Make sure there's life in the clutch and that the tyres are in good condition and check for tired front dampers on diesels. The interiors look to have proven tough thus far. Honda's reliability record looks set to carry on being a target that many other car manufacturers benchmark.
Replacement Parts
(approx based on a 2014 CR-V 2.0 SE) A headlamp unit for your CR-V will cost you around £275. A radiator retails for £180, whilst an alternator is £300 and a replacement starter motor will cost £240. Front brake pads are £60 a pair whilst an exhaust system costs £470. A replacement catalyst is £450.
On the Road
You get a choice of either petrol or diesel power. The usual rules apply that if you're a higher mileage driver, the diesels work out more cost effectively, but there's something to be said for all powerplants as an owner proposition. The petrol engine is a 155PS i-VTEC unit and like the majority of Honda petrol engines, it responds best if you put a few revs on the board. Okay, a lot of revs on the board. It's certainly willing and quite good fun to zing up and down the very good six-speed manual box although we have to wonder if it would be quite so appealing when the car's fully loaded and you're attempting to nurse it up a snowy incline. If you do go for this petrol engine, you then have another decision to make. It's whether to go for a front-wheel drive budget model or the four-wheel drive variant. In normal driving, you probably won't notice any difference.
The four-wheel drive CR-V sends all of its power to the front wheels when you're driving on road and there's no need to mess about with extra gear levers or buttons. It does all the thinking for you, diverting drive to the rear wheels only when it feels that the fonts might have a little too much to do. Honda believes that the majority of CR-Vs sold will continue to be all-wheel drive models and with a run of bad winters behind us, it's easy to see why. The hydraulically activated "dual-pump" system of the third generation CR-V has here been replaced by an electronically activated system that provides a faster response when a loss of traction is detected. It also reduces weight by 17 per cent and minimizes internal friction by 59 per cent.
The front-wheel drive model is 60kg lighter which helps it just pip the all-wheel drive petrol model to 62mph, registering 10 seconds flat as opposed to 10.2 seconds while both cars will run out of puff at a respectable 118mph. You can only buy the front-wheel drive model in conjunction with the six-speed manual 'box, but to be honest, the five-speed auto is a bit of a weak link so that's no great hardship. Most will probably opt for the improved torque and economy of diesel power and here you get a choice between a front-wheel drive 120PS 1.6 i-DTEC diesel or the punchier 2.2-litre i-DTEC diesel engine. The bigger unit is paired with an all-wheel drive chassis, which might be just as well given that this engine generates a hefty 350Nm of torque compared to the petrol powerplant's 192Nm. It gets to 62mph in a respectable 9.7 seconds. Peak power is rated at 150PS, which is far from class-leading. Yes, this engine has been tweaked to improve its emissions but this 2.2-litre powerplant has been around a good while. By comparison, something like a 2.0-litre diesel BMW X3 is good for 185PS and betters this Honda unit in virtually every regard. But that's the essential nature of the Honda's compromise. You can take virtually any aspect of its make-up and find a competitor that does better. But when you look at its performance as a whole, it's still a vehicle that will generate big sales.
Honda's development team undertook a test programme on European roads to improve the CR-V's ride quality without compromising its car-like handling or high-speed stability. We'd have to say that the ride is firmer than we expected, despite a claimed 10 per cent increase in the damper rates all round. It's not crashy but it lets you know what the road surface is doing all the time. The flipside of this is that body control is very good for a relatively tall vehicle. If you've got kids who are often made a bit queasy by the low frequency pitch and roll of most SUVs, the slightly busier ride quality but flatter comportment of this CR-V might be a solution.
Care has also been taken to achieve a significant reduction in the engine and road noise entering the cabin. Sound insulation material has been applied to the floorpan below the passenger compartment, while sound absorption material has been fitted to the rear door, rear wheel arches, door frames, front bulkhead and bonnet. The doors also feature a double seal. The net result is a 3dB reduction in cabin noise compared to the previous model but you'll still notice a bit of tyre noise, especially on concrete motorway sections.
Overall
The Honda CR-V is a car that speaks for itself. If you've decided you want an SUV, there isn't another vehicle in its class that makes ownership less stressful. You like an easy life? Here's your wheels. No, it's not the last word in style, but then target market buyers for this CR-V are comfortable with that. Were we shopping for a CR-V, we'd probably do without all-wheel drive and save money on a front-wheel drive car, with a little budget set aside for winter tyres. A 1.6-litre diesel is probably the prime pick, but it's hard to go wrong with any model in the range. Recommended.