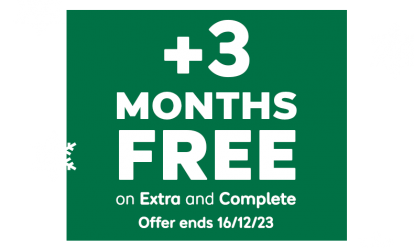 With 12 months of cover, new customers get an extra 3 months for free*.
*Added after 12 months, excludes Basic cover. New customers only. Ends 16/12/23, 7am.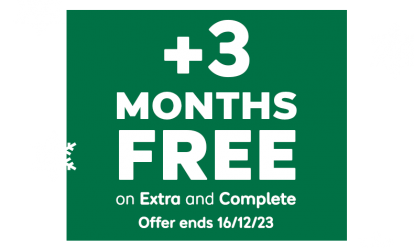 By Jonathan Crouch
Introduction
Volkswagen's Golf is the family hatchback against which all others are judged - and never more so than in this lighter, larger, quieter and more efficient seventh generation guise, where it proved to be cleverer and more usable than ever before. If you're shopping for a secondhand example, you might be asking yourself why you should buy one. But perhaps the more pertinent question is whether there's really any reason why you shouldn't.
Models
3 & 5DR HATCH, ESTATE (1.2,1.4,2.0 PETROL / 1.6, 2.0 TDI DIESEL)
History
Volkswagen's modern era 'Peoples' Car', the Golf family hatchback, has been bought by an awful lot of people. Launched back in 1974 to replace the iconic Beetle, it was the car that saved the company through 29 million sales and six generations that by 2013, brought us to this MK7 model.
At launch, this was the first truly new Golf we'd seen since just after the turn of the century, the previous sixth generation version having been merely a light re-skin of the old MK5 model. And it arrived at a time when the marque needed to step up its game. Volkswagen's in-house Skoda and SEAT brands were offering Golf technology for less, the South Korean competition was improving and more familiar mainstream family hatch rivals were adding premium quality and technology that, in the words of their marketeers, made them 'more Golf-like'.
But, as Volkswagen has always argued, there's no substitute for the definitive article - and this, we're told, is exactly it. Stiffer, plusher, safer, smarter, more efficient and higher-tech than its predecessor, the MK7 Golf model's goals lay far beyond simply being better than a Focus or an Astra. This car aimed to move above that, aspiring to appeal to buyers who might be considering premium-badged compact hatches from brands like BMW, Audi or Mercedes. Not everyone bought into that and predictably, throughout its lifetime, the Golf MK7 sold to people who wanted a nicer version of something Focus or Astra-sized. Volkswagen substantially upgraded this design in early 2017, but it's the original version of this generation model that we evaluate here as a secondhand buy.
What You Get
Design-wise, virtually everything seventh generation model changed but in many ways, virtually nothing was different. The same thick rear C-pillar and near vertical tail. The same sharp crease line above the flanks. The same horizontally-barred grille. Look more closely though and important differences begin to emerge. In MK7 guise, this car is 56mm longer and 13mm wider than its predecessor, the idea being to create more interior space. And it was also lower to create a more dynamic stance. The front wheels were moved further forward too, reducing the front overhang, visually lengthening the V-shaped bonnet and moving the passenger compartment a little towards the rear. The result is a gym-toned look that's particularly nice at the side, with the C-pillar design supposed to resemble the drawn string of a bow, giving the Golf a look of acceleration even when it's standing still. Overall then, a confident, assertive piece of design.
But it's under the skin where the biggest changes took place, with the adoption of new MQB (or 'Modular Transverse Matrix') underpinnings that helped to shave 100kgs off the weight of this car. And made it possible for the longer wheelbase that facilitates the larger cabin that Volkswagen was determined this 7th generation Golf should have. You notice it most at the back, where there's 15mm more rear legroom than was provided by the MK6 Golf, despite the front seats of the seventh generation model being moved further back to better suit taller drivers. Shoulder and elbow-room are both improved too and headroom's quite adequate, despite this generation design's reduction in exterior roof height. As usual in this class, three adults would be a little squashed across the back seat but a trio of kids will be quite happy.
In the boot, there's more space for luggage too, the cargo bay 30-litres larger than it was in the previous model, at 380-litres - that's 10% bigger than an Astra and 20% bigger than a Focus. The designers made this area easier to use too, with probably the lowest loading sill height in the class, a wider hatch aperture and a wider base on the dual-height luggage floor. Fold the 60/40 split rear seats down and you get useful 1270 litres - again one of the bigger spaces in the class.
And behind the thinner multi-function steering wheel? Well, nobody does it better than this. It isn't that it feels especially plush - though the quality of materials used is excellent - and far better, incidentally, in this Wolfsburg-constructed Golf than Volkswagen's similarly priced but Mexican-built compact Jetta saloon. It's just that everything is of just the right quality and feels absolutely fit for purpose. The carpet that lines the storage boxes so that your keys don't scrape around on the move. The upholstered material used for the upper section of the dashboard that's lovely to the touch. The central armrest that adjusts for length and five stages of height. The way the gearbox lever has been raised so that it sits more comfortably in your hand. And the option of a 2Zone climate control system that can even adjust itself according to the direction of the sun. Original owners could make the interior feel even nicer by specifying acoustic lighting and contrasting colours for the lower parts of the dash and the doors.
For Golf regulars, the biggest change with the MK7 model will be the adoption of the centrally-placed 5.8-inch colour infotainment touch screen that was supplied as standard across the range and which you can control by swiping your finger across its surface as you do on a smart 'phone. In basic form, it allows you to control audio and Bluetooth 'phone functions, but further up the range, it can display anything from 3D navigation to speed limit signs as you pass them.
What You Pay
Please fill in the form here for an exact up-to-date information.
What to Look For
Most Golf MK7 owners we surveyed were very happy with their cars, but inevitably, there have been those who have had problems you'll want to look out for. One owner reported squeaky noises coming from the suspension over speed humps. Another noted that his steering wheel made a slightly wheezy noise when going round bends slowly. There were reports of the boot juddering when closing. And fuel caps that were difficult to open, making re-fuelling a struggle. One owner reported vibration from the door cards at the front and the rear. And another reckoned that his infotainment system was choosing not to function in very cold weather - and at times, was choosing to control itself.
As for mechanical stuff, well we came across one owner who'd had a clutch go after just 4,600 miles - but that's very unusual. Another experienced faulty injectors. And another experienced a power failure related to his DSG auto gearbox. Also look out for smearing wipers, problems with the cabin air blowers and a rattle from the gearbox over speed humps.
Replacement Parts
(approx based on a 2013 1.6 TDI) An air filter will be priced in the £13 to £20 bracket, an oil filter will sit in the £5 to £10 bracket and a fuel flier will cost in the £9 to £20 bracket, though a pricier brand could cost you up to £35. A radiator will likely cost between £95 and £115. The brake discs we came across sat in the £50 to £70 bracket, with pricier-branded discs costing between £80 and £135. Brake pads are in the £18 to £30 bracket for a set but for pricier brands, you could pay up to nearly £80. A drive belt is around £12, though go for a pricier brand and you could pay as much as £60 for one. A timing belt is around £60, though go for a pricier brand and you could pay as much as £110 for one. Wiper blades cost around £8, though go for a pricier brand and you could pay as much as £30 for them. Tyres sit in the £35 to £40 bracket.
On the Road
Effortlessly rapid. That's how we'd sum up this Golf to drive. Often, you don't actually think you're going that fast when you're out on the road with it, but such is its combination of stability, poise and control that you find journey times shrinking rapidly. We'll get to that in a minute but right up front, we'll tell you about the first thing that we noticed behind the wheel - perhaps the first thing you'll notice. The refinement.
The previous MK6 version was already a class leader in this respect, but that wasn't good enough for the folk in Wolfsburg. Adopting the all-new MQB platform that this car shares with its SEAT Leon, Skoda Octavia and Audi A3 group stablemates gave them a chance to create a substantially stiffer structure. And a stiffer structure is a less creaky one. Add in the cleverer engine and suspension mounts that are part of it, the extra attention to engine installation and the sound-deadening acoustic windscreen and you can begin to understand just why after using this car, a drive in an ordinary mainstream Focus-class family hatch seems so noisy.
Even the humblest diesel variant, the 105PS 1.6 TDI which is the British best selling Golf variant, is far quieter than its direct predecessor was. Otherwise, the engine's not much different - the main development work on it went into creating an eco-conscious 110PS BlueMotion variant. Still, in either form, it's a unit that's acceptably rapid for its modest station in life, with 62mph from rest in the ordinary version occupying 10.7s on the way to 109mph, with 250Nm of torque to zip you through the five-speed gearbox.
It certainly seems to have a bit more about it than the lower-order petrol variants can manage. We'd avoid the least powerful of these, the 85PS 1.2-litre TSI, which doesn't really have enough about it to properly exercise this Volkswagen's lithe responses and shift along 1.2 tonnes of Golf. The 105PS version of this engine is better, improving the rest to 62mph time from 11.9 to 10.2s and raising the maximum speed from 111 to 119mph. Alternatively, there's a 122PS 1.4-litre TSI variant which delivers the sprint benchmark in 9.3s and manages 126mph.
All of this represents the most affordable segment of a Golf model line-up that in MK7 form was effectively split into two halves by the engineering decision to adopt two quite different rear suspension set-ups across the range. MK5 and MK6 generation Golfs were always distinguished by their sophisticated multi-link rear suspension set-up that provided such an exemplary ride and handling balance. With this MK7 model, the Wolfsburg bean counters decreed that only variants with more than 120PS could have it.
If you were to get straight from a pokier Golf into a lower order one and drive over a particularly poor surface, you'd certainly notice the difference. And the same would be true if you tried both and threw them around on your favourite country road. But at least in this latter respect, compensation is provided for buyers of lower-order models in the form of the standard fitment across the range of the XDS electronic differential lock system that was originally developed for the MK6 generation Golf GTI. Like a rival Ford Focus's Torque Vectoring system, it lightly brakes the inside front wheel through tight bends, sharpening turn-in and ensuring that all the power gets onto the tarmac. And it works, with sharp incisive corner turn-in and well controlled bodyroll helped by the lighter kerb weight that both make this car a rapid cross-country tool if you need it to be.
In other words, there's the basis here for a very enjoyable driver's car indeed, even if the electric power steering isn't quite as rich in feedback as that of a Focus. And you can develop things further with all manner of electronical trickery. Beyond the entry-level trim level, most models feature what Volkswagen calls 'driver profile selection' - essentially the same as Audi's 'drive select' system. Here, four available programmes - 'Eco', 'Sport', 'Normal' and 'Individual' - alter the throttle mapping and engine management to suit your chosen driving style. Add the optional ACC Adaptive Chassis Control system, which enables you to tweak the suspension to suit the road and your mood, and there's a fifth 'Comfort' mode.
In truth, you'll need one of the pokier engines - and hence the inclusive more capable multi-link rear suspension set-up that goes with them - to really be able to enjoy all of this dynamic potential to the full. The majority of British buyers will gravitate towards the 150PS 2.0 TDI diesel which uses an elastic 320Nm of torque to deliver 62mph from rest in 8.6s on the way to 131mph. And there's a 184PS version of this unit in the GTD model if that's not quick enough. Arguably a better bet though is a Golf variant that most customers probably won't even consider - but surely ought to: the petrol-powered 1.4 TSI ACT, or 'Active Cylinder Technology' model. Pokey mid-range petrol Golfs have always been hi-tech: the previous range employed one that used both turbocharging and supercharging at the same time. But this ACT variant is cleverer still with the ability to run on only two of its four cylinders at low to mid-range throttle. Plonk down your right foot though and its performance stats are almost identical to the 2.0 TDI. If it's performance you want though, it's a Golf GTI you'll be drawn to. In MK7 model guise, the 2.0 TSI engine managed 220PS - with a 10PS upgrade if buyers wanted it.
Overall
In the words of a previous Volkswagen Group Chairman, the only mistake a Golf can really make is to stop being a Golf, a failing you could never level at this seventh generation model. All the reasons you might want to buy one are satisfied here. It looks like a Golf and functions with all the quality you'd expect from the Western hemisphere's most recognised and most desired family hatch. This is what happens when all the resources of Europe's leading auto maker are focused n creating the definitive expression of conventional family motoring.
True, it could be more exciting in its more affordable forms and you certainly wouldn't call it inexpensive in comparison with mainstream models in this segment. But then, this isn't a mainstream model any more, as good in every meaningful respect as the premium compact hatch models from the fancy brands that are much pricier. It is, in short, a Golf made good. Which, if you're shopping in this sector, makes it very desirable indeed.