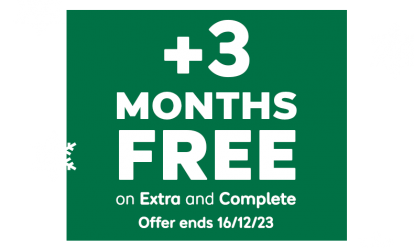 With 12 months of cover, new customers get an extra 3 months for free*.
*Added after 12 months, excludes Basic cover. New customers only. Ends 16/12/23, 7am.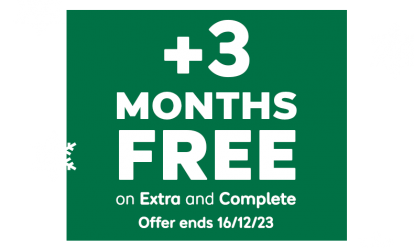 By Jonathan Crouch
Introduction
Most modern commercial vehicles are in many ways pretty car-like these days. But what about a really large one? This second generation Vauxhall Movano design pre-dates the period where LCV engineering became more sophisticated, but in 2019, it was brought up to date with a few welcome tech touches. It all meant that this van remained a strong contender in the LCV segment for large-sized LCVs - until this generation design was retired in 2021. How does it stack up in this form as a used buy?
Models
Medium-sized van (2.3 CDTi diesel)
History
If size really matters, then you need a van that's really big. And this one is. But Vauxhall's second generation Movano had more than just sheer size on its side, especially in the late-production form we're looking at here. This updated version was launched in late 2019 and was better equipped to take on the biggest guns in the large panel van class.
Vauxhall has a long history of producing vans that British businesses like, one dating all the way back to 1931, though back then, the brand's LCVs carried Bedford badges. Since that time, through the HA and CA models that sold in their thousands right to more modern Combo and Vivaro vans, the Luton brand has continued to be a major player in the commercial vehicle market. In the early part of this century, that was accomplished through a product-sharing agreement with the Renault Nissan Alliance that brought us both the first generation 'Movano A' version of this model (launched in 1998 and usefully updated in 2003). And the original version of this subsequent MK2 'Movano B' design, first introduced in 2010.
Following the acquisition of the Opel and Vauxhall brands from General Motors in 2017 by the French PSA Group, it was decided that all future Vauxhall vans would be based on Peugeots and Citroens - indeed by 2019, the Luton maker's smaller Combo and Vivaro vans already were. But Movano model line didn't make that move until 2021, so to sustain it in the 2019-2021 period, this MK2 Movano design continued to mirror that of a Renault Master and a Nissan NV400.
Back in 2019, those last two LCVs had just been updated, so this Vauxhall could be too, which in this case meant a light facelift, fresh safety and infotainment equipment and some updates to the 2.3-litre diesel engine range which improved running cost efficiency and extended the service intervals. As before, there were front, rear and AWD drivetrain options, plus a vast range of body style, payload and load capacity choices. Let's check this 2019-2021-era Movano out as a used buy.
What You Get
This improved Movano gained a family face that brings in more into line with the other LCVs in Vauxhall's portfolio. Chromed wings were added to the large front grille either side of an even larger Griffin badge and they flow outwards into the daytime running lights incorporated within the large vertical headlamps.
Inside the cab, you get the kind of satisfyingly commanding view of the road ahead that you'd want from a large segment LCV of this type. In some areas, by 2019 the cabin design was starting to feel its age (the fact that there's no steering wheel reach-adjustment for instance), but efforts were made with this revised model to try bring things a little more up to date wherever possible. There was a smarter steering wheel and a revised instrument binnacle but perhaps the key change was the addition of a 'Multimedia Navi Pro' infotainment system with a 7-inch centre-dash screen. Along with GPS mapping, this delivers the smartphone-mirroring functionality you'd want if you were planning to use your Movano as a mobile office.
The optional desk top that folds out of the middle seat backrest (which was optional on lower-spec variants from new) will help if that's the case. It's a three-seater cab of course, which in this case sees plenty of centre-space width but rather restricted knee room thanks to the central storage area, one of no fewer than 22 separate compartments provided around the cab for stowage of your odds and ends. The biggest of these is an optional compartment that most models have beneath the two passenger seat bases.
Right, let's look at the practicalities of running this Movano. Operators will be choosing between four body lengths - L1, the L2 model, L3 and L4: and three roof heights - H1, the H2 variant and H3. That means a wide range of cargo capacity choices - anything from 7.8 cu.m and 2,583mm of load space length in the base L1 H1 variant, right up to 17.0 cu.m and 4,383mm of load space length in the very biggest L4 H3 model, which can swallow up to four euro pallets. With the mid-range L2 H2 body shape, there's a 10.8 cu.m cargo capacity and 3,083mm of floor length. Interior cargo bay roof height varies between 1,700 and 2,144mm, depending on the roof option you've selected and whether you've gone for front or rear wheel drive. All models feature a load area width of 1,765mm - which narrows to 1,380mm between the wheel arches.
There are four 'GVW' Gross Vehicle Weight options offered to Movano operators - 2.8, 3.3, 3.5 or 4.5 tonnes. And the possible payloads can be as much as 2,100kgs but of course that again will vary according to your choice of variant. A typical L2 H2 model can take up to 1,529kgs. As for running costs, well updates to this model's 2.3-litre CDTi BiTurbo diesel engine made a big difference to running costs. The 150PS version of this unit became 17% more frugal (the WLTP combined cycle fuel reading in period was 48.0mpg); and 14% cleaner (the NEDC-rated CO2 reading was 154g/km). With a typical L3 H3 150PS Movano model, Vauxhall reckoned at the time that this would save an operator £303 over a four year / 80,000 mile operating period. And further savings would be accrued through the fact that servicing intervals were extended to every 25,000 miles - or every two years, whichever comes first. Plus of course it'll count greatly in this Movano's favour that the Griffin brand has one of the widest van-specialist dealer networks in the industry.
What You Pay
Please fill in the form here for an exact up-to-date information.
What to Look For
These vans are pretty tough, but there are a few things you'll need to look out for. It's the usual advice with large LCVs to buy on condition rather than year and look for a van that has tended to have performed lightweight delivery duties rather than consistently butting up against its payload limits. We've heard reports of gearbox faults: listen hard for whining noises on your test drive. In terms of recalls, most relate to issues early in this Movano B model's production life. On older models like the ones we're looking at here, there've been a few issues with the electrics, so make sure that all the connectivity works properly - Bluetooth-linking and so on. Check for load bay scuffs and scratches. And insist on a fully stamped-up service history.
Replacement Parts
(approx based on a Movano 2.3 dCi 163hp - 2019)
Air filters are around £23-£41. Oil filters are around £8-£22. A fuel filter is around £30. Front brake pads are around £39-£54; rears are about £28-£50. Front brake discs cost in the £98-£150 bracket. Rear brake discs are typically in the £83-£138 bracket. Wiper blades are around £12-£16. Headlamps sit in the £197 bracket. A tail lamp sits in the £155 bracket.
On the Road
As part of the 2019 update, the engine range still used the same 2.3-litre CDTi diesel engine but for this updated model, this long-running powerplant featured quite a few improvements in the 'Light-duty homologated' form that was fitted to all front-driven variants. There were three different power outputs, rated at 135, 150 and 180PS, the most powerful variant available with the option of the brand's semi-auto manual automated 'TechShift' 6-speed clutch-less transmission. Every version of this Euro 6d-TEMP engine was a BiTurbo unit and all variants of it featured a new cylinder head, a new cylinder block, an improved variable turbo with an integrated exhaust manifold and, as standard, the brand's ecoFLEX stop start system. As a result, efficiency was usefully improved. Rear-driven variants didn't do quite as well, partly because they continued with the older 'Heavy-duty homologated' version of this 2.3-litre powerplant, which offered 130, 145 and 165PS outputs.
On the move in this Vauxhall, you'll find that other competitors from this era are quieter at speed but this LCV feels very planted on the highway, helped by the standard fitment of a 'Side-wind assistant' to guard against crosswinds. In town, the smooth ride can get unsettled by poorer surfaces but this Movano feels admirably easy to manoeuvre for such a large vehicle, aided by light steering, a relatively tight turning circle and nice touches like the wide-angle mirror fitted to the inside of the passenger sun visor that allows the driver to see if anything - or anyone (a cyclist for instance) - is in the vehicle's nearside blind spot.
Overall
This 2019 update proved that there was still life left in the second generation 'Movano B' design that by then had been on sale for nearly a decade. It certainly isn't the most sophisticated large van you could choose from this period, but we have a feeling that the things it lacks may not be of over-riding importance for many business buyers. These people prioritise space, efficiency and sensible pricing. And they'll value the support of the kind of huge dealer support network that Vauxhall can offer.
As for the changes that were made here, well they couldn't mask the basic age of this design. But the improvement package was quite well judged, giving the Movano a significantly more up-to-date feel in terms of its infotainment and safety provision. Plus the servicing interval increase was well received by operators. Otherwise, things remained much as they were. Amongst this vehicle's large van rivals from this period, few others can offer quite such a wide range of body style, conversion or load capacity options. But of course you could say much the same of this van's Renault Master and Nissan NV400 LCV clones. Whether you'd want a Movano rather than either of those models will likely come down to the deal you're offered and the proximity of your local dealer.
That fact didn't alter much with this update. But this Movano's competitiveness in comparison to the class leaders in the large LCV segment did. On the used market, It still needs to be significantly more affordable to be a preferential pick over a Crafter, a Sprinter or even a big Transit. But it might very well be. And if it is, from the 2019-2021 period, you might just be looking at the most sensible choice in the class right here.