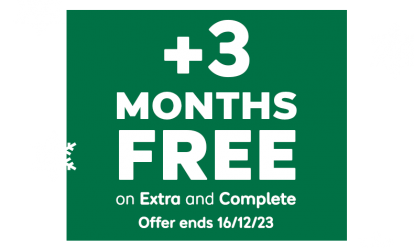 With 12 months of cover, new customers get an extra 3 months for free*.
*Added after 12 months, excludes Basic cover. New customers only. Ends 16/12/23, 7am.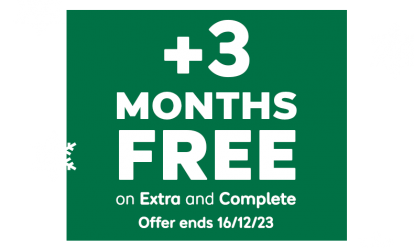 By Jonathan Crouch
Introduction
With their third generation Combo, Vauxhall finally delivered us a really space-efficient compact van, with both short and long wheelbase bodystyles that together aimed to satisfy almost every buyer in this segment. With frugal running costs, smart design and unbeaten practicality from this Fiat Doblo-based design, it's everything a small LCV from this era should be.
Models
Compact van (1.3, 1.6, 2.0 CDTi diesel)
History
It was Vauxhall who originally came up with the idea of taking a small car platform, then building a properly shaped loadspace cube upon it. Thanks the company's Combo van for that, which originated in its first two generations of life based on a Corsa supermini. That chassis was somewhat restrictive in terms of total space, so for the third generation Combo van, launched in 2011, Vauxhall/Opel borrowed the platform from a Fiat Doblo cargo. The resulting design was offered in both short and long wheelbase form to please both cityvan and compact van customers. It sold until 2018, when a fourth generation PSA Group design was launched.
What You Get
This third generation Combo has a very different look to its predecessors. Of course it does you might think: it's a significantly bigger vehicle. True enough, but looking over the smart but practical shape, you're still left with the nagging feeling that there's nothing especially Vauxhall-like about this design, aside from the huge Griffin logo on the front grille. Maybe though that too is much as you would expect were you to be made aware that this is essentially a Vauxhall version of Fiat's Doblo Cargo from this era. Like its Italian design stablemate, this model's front end is dominated by a huge pair of clear glass headlamps, here incorporating daytime running lights. It's all very smartly done. Our only issue is a practical one: that placing directional indicators in the large door mirrors is going to make them much pricier to replace when, inevitably, you bash one on a tight city street.
The Fiat design influence is even more keenly felt inside. Aside from the Vauxhall steering wheel, nearly all of the switchgear and instrumentation is Fiat-sourced. Which these days is no bad thing, all the knobs and buttons seeming to be of decent quality and falling easily to hand. The piano black finish around the stereo may well scratch easily though.
It's certainly a practical cabin with a large lockable glove box, several cubbies in the dash and large door pockets with enough room for half-litre bottles and A4 clipboards. Go for a better trimmed or a high roof model and there's overhead storage as well. As expected, it's all very car-like. Ahead of you, there's a steering wheel that adjusts for both reach and rake. And you sit very comfortably, especially if you've got the plush Comfort seat with its height and lumbar adjustment as well as a built-in armrest. A place to do business.
For potential Combo buyers, the practical facts make compulsive reading. No other rival from this era can better this Vauxhall's maximum potential carriage capacity of up to 4.2m3. And none has a longer wheelbase, a bigger potential payload, a bigger rear axle load, a longer maximum load length or a higher maximum load height.
As a buyer, you choose between three main bodyshapes. The 'L1' short wheelbase model standard roof model with its 3.4m3 capacity. The same vehicle with the higher 'H2' roof height that raises load volume to 4.0m3. And the 'L2' long wheelbase low roof model that can offer up to 4.2m3. Rivals like Ford's Transit Connect and Citroen's Berlingo from this era must use extra-cost and inconvenient fold-flat front passenger seat arrangements to even approach these kinds of figures.
So it all sounds good on paper. But how will it be in practice? Well first impressions at the business end are good. Most operators will want a version fitted with asymmetrically-split rear doors. Pull them back and you'll find an opening large enough to deal with most of what you'll need to carry, with a rear door width of 1,231mm and a rear door height of 1,250mm (or 1,455mm in the high roof version). Getting heavy stuff in shouldn't be too difficult either, thanks to a relatively low 545mm loading lip height made possible by the compact Bi-link suspension.
Once your load is inside, you'll find a cargo bay width of 1,714mm, which narrows to 1,230mm between the wheel arches. Easily enough to slide in the usual Europallet. The height of the load area is 1305mm in a standard roof model, but it can be as much as 1,550mm in the high roof 'H2' variant. The load bay length in the standard model is 1,820mm. For long wheelbase Combo models, load length is up to 2,170mm.
If all of this space encourages you to carry heftier items, then you'll be glad to hear that this generation Combo can carry heavy payloads - anything between 750 and 1,000kgs, depending on the model you choose. Most buyers will want to get a model with a sliding side door. This gives you an aperture width if 700mm and an aperture height of 1,175mm.
What You Pay
Please fill in the form here for an exact up-to-date information.
What to Look For
These vans are pretty tough, but there are a few things you'll need to look out for. It's the usual advice with small vans to buy on condition rather than year and look for a van that has tended to have performed lightweight delivery duties rather than consistently butting up against its payload limits. In our ownership survey, we came across a Royal Mail mechanic who'd worked on countless fleets running Combo vans alongside Fiat Doblo vans and Ford Transit Connect LCVs. He felt the Vauxhall was easily the most reliable of the trio, though one buyer in our ownership survey had starting problems.
Replacement Parts
(approx based on a Combo 1.3 CDTi - 2015)
Air filters are around £9-314. Oil filters are around £10-£20. Front brake pads are around £23-£40. Front brake discs are typically £50-£60, but you can pay £90-£125 for pricier brands. Front brake callipers are around £180. Wiper blades are around £7-£20. A tail lamp is around £50. A radiator is around £90. A starter motor is in the £82-£98 bracket, though you could pay up to £188 for pricier brands. A thermostat is around £90. A clutch kit is in the £82-£130 bracket.
On the Road
These days, van drivers are well used to a car-like response from LCVs, especially small ones. That doesn't necessarily mean an enjoyable driving experience though , but this third generation Combo did quite well here thanks to an independent Bi-link suspension system clever enough to provide supple ride comfort, yet firm enough to resist bodyroll and support heavy loads.
The all-diesel engine line-up certainly seems effective on paper. At entry-level, there's the 90PS 1.3-litre CDTi unit, with 200Nm of pulling power, torquey enough to work well for van buyers shopping at the small end of the spectrum. Those looking for something Berlingo or Kangoo-sized though, will be more likely to want the 105PS 1.6-litre CDTi variant. This gives you nearly 50% more torque to play with, enabling the braked trailer load capacity to rise from 1,000 to 1,300kgs. And you can access that pulling power via a six, rather than a five-speed gearbox.
Urban operators might not like the idea of having to use any kind of gearbox, so for them Vauxhall offered a 'Tecshift' semi-automatic version of the 1.6-litre diesel Combo. The penalty for being able to rest your left foot is that the transmission has only five speeds and power drops to 90PS. But is power really an important issue in a van of this kind? If you think it is, then you'll be target market for the most powerful engine ever offered in a Combo back in 2011, a 2.0-litre 135PS CDTi unit putting out a hefty 320Nm of torque from way low in the rev range, just 1,500rpm.
Whichever variant you choose, you'll find that the driving position pretty good, with the steeply raked windscreen and low bonnet combining to give great visibility. Couple that with big panoramic door mirrors and the result is a van you can be confident about driving even the most congested city streets where the light steering facilitates a tight turning circle, 11.2m in the short wheelbase version and 12.5m for the long wheelbase model. Go for the smaller variant and it's naturally a bit easier to park than the longer one but either way, we'd want a Combo whose original owner specified the optional parking sensors. Bear in mind the downside of opting for the high roof body though: the 2,100mm roof height will give you an issue in some multi-storey carparks.
So it's good around town. But then the Combo always was. It's on longer trips that this third generation version is such a huge step forward from what went before. It isn't only the decent ride and the better body control. No, refinement is really the first thing you notice. Copious amounts of sound proofing, a well insulated full-height bulkhead and a wind-cheating shape all combine to make this a vehicle you could cheerfully cover very long distances in. Were engine refinement to be just a little better, the result would be even more impressive. As it is, the slightly clattery note at start-up settles down quite acceptably once you get up to speed. Ultimately, probably the biggest compliment you can really pay this Vauxhall is that at times, it's easy to forget you're driving a van.
Overall
You won't see this model making too many headlines, but the reality is that it's one of the impressive vehicles that the brand made in the 21st century's second decade. Quietly concentrating on the things that really matter to operators, to many it'll be invisible, just one of those fixtures of the urban environment that blend into the background. But then, sometimes the very best designs have the very lowest impact. What's important is that this Combo does more than enough to be spotted by the people who count. People who'll find this Vauxhall difficult to ignore in their search for a compact van. Job done.