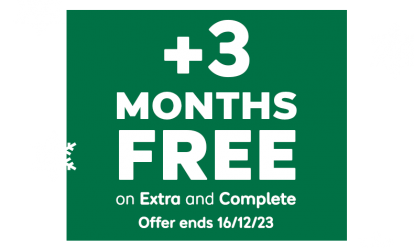 With 12 months of cover, new customers get an extra 3 months for free*.
*Added after 12 months, excludes Basic cover. New customers only. Ends 16/12/23, 7am.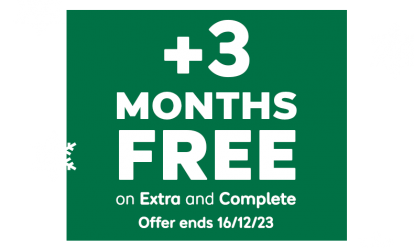 By Jonathan Crouch
Introduction
Toyota couldn't afford for their third generation Yaris to be an also-ran in the supermini segment. So in 2014, they fundamentally revised it, with smarter looks, extra equipment and much greater refinement and efficiency. The idea was to broaden this model's appeal, seek a younger audience and convince buyers that when it comes to comfort, quality and a little bit of spirit in this sector, the Yaris could fit the bill. Let's check this car out as a used buy.
Models
3dr/5dr (1.0, 1.33, 1.5 Hybrid / 1.4 D-4D diesel)
History
These days, a supermini must be more than sensible, practical, well-built and efficient. Buyers now take those sorts of things for granted and look instead for fashion, flair, innovation and technology. Back in 2014, Toyota hoped they'd be looking for something like this, the much improved version of their third generation Yaris.
The original version of this model launched in 2011 was a good car, but there simply weren't enough reasons to buy mainstream versions when rivals offered more striking looks, more engaging design and a more dynamic driving experience. That was a problem, given this Yaris' importance in accounting for over a quarter of all the company's total European sales. Toyota, the first Japanese brand to produce a supermini specifically designed for European buyers, had allowed itself to lose sight of what those buyers really wanted.
So heads rolled, tables were thumped and full responsibility for immediate remedial action taken away from Japan and passed to the maker's Product Development team in Brussels and Design Studio near Nice. The resulting facelift took an almost unprecedented level of effort, with over £70 million invested, around 1,000 new parts re-engineered and 576,000 man hours spent in developing this updated model, launched in the Summer of 2014.
The resulting sharper-looking MK3 design claimed to offer everything the trendiest small car seeker could want, from Google mapping to hybrid power. At the same time, aware that traditional older buyers might not want to Facebook their friends on the way to eat designer sushi, Toyota also prioritised their needs in making this car feel plusher, quieter and better built. Some things didn't change of course. This remained one of the largest, most practical choices buyers of the time could make in the supermini segment and a range of engine updates also made it one of the more efficient options too.
This car sold until the Spring of 2017, when it was replaced by another facelifted model featuring a new 1.5-litre engine.
What You Get
Though it's a long time since the Yaris has been seen as in any way youthful and extrovert, creating that kind of feel was the objective with the 2014 facelift of this third generation design. Hip without being hip replacement? Perhaps that's a little cruel, but you get the idea. With this update, the styling influence clearly came from the second generation Aygo citycar, with the X-shaped frontal graphic giving this supermini a far sharper and assertive look. Europeans like that. The headlights featured projector technology for high and low beams, while the clusters incorporated the option of LED daytime running lights. The lower grille was emphasised by a so-called 'floating' spoiler and aimed to draw attention to the more ground-hugging stance.
In profile, owners of the earlier MK3 Yaris model might notice some of the detail changes made to this one, like door mirrors with an optional folding function and updated 15 and 16-inch alloy wheel designs. The door belt moulding was revised too, there to emphasise the high, sharp waistline that better defines the angular body. At the back, this revised model featured a smarter rear bumper and diffuser assembly which gave the rear end a more self-confident look, garnished with a neat set of LED light clusters that on plusher models, offer up their own distinct night time lighting signature.
So yes, the tinsel's quite tempting. What's important though, is that it clothes a supermini design that remained one of the largest and most practical in its segment, with over 65% of the car's length devoted to the cabin. There certainly aren't many more spacious cars in this segment when it comes to rear seat passenger space. True, you can't comfortably carry three adults for any real distance, but that's an unreasonable expectation in a car of this size. What's more important is that with kneeroom improved by the thin seatbacks, a couple of six footers are pretty well catered for - and of course, three children will be fine.
When we tested the original version of this third generation design, one of our slight disappointments was that the previous MK2 model's useful sliding rear bench hadn't been carried forward. But then that feature was mainly there to disguise the fact that the MK2 Yaris wasn't blessed with a very big boot. At its original launch, this MK3 car put that right, improving upon its predecessor's trunk size by over 25%, practicality that of course was replicated on this facelifted version, with 286-litres of luggage room on offer when you load to the windowline - or 347-litres if you load to the roof. Push forward the 60:40 split-folding rear seats and you'll find that they don't quite fold flat to the floor but nevertheless, a useful 768-litres of total space is freed up.
And at the wheel? Well, it's all a lot plusher and more interesting than was the case with earlier Yaris models. Well, a lot more interesting than the original version of this MK3 model was anyway. Prior to that car's introduction, all Yaris' used to have a centrally mounted instrument binnacle which had the advantage of creating something of a talking point, a feature then ditched when customer clinics told Toyota they didn't like it. That meant uniqueness with this third generation design had to come down to less innovative touches like the colour-co-ordination possible in some models whereby the smart, soft-touch strip running the length of the fascia could be colour-matched in bright 'Piri Piri red' against door panels and front seat upholstery inserts.
Adding that kind of package to a Yaris really didn't suit the character of the car and most original customers decided that it was better to simply go with trim quietly underlining the inviting nature of the cabin. The cheap glossy look that characterised early versions of this MK3 design was with this facelifted version replaced by classy grained textures, while the previous bright chrome trim made way for a more sophisticated satin finish. There were also smarter, more interesting seat trims and soft-touch materials were more prevalent, especially on the redesigned door panels. Plus raising the centre console made it possible to fit a shorter gear lever for snickity-snick changes.
Perhaps the most important cabin change with this revised model lay with the upgraded infotainment set-up on offer, the 'Toyota Touch 2' system. This larger, higher-resolution 7-inch colour screen works effectively, though it's a display that's still very difficult to read on a sunny day. Buyers could though, have it in 'MirrorLink'-ready form, which allowed connection of smartphones via standard Bluetooth connectivity and operation entirely by using the touchscreen. Toyota folk familiar with the brand's multimedia systems will find a comprehensive screen menu and a screen operable with the kind of 'drag-and-flick' use you'll be familiar with from your phone. The system incorporates a rear view camera, can send or receive text messages and some original buyers upgraded it to the 'Touch 2 with Go' status that includes full map navigation.
All these things apart, the interior wasn't changed much compared to the previous version of this car. Which meant that build quality from the French Pas-de-Calais factory was as strong as ever. And that the controls proved to be sensibly positioned and extremely easy to get to grips with. There's also plenty of interior storage space, though some of the ledges provided tend to deposit their contents onto you once you corner with any speed. The door bins are useful though, able to accommodate a decent sized drinks bottle with ease.
What You Pay
Please fill in the form here for an exact up-to-date information.
What to Look For
With our ownership survey, we found plenty of satisfied Yaris owners, but inevitably, there were a few issues. A rattling dash was reported by one owner. We also came across issues with creaking suspension and a clunking gearbox, while in one case, the centre console went blank occasionally. One owner had the misfortune to suffer a blown turbo on his 1.4 D-4D diesel model after 30,000 miles. And it's been reported that the 1.0-litre petrol engine occasionally suffers problems pulling from, low revs. Look out for all these things on the test drive and, as usual, prioritise models featuring a fully stamped-up service record.
Replacement Parts
(approx based on a 2015 Yaris 1.33 - Ex Vat) An air filter is priced in the £3 to £10 bracket and an oil filter also costs in the £3 to £10 bracket. Brake pads sit in the £15 to £35 bracket for a set; brake discs cost in the £30 bracket, though you could pay as much as £45 or even as much as £50 for pricier brands. Try not to damage the headlamps; a replacement unit costs around £105; a replacement rear lamp could cost the best part of £40. A water pump is around £30, but you could pay just over £100 for pricier brands. A radiator will cost around £160. A spark plug costs in the £8 to £25 bracket, while a shock absorber costs in the £40-£55 bracket, though you could pay £100 to £120 for pricier brands.
On the Road
With most facelifts, the driving dynamics are left well alone. Not here. With customers of earlier versions of this third generation model criticising refinement and handling response, Toyota acted decisively with this 2014 MK3 model facelift, stiffening the body, fitting revised torsion beam rear suspension, improving steering response, changing the springs and dampers for better body control, adding better soundproofing material and altering the aerodynamics to reduce wind noise.
So, does it all work? Well, it depends upon your expectations. Though the ride was improved, it still gets unsettled over rougher surfaces. And though the steering is a touch more feelsome than is the case with earlier MK3 models, it's still very light and better suited to metropolis rather than motorway use. Which is one of the main reasons why this car remains one of those you'd buy primarily to shoot to the shops and take on the odd motorway trip to the mother-in-law, rather than to speed around Silverstone. That's why there are no hard core hot hatch versions, no performance fireworks and little for the enthusiast to get too excited about when it comes to pin-sharp response at the wheel.
For this model's target market though, the good news is of far greater importance. Namely that the improvements made to refinement really were effective - to the point where this is one of the quietest superminis from this era it's possible to buy. The more rigid body certainly helps here but overall, the success is down to a whole range of detail changes - everything from a clever spoiler-shaped cowl at the base of the acoustic windscreen to redesigned door weather strips that improved sealing. The result is that if you are one of those supermini buyers likely to occasionally use your car to venture further afield, you'll find this particular Yaris a far pleasanter travelling companion than almost any other model from this era in this segment.
And under the bonnet? Well it's here that you'll find what is arguably the most important change to this improved third generation model. Or at least you will if you're a customer for the entry-level 1.0-litre petrol version, for it was fundamentally re-designed, primarily for better efficiency but also with a view to further cutting noise and vibration levels. Performance from this three cylinder unit though, remained leisurely. Stir the five-speed manual gearbox vigorously through its ratios and 62mph from rest can come and go in 15.3s en route to 96mph.
In practice though, we think you might find that even that kind of speed is a bit of a struggle in a 1.0-litre Yaris. Which is probably why most buyers chose the 100bhp 1.33-litre petrol four cylinder petrol variant, a car which improves its feebler stablemate's showing to 11.7s on the way to 109mph. That's as fast as most potential owners will probably want to go, but those seeking a little more pulling power might want to consider the 1.4-litre D-4D diesel version, which develops nearly twice as much torque but returns an almost identical set of performance figures.
Both these models get 6-speed manual gearbox, but for those selecting the petrol 1.33, there's also the option of finding an example that from new was fitted with Toyota's Multidrive S CVT auto transmission, which features a sequential seven-step mode that the driver can operate using either the gearshift lever or paddle shifts on the steering wheel. It'll suit town people perfectly, but then urban-friendliness characterises Yaris motoring right across the range thanks to features like the car's wide front three-quarter windows that give you great visibility at roundabouts. And its tight 4.7m turning circle and turn-on-a-sixpence manoeuvrability.
Particularly targeted at city folk is the most interesting, the most efficient and arguably the most desirable Yaris variant, the Hybrid model. It's driven by a Hybrid Synergy Drive system serviced by a 73bhp 1.5-litre petrol/electric powerplant and a bespoke version of the CVT auto gearbox. A selectable 'EV' electric-only setting is part of the package, but even with the batteries fully charged, it'll only take you just over a mile in milk float mode.
But to think in those terms is to miss the point of the Hybrid Yaris. The Synergy Drive system's cleverness lies in the way that on the move, it's always re-charging itself, even more so if you leave the auto gearbox lever in 'B' to maximise the energy that can be harvested from regenerative braking. The result is that in the stop/start urban traffic it's designed for, this car is nearly always ready to revert to total battery power. So much so in fact, that Toyota's 'real world' tests suggest that silent zero emissions driving, with the engine switched off, could account for up to 66% of a typical owner's average commuter journey length and 58% of the total journey time.
Overall
The facelift applied to this MK3 model Yaris in 2014 certainly gave the car a fresh lease of life. Of course, no matter how far you tweak the trimmings, it's hard to change any car's fundamental DNA and sure enough, under the trendier packaging, this supermini remained the smartly conservative choice it always was.
It's not the car you'll want in this segment if ultimately, your priority lies with a dynamic drive. To be frank though, we can't imagine too many potential used buyers being especially bothered by that. These people prioritise endearing looks over engaging handling and want a trusted brand that'll deliver them low running costs, a comfortable ownership experience and plenty of useful technology. All of which is on offer here. The difference though, with this improved post-2014 MK3 model Yaris is that it was all packaged so much better. Previous to the introduction of this revised model, it was hard to imagine many below retirement age really wanting one of these. In this form, this car's appeal proved to be far broader.
So, how to sum up? Well, there are doubtless more engaging chapters in the Yaris story still to be written, but what's important is that the updates made to this 2014-2017-era car put this third generation version back on track. Which makes it a decent used buy.