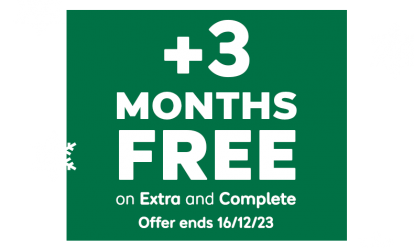 With 12 months of cover, new customers get an extra 3 months for free*.
*Added after 12 months, excludes Basic cover. New customers only. Ends 16/12/23, 7am.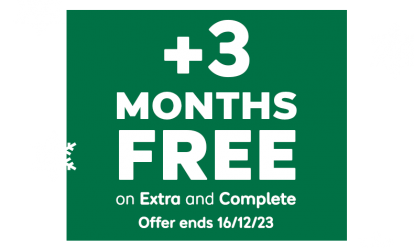 BY ANDY ENRIGHT
Introduction
The Toyota Land Cruiser Colorado's main rival, the Land Rover Discovery, has led a star-crossed existence. Initial poor reliability was cracked, only for the improved model to run head on into the challenge of the big Light Duty Series 'J90'-era Toyota. Guess which came off worst? The Colorado aimed to better the Discovery in off road ability, reliability and perceived quality and succeeded on all three counts. Despite this, the Colorado never managed to trump the Discovery in terms of British sales.
Perhaps buyers were unaware of the Colorado's qualities. As smaller brother to the Land Cruiser Amazon, public perception of the Colorado is as a 'lifestyle' accessory. This sells the Colorado short. In five-door guise it can seat eight and has a genuinely imposing presence. It's certainly large, but not impossibly so. With Toyota's reputation for reliability and after sales service, the Colorado should have been better received. As a used buy it definitely merits closer inspection.
Models
Models Covered:
3/5dr 4x4 3.0 diesel, 3.4 petrol [VX, GS, EX, GX]
History
In 1996, the launch of the 'J90'-series Land Cruiser Colorado was Toyota's answer to critics who thought the Japanese giant had lost its way with family SUVs. Toyota's engineers had concentrated not on generating meaningless 0-60 statistics, but on aspects which would give 'real-world' benefits. Aspects such as the torque available to crawl up steep slopes, the capacity to turn the eight seats into a double bed and so on.
It is just these benefits that endow the 'J90' Colorado 'Light Duty Series model with such massive kudos amongst those who know their off-road vehicles. Like its Nissan counterpart, the Patrol, the Landcruiser has never sold on its ability to impress at Harvey Nicks. It's badge may not carry much weight in high street beauty parades, but ask any outback rancher what brand he'd choose the answer is always the same. "A Cruiser, mate."
The Land Cruiser Colorado range was facelifted in 1999 with a redesigned front grille, bumper and headlamps. A new FX model was added to the range and standard trim levels were improved. Air conditioning and anti-lock brakes were offered on all models and the interiors received a sprucing.
What You Get
Only the best real world 4x4 bar none. If you intend to use a 4x4 to its design limits, none will be as hardy as a Land Cruiser. Despite its somewhat glitzy looking front-end treatment, the Colorado is a tough cookie. The best efforts of Solihull pale by comparison. Yes, the Colorado has the beating of Land Rover. Jeep Cherokee, Mitsubishi Shogun, Nissan Patrol, Mercedes M-class; bring them all on. The Land Cruiser will see them all off.
The model range sees nine versions spread across three trim levels - FX (replacing the previous EX), GX and VX - and two different body styles - three and five-doors. A better specified GX three-door range-starter replaces the previous three-door EX entry-level model.
GX and VX models have extended wheel arches, bigger bumpers and side cladding, with three spoke alloy wheels. The base model five door is the FX, identified by six spoke alloy wheels with narrower tyres. FX models feature a Sony radio cassette system as standard whilst the GX and VX models get an upmarket Sony item with ten-disc CD autochanger.
What You Pay
Please fill in the form here for an exact up-to-date information.
What to Look For
You probably won't be expecting to hear that the Land Cruiser has a reputation for mechanical fragility. Sure enough, it doesn't. Colorados carry forward Toyota's reputation for reliability and excellent after-sales service. As with any serious 4x4, check the underbody, suspension, steering and exhaust for signs of abuse, and listen for protesting differential units. Buying a Colorado for the school run is akin to using a wrecking ball to smash a nut, but where cars have been exposed to that dreaded combination of toddlers and Ribena, inspect upholstery for rips, stains or other nasties. Other than this, check for its service history and buy with confidence.
Replacement Parts
(Estimated prices, based on a 1998 3.4VX) Although the Land Cruiser is massively proportioned, parts prices thankfully don't correspond. A full exhaust system is in the region of £350 whilst brake pads will weigh in at around £50. An alternator is in the region of £170, as is a starter motor. A headlamp unit will cost around £130.
On the Road
There are several factors which bracket the Land Cruiser as a no-nonsense piece of equipment. Unlike most of the Japanese competition, the Land Cruiser Colorado's all-wheel drive system is permanent four-wheel drive - just like a Land Rover Discovery's. In fact, the Toyota's technical specification betters that of the Solihull product, thanks to a standard centre differential lock and the option of either a rear differential lock or a limited slip differential at the rear.
The engines are equally impressive. The 3.0-litre turbo diesel in particular, with 123bhp on tap, has significantly more power than either a Shogun or a Discovery (90bhp or 111bhp respectively). The engines are tuned for two key criuteria. First, low speed off roading torque; this engine will allow you to creep up a 45-degree slope. Second, pulling power between the gears; the overtaking increments where 4x4s are often so embarrassingly slow.
Sure enough, on the road, the turbo diesel feels far more responsive than the brochure figures would suggest, even equipped with optional automatic transmission. In fact, it isn't that much slower than the silky-smooth 3.4-litre 24v automatic-only petrol model, which makes rest to sixty in just under twelve seconds on the way to 109mph. This averages about 20mpg, around 5mpg less than its diesel counterpart.
Look around the car and there are plenty of thoughtful touches, if not the variety of storage spaces you'd find in a Discovery. The Toyota scores in every other department however; in the eight-seat five-door versions, there are three rows of seats which can all be folded together to make a double bed. In addition, there are front and rear power accessory sockets and some suitably leviathan cup holders.
Overall
A used Toyota is about as safe a proposition as it gets. A used 'J90' Light Duty Series Land Cruiser Colorado probably represents a safer bet fropm this era than any rival. It's a rather sad commentary that the Land Cruiser's honesty, lack of pretension and sheer depth of talent will turn off more customers than it attracts. It doesn't have the nouveau riche appeal of a Shogun or the old money charm of a Land Rover. Bar society won't embrace it as they would a Jeep. But in the end, who cares? When you're this good, you can afford a certain anonymity.