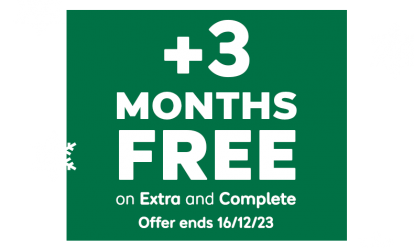 With 12 months of cover, new customers get an extra 3 months for free*.
*Added after 12 months, excludes Basic cover. New customers only. Ends 16/12/23, 7am.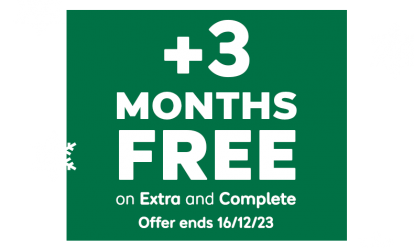 BY ANDY ENRIGHT
Introduction
At first glance, the Griffin mounted on the nose of the Vauxhall Monterey looks slightly incongruous mounted as it is aboard a shape best known in the UK as an Isuzu Trooper. Vauxhall's toe in the water of the 4x4 market came about as a result of their ownership of Isuzu, and followed the moderate success of Vauxhall's other Isuzu-sourced 4x4, the Frontera. Whilst the UK sales figures of the Monterey never looked particularly clever, picking up a used example could be a canny move. With lower prices and higher specifications than its Isuzu counterparts, the Monterey range offered conspicuously good value in a rugged, no-nonsense package.
Models
Models Covered:
3 dr/5dr 4x4 3.2 petrol 3.1 diesel [Diamond, LTD, RS]
History
Rewind back to 1994, when the 4x4 explosion was in full detonation. Having made respectable sales in the mid-range 4x4 market with the Frontera, Vauxhall was eyeing the success of the Land Rover Discovery with undisclosed envy. 'Doing a Frontera' with Isuzu's larger model, the two year old second generation Trooper, proved beyond General Motor's temptation and in May an instant full-sized off roader, the Monterey, suddenly appeared on Vauxhall's price lists.
Offered with a 3.2-litre petrol engine and a 3.1-litre turbo diesel unit, the Monterey was available in two body styles, a five door LTD version and a three-door RS variant. Pushing the Monterey brand further upmarket was the Diamond trim level, introduced in October 1994 and available solely in the five-door station wagon body style. Sales of the Monterey were modest to say the least, and the range soon started to be pruned back. The 3.2 RS three-door was first for the chop, being deleted in October 1995. In January 1997, the 3.1TD RS was shown the door, shortly after which the rest of the (now exclusively) five-door range received a revised tailgate, twin airbags and seat belt pretensioners.
Vauxhall carried on its cull, ruthlessly picking off the stragglers of the Monterey range one by one. The 3.1TD Diamond fell in August 1998, the 3.2 Diamond biting the bullet shortly afterward in October of the same year. The petrol and turbo diesel LTD versions were the last left standing until General Motors kicked the stool from beneath them in January 1999, effectively ending the Monterey and it's Trooper badge engineering exercise.
What You Get
To say that Isuzu's UK importers were unhappy about their only model being re-badged and sold as a Vauxhall is an understatement akin to Mr Ismay claiming the Titanic "appears to have some superficial flotation issues." Strangely enough, UK buyers, patriotic bunch that we are, ignored Luton's cheaper, better-equipped offering. Trooper sales were barely dented by the Monterey.
Unlike the Isuzu and its other main competitor, Land Rover's Discovery, the Monterey isn't available in bargain basement form. Instead, Vauxhall chose to concentrate on the upper end of the market, offering their car with large, torquey engines and lengthy specification lists.
Buyers choose between three and five-door bodystyles (dubbed `RS` and `LTD`) and select either V6 24valve 3.0-litre petrol-power or a lusty 3.1-litre turbo diesel unit. When new, pricing for the 5dr LTD turbo diesel was about £800 less than the top Isuzu Trooper (which did admittedly have air conditioning) and over £5,000 less than a Land Rover Discovery ES.
All Montereys have speed-sensitive power steering, anti-lock brakes, powered windows, electric sunroofs, central locking, alloy wheels and two-tone paint for the three-door `RS` models. Though hardly the stuff of farmers dreams, it's all essential kit for disillusioned Ford Granada owners. This was of course the target market, even if it was difficult to get anyone at Vauxhall to admit it. Large luxury 4x4s like this offer a great deal attitude than the apologetic mass-market saloon, even if they do carry the twin penalties of poor performance and indifferent fuel consumption.
You also get a whole lot of fresh air inside. In the long wheelbase five-door `LTD` Montereys, there's an interior huge enough to rival that of any Renault Espace or Toyota Previa. There are `captains` chairs with adjustable everything up front and behind them, two rows of forward facing rear seats; seven people can ride in comparative comfort.
What You Pay
Please fill in the form here for an exact up-to-date information.
What to Look For
Ever spotted how many roadside recovery companies use Isuzu Troopers as rescue vehicles? That should tell you something of the Monterey's ruggedness. A few niggles to report, but nothing too serious. The trim quality of many cars is suspect, so have a good look and don't be afraid to haggle for a better price if you find saggy seats and tatty headlining. Look also for faulty handbrakes and notchy gear changing.
The turbo diesel engine is a little agricultural but make sure all that black soot is normal and not a blown turbo. They cost a lot to replace, so get an expert to check it if you're worried. Service intervals for the diesel-engined Monterey are 5,000 miles, so check the service record carefully.
Check the differentials, gearbox and engine for oil-leaks and don't forget to engage the front-hubs to test the transmission in 4x4 mode. While you're underneath look for signs of off-road damage. Power steering systems have been known to leak, and try to check if the vehicle has been fitted with a tow bar, as excess towing can lead to worn suspension and transmission parts. Finally, when negotiating servicing costs, why not get a quote from both Isuzu and Vauxhall dealers? You may well find one quoting considerably less than the other.
Replacement Parts
(approx based on a 97 3.1 turbodiesel) A clutch assembly will be around £240 and shock absorbers front and rear are around £50 and £70 respectively while a new radiator is around £270.
Brake pads front and rear are about £65 and £60, respectively. A new tail lamp is around £50 and a replacement headlamp close to £170. Major and minor services are around £65 and £235 respectively, excluding VAT.
On the Road
You get lots of body roll and slow progress in every model bar the more car-like V6. Seven-seat versions are about but you'd have to be sure you could cope with a heavy load and a noisy, strained engine up hills. If you really need seven seats and don't need to go off road, an MPV might be more appropriate.
So, the Monterey is not really at its best as a family car. It's probably good enough for most people's needs in the mud, however. Most owners buy the car for its butch looks and maybe the occasional off-road day out - there's nothing like this to remind you just why you bought one in the first place. Like any big 4x4, try before you buy, as it may be a bit too uncivilised for your everyday needs.
Both engines are surprisingly refined at all but flat-out speeds, making it easy to appreciate the merits of the excellent Clarion stereo system. Still, you won't mistake it for a Mercedes S class, but it's better than you'd expect for a big 4x4. Another major selling point is the ride, supple yet absorbent, whether you're on grassy knolls or tarmac. Basically, it's as good as a bad executive car and for a vehicle of this size and ability, that's about as much as you can say.
Should you wish to venture onto the dirty stuff, then the conventional second gear lever offers you a choice of high and low 4WD ratios. The Isuzu Trooper's reputation in the rough guarantees that the big Vauxhall can hold its own with the best of them.
Overall
We're a funny bunch, us Brits. Backing the plucky Japanese underdog to the detriment of our domestic manufacturer, we bought the Isuzu Trooper and shunned the Vauxhall Monterey. Call it badge snobbery, warped loyalty or a sense of fair play, it nonetheless means that the few Montereys that are out there represent astounding value for the used buyer. Don't write the big Vauxhall off as a half-hearted 'me-too' effort. Years of development from Isuzu resulted in a credible Land Cruiser/Shogun rival, and the Monterey is the cleverest way to buy into this quality at a knock down price. The Vauxhall badge may not carry a great deal of prestige, but most used buyers would rather pocket the cash and have a quiet smile every time a Trooper comes the other way.