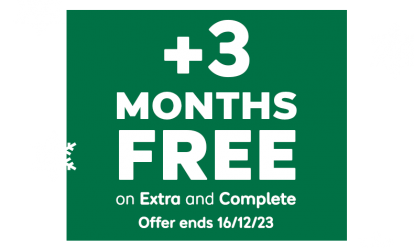 With 12 months of cover, new customers get an extra 3 months for free*.
*Added after 12 months, excludes Basic cover. New customers only. Ends 16/12/23, 7am.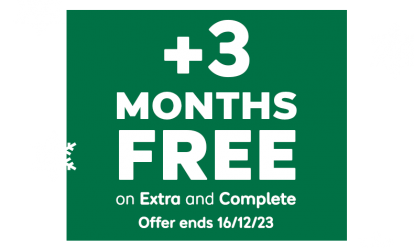 The 4WD mild hybrid version of Suzuki's little Ignis Crossover shows just how far this Japanese brand has come. Jonathan Crouch tries it.
Ten Second Review
Suzuki knows more about Crossovers than just about any other manufacturer. Here's its smallest one, the Ignis. It's a compact, affordable and very stylishly-formed way to make a statement in the city and cruise through the country. Let's try the top 4WD mild hybrid version.
Background
This Ignis features the same hi-tech 'TECT' platform that Suzuki uses in its Swift and Baleno supermini models and slots into the brand's line-up just below them and just above the company's Celerio citycar. There's sophistication promised beneath the bonnet too. Forget diesel power: Suzuki says you don't need it here because the provided 1.2-litre Dualjet petrol unit delivers comfortably over 60mpg in regular use, with carbon dioxide emissions around about the 100g/km mark, figures you can improve upon if you get the version of this powerplant that's bolstered by a clever mild hybrid system.
At the top of the range, there's also the option of Suzuki's ALLGRIP 4WD set-up, creating a small car with all-round winter traction that'll cost you thousands less than almost any other 4x4 alternative you might want to consider. And it's all packaged up with funky looks that if you like, you'll really love. So, should you be tempted by what's on offer here? Let's try the SHVS ALLGRIP model and find out.
Driving Experience
Light weight and compact exterior dimensions combine to make the Ignis ideally suited to town driving, its intended habitat. Right from the get-go, you feel confident at the wheel, thanks to the commanding driving position and excellent forward visibility that makes this little Suzuki easy to thread through tiny gaps in the traffic. Move beyond the city limits out on to the open road and the Ignis feels much less in its comfort zone, but if you can deal with the rather vague steering and the bodyroll you get at speed through tight bends, there's enough turn-in grip to make this car actually quite fun to punt about if you're in the mood to enjoy it. Some of the credit for this lies with this model's stiff, sophisticated 'TECT' platform that facilitates a feather-light kerb weight.
This in term means that a small, relatively low-powered engine is all that's necessary to punt this Ignis along at a decent lick, the unit in question in all models being a four cylinder 1.2-litre Dualjet petrol unit developing 90PS. At the top of the range, you can get a version of this powerplant featuring Suzuki's 'SHVS' mild hybrid technology. Here, an 'Integrated Starter Generator' works with a tiny lithium-ion battery to harvest kinetic energy when you brake and convert it into electrical energy that can power the engine stop-start system and give you a small energy boost as you accelerate. You have to have the 'SHVS' set-up if you want an Ignis fitted with Suzuki's on-demand 'ALLGRIP' 4WD system - which is what we tried.
Design and Build
Ever seen a small car quite like this? No, we haven't either. The idea is to strike a balance between retro and modern, while building in a selection of design cues drawn from Suzuki's brand heritage. The curious rear C-pillar slits and the unusually-shaped rear side window for example, both reference the company's famous SC100 'Whizzkid' model from the Seventies. Other influences are more subtle. The clamshell bonnet comes from the original Vitara; the blacked-out A and B-pillar design is inherited from the Swift; and the LED headlights? Well apparently, they were influenced by Johnny Depp's sunglasses. Yeah, well, whatever.
At the wheel, it's difficult to know what to expect after the eccentricities of the exterior bodywork. Perhaps inevitably, there isn't anything quite as weird and wacky on offer in the cabin, but the designers have done their best to carry on the individualistic theme where they could. In the back seat, this Ignis is actually capable of doing something you might have thought a citycar could never do: namely, seat two fully-sized adults in the rear in complete comfort behind two equally hefty folks up-front. Pushed right back using its full 165mm of travel, this seatbase provides for better legroom than you get in some Focus-sized family hatchbacks. There's also a reasonably-sized 260-litre boot you can extend by pushing this sliding bench forward.
Market and Model
We wouldn't blame you for wondering where the Ignis slotted into Suzuki's line-up: looking at the Japanese brand's increasingly broad range of small and compact little cars, we wondered too. Before trying to answer that question, here are the basic Ignis facts you need to know. The brand isn't bothering to offer the 1.0-litre Boosterjet petrol unit that's available in all its other compact models, so all Ignis variants are powered by a 1.2-litre 90PS Dualjet petrol powerplant and feature pricing running from around £10,500 to just under £14,000. Avoid entry-level trim and you'll have to option to pair this engine with 'AGS' semi-auto transmission for a further £800.
Two more really interesting options are offered if you can stretch to at least around £13,500 and join around 20% of Ignis buyers who'll want a top of the range 'SZ5' model like the one we tried. First is the option of an 'SHVS' version of this Dualjet engine which uses clever 'mild hybrid' technology. If you're happy to go with that, then another £1,000 will get you Suzuki's 'ALLGRIP' 4WD system too. Hence the price tag of just over £14,000 applied to the 1.2 Dualjet SHVS SZ5 ALLGRIP variant we tested.
Cost of Ownership
If efficiency is everything and you're an Ignis buyer, your Suzuki dealer is going to want to direct you towards the SHVS engine we tried, the mild hybrid version of this model's 90PS 1.2-litre Dualjet unit. The acronym stands for 'Smart Hybrid Vehicle by Suzuki' and designates this powerplant's status as what the brand calls a 'mild hybrid'. Here, an electric starter motor - Suzuki calls it an 'ISG' or 'Integrated Starter Generator' - assists the petrol engine in certain situations. The 'ISG' harvests kinetic energy when you brake and converts it into electrical energy that stops and starts the engine in heavy traffic and provides a mild extra power boost as you accelerate. There's a read-out in the instrument binnacle's digital display, telling you how long the stop/start system has been in operation on any given journey - though we're not really sure why you'd ever want to know that....
All this mild hybrid technology isn't enough to give you the short all-electric driving range you get in a full-hybrid vehicle - say, like the petrol/electric version of Toyota's Yaris. But it's enough to make quite a difference in terms of running cost efficiency. Expect returns of 60.1mpg on the combined cycle and 106g/km of CO2 for this ALLGRIP model. That's certainly way ahead of the returns you'd get in any other non-plug-in small 4x4 Crossover model we can think of.
Summary
What if you could buy a small, sensible little runabout but feel the same level of emotional involvement with it as you'd get from the kind of car you'd choose to spoil yourself - a sports roadster perhaps, or a convertible? That's the thinking behind this Ignis.
True, finding a bit more cash for an ordinary supermini might certainly get you a small hatch with a smoother quality of ride and a better finished interior. But it wouldn't get you a car guaranteed to make you feel good about yourself. Hard to put a price on that isn't it?