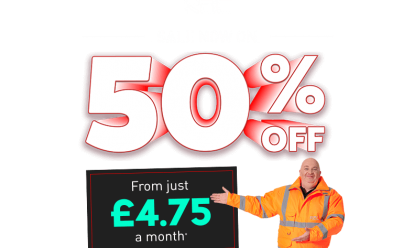 Get covered in our half price Breakdown Cover sale from just £4.75 a month.* We're the UK's best breakdown provider as voted by Auto Express drivers 2021.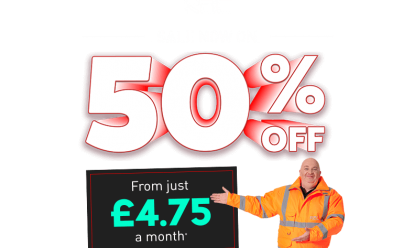 BY ANDY ENRIGHT
Introduction
Market niches don't get much smaller than that in which the Subaru Justy resides. You could spend all day trying to think of an equivalent supermini that offers full-time four-wheel drive and you'd still come up dry. It really is quite a baffling proposition. As something that's a little out of the ordinary, the Justy certainly fits the bill, but is its wackiness gratuitous or gratifying? This baby Subaru makes an interesting used buy and you can be sure it will guarantee exclusivity, if nothing else.
Models
Models Covered:
(3/5 dr hatchback 1.3 petrol [GX])
History
The Subaru Justy took over from a previous Justy model that harked back to Subaru's agricultural roots. The second generation car considered here is a far classier proposition. Launched in March 1996, the Justy was based on the Suzuki Swift, and was built alongside Suzuki's offering at a plant near Budapest in Hungary. The key difference between the two cars was that the Justy was equipped with a full-time four-wheel drive system. Just one engine and trim level is available, 1.3 GX, although it can be found in either three or five door body shapes. Inexplicably, the range was facelifted just five months after launch with a set of revised headlights, grille and bumpers. Twin airbags were also fitted. Subaru must have been proud of this nip and tuck, as the range went largely unchanged until its demise early in 2002.
What You Get
The justification for fitting four-wheel drive to such a small and modestly powered car is that it's merely an extension of Subaru's four-wheel drive brand values into the smallest car in their range. There seems no other objective way to warrant the inclusion of expensive and largely useless, four-wheel drive mechanicals into what is essentially a Suzuki Swift. Should you take small children to school on roads that may become awash with a thin film of slippery mud, then the Justy could well be the ideal car, but otherwise there are better and cheaper options.
If you are set on a Justy, what can you expect? Well, in contrast to the previous generation Justy, where 4WD was an 'on-demand' system (you pressed a red button in the middle of the gear lever), the later model is a full time 4x4. In fact, the drive is shared between all four wheels. If the road is dry, 90% of the power goes to the front wheels. However, a viscous coupling in the rear axle delivers power to those wheels with the most grip when things start to get slippery. Power steering is standard, as is side impact protection door beams, an anti-theft immobiliser and a driver's airbag. Other standard features include central locking, a stereo radio/cassette and electric mirrors. For family motoring, there are childproof door locks, twin cup holders and a load compartment cover.
Inside, it's pretty practical, with some pretty garish seat trim striking the only alternative note. Access to the rear is good, via a low loading lip and the back seat folds 50:50. Around the cabin, the emphasis is on convenience. Everywhere there are gentle curves and soft, if rather dull, materials intended to 'convey a sense of composure and security'. If you can operate a parking meter, then you won't have any problems with the Justy's switchgear - it isn't much more complicated. Items of note include a large lockable glovebox on top of the fascia for oddments, remote control hatchback and fuel filler release levers and childproof locks on the rear doors. Plus there's a standard three-year/60,000-mile warranty.
What You Pay
Please contact us for an exact up-to-date valuation.
What to Look For
Subaru doesn't excel in the J.D. Power/Top Gear customer satisfaction surveys without good reason. The cars are incredibly reliable, the dealer backup top notch and the three year/60,000 mile warranties are some of the most comprehensive around. A used Justy shouldn't be a problem unless it's apparent that it's been abused by subjecting it to off-road work. The little Subaru's ground clearance is minimal and anybody expecting to blaze a trail in the Justy will end up stuck. Worse, the car could be damaged, so have a good look at the exhaust, underbody, suspension and wheelarch liners if you suspect that the Justy you're looking at has attempted to follow a Land Rover somewhere muddy.
Replacement Parts
(approx based on a 1998 1.3) Certain items are reasonably cheap. A clutch assembly is in the region of £175, and brake pads are £50 a set. A radiator is an eminently reasonable £144, and a headlamp unit is cheaper than most major rivals at £150. As Saab specific items begin to appear, prices go up. A starter motor won't see change from £200, whilst an alternator represents the thick end of £400. Eye speed humps with suspicion, as an exhaust system, excluding catalytic converter, will be around £450.
On the Road
Drive the Subaru Justy and the Suzuki Swift upon which it is based and on most occasions you'd be hard pushed to identify which was the four-wheel drive car. Under the bonnet lies a proven four-cylinder 68bhp fuel injected catalysed powerplant which gives good economy, if not neck-snapping performance. Nevertheless, the little car can comfortably keep up with the traffic flow, making it to sixty from rest in just under fourteen seconds on the way to a top speed of around 96mph.
Of far more importance are fuel economy figures that promise 33.2mpg on the urban cycle and 44.8mpg at a steady 56mph. Doubtless Subaru could have improved upon these still further by altering the gear ratios, but the design team's major priority was that the power should be delivered in a steady, progressive fashion so that the Justy never feels stressed.
The four-wheel drive system can only really be felt when accelerating hard from a standstill in the wet, and even then, the effect is transient. In short, it's just not needed on a vehicle as modestly powered as the Justy.
Overall
The Subaru Justy is reasonably well-built, cheap and certainly different. If you like the Subaru brand and appreciate the excellent dealer back up, then the Justy might well appeal, but there are plenty of other superminis out there that offer a broader range of abilities.