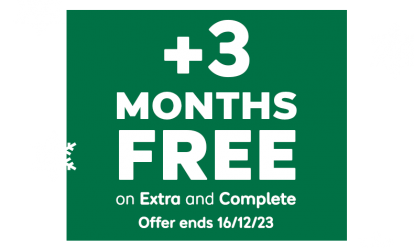 With 12 months of cover, new customers get an extra 3 months for free*.
*Added after 12 months, excludes Basic cover. New customers only. Ends 16/12/23, 7am.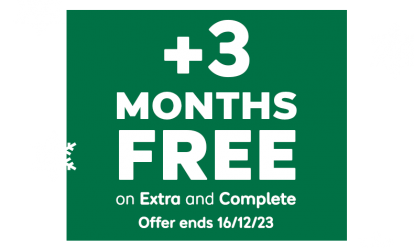 By Steve Walker
Introduction
There's a lot of extraneous baggage tied up with modern motorcars. Manufacturers spend billions massaging the public's perception of their products with glossy advertising and clever marketing devices. Many of the vehicles themselves display at least an element of style over substance. Skoda's Roomster serves a refreshing break from the norm in that it's an unassuming vehicle designed to fill a role, the role of affordable family transport. There are no gimmicks and buyers seeking a cheap, practical way of getting the kids and a bit of luggage from A to B should like it.
Models
Models Covered:
5dr MPV: 1.2 12v, 1.4 16v, 1.6 16v petrol,1.4, 1.9 diesel [Roomster 1, Roomster 2, Roomster 3, Roomster Scout].
History
Skoda's model range immediately prior to the arrival of the Roomster MPV played things very much by the book. The products were good but there wasn't very much out of the ordinary going on. When news surfaced that a supermini-based MPV was to be added, the expectation was of another competent but formulaic effort. The Roomster took a different tack. Van-based MPVs had been popularised through the 90s by manufacturers sticking windows and seats in their small commercial vehicles to create utilitarian but cheap and hugely spacious MPVs. The Roomster followed on in this tradition except that it lacked too many obvious commercial vehicle origins and that, for many used buyers, will be deemed a considerable plus.
The Roomster made its debut in the summer of 2006 riding on Fabia supermini underpinnings which are also common across the Volkswagen Group's other supermini products of around the same time. The engine range was chosen very much to provide economy rather than performance and includes 1.2, 1.4 and 1.6-litre petrol units with 1.4 and 1.9-litre diesels. Trim levels were imaginatively titled Roomster 1, Roomster 2 and Roomster 3.
The Roomster Scout was introduced in early 2007. It brought a more rugged appearance to the Roomster's exterior with side body mouldings, a raised ride height, front fog lights and roof rails but always looked to be fighting a losing battle against the quirky lines of the standard car.
What You Get
The Roomster is a car of two halves - or 'rooms' as the Skoda PR machine would have us refer to them. The 'Driving Room' is the area occupied by the driver and front passenger and it feels very much like that of a conventional family hatchback. The driving position is comfortable, with a good degree of adjustment and much less upright than in most MPV products. Quality materials have also been used and build quality is strong.
As you progress rearward, you enter the Roomster's 'Living Room' and it's here that the vehicle's van-like silhouette pays dividends. The roofline steps up, allowing the rear seats to be mounted 46mm higher than those in the front: this boosts the space available to passengers. Leg and headroom are both extremely generous and there's a light, airy feel to the space thanks to the large windows. An optional panoramic glass roof increases this effect with Skoda pointing out that children become bored more quickly if they don't have a good view of the scenery.
The rear seating has also been thoughtfully designed. All three sections of the rear bench are individually foldable and removable. They also recline as well as sliding fore and aft so that owners can choose either to maximise passenger legroom or to bump up capacity in the extremely generous boot behind. This boot is accessed through a large tailgate which lifts to reveal a capacity of 450 litres. Then, depending on the position of the rear seats, owners have the option of increasing that cargo space right up to a truly van-like 1,780 litres - which is achieved when all three seats are positioned in the garage at home. All this helps to open up a wide range of potential interior configurations for the Roomster - a real strength when it comes to meeting the varying needs of modern families.
What You Pay
Please fill in the form here for an exact up-to-date information.
What to Look For
The Roomster is a largely straightforward sort of car without the flashy trim finishes or gimmicky design features that don't tend to stand the test of time too well. Check the interior for signs of heavy use, stains on the upholstery or bits of broken trim. Mechanically, the car should be sound with its range of tried and tested engines but make the usual checks to ensure that yours isn't hiding any guilty secrets.
Replacement Parts
(Estimated prices, based on a 2006 Roomster 1.6) An alternator is a big ticket item at around £400, while a clutch assembly is around £200. Front brake pads are a reassuring £40 a pair, whilst somebody must have employed a pre-VW Skoda accountant when radiators were priced at £90. A starter motor is around £135, whilst a replacement headlamp is just over £100.
On the Road
Skoda laid-on six engines for Roomster buyers to choose from and these are equally split between petrol and diesel. The petrol range opens with a 70bhp 1.2-litre unit, then there's an 85bhp 1.4 and a 105bhp 1.6. The three-cylinder 1.2-litre is more capable than you would expect given its size and will be quite adequate for many family buyers. If you plan on undertaking longer journeys, the 1.4 may be a better option with its 132Nm torque output at 3,800rpm. The 1.6 feels more muscular still with 155Nm produced at the same engine speed.
The diesels with their superior fuel economy are where a lot of the smart money will go but, as always, they're priced at a sizable premium, so make sure you're going to cover enough mileage to recoup this extra outlay at the pumps. Many will also prefer the more relaxed driving characteristics of the oil-burners, however, with the 70 and 80bhp 1.4-litre three-cylinder options producing torque figures of 155Nm and 195Nm respectively. The 80bhp model can also manage a superb 54.3mpg average fuel economy return. The range-topping engine is the 1.9-litre TDI and here you get 105bhp and a sizable 240Nm torque rating. All the engines get a 5-speed gearbox with an optional six-speed auto 'box available for the more powerful petrol versions.
To go with its car-like driving position, the Roomster also delivers impressively car-like handling. Despite the high roofline at the rear, it resists body roll admirably and the general ride quality is far superior to van-based MPV rivals. It stays nice and quiet when you're on the move as well, with only limited wind and road noise finding its way inside.
Overall
The Roomster has always looked a really well thought-out product. It is what it is and if you're after a stylish way to move the family about, Skoda's offering may not appeal. If, on the other hand, you want to maximise practicality and space while retaining a decent driving experience, the Roomster is a very capable and affordable option.