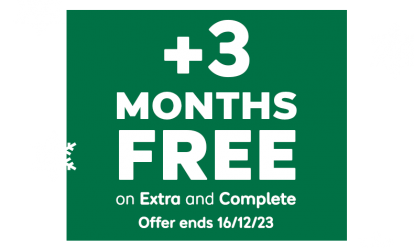 With 12 months of cover, new customers get an extra 3 months for free*.
*Added after 12 months, excludes Basic cover. New customers only. Ends 16/12/23, 7am.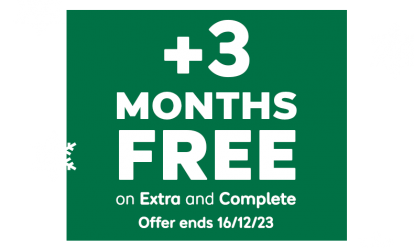 Renault's Clio reinvents itself - and now comes only in full-Hybrid form. Jonathan Crouch takes a look.
Ten Second Review
Renault has reinvented its fifth generation Clio, which now comes only in frugal full hybrid E-Tech guise. A far-reaching visual makeover is complemented by a higher quality cabin. And there are sporting 'Alpine'-themed touches for the plushest version. If your next supermini needs to be electrified but you're not quite ready for a full EV, this Gallic contender's worth a look.
Background
Renault used to be synonymous with superminis, first in the Seventies with the Renault 5, then in more recent decades with the Clio. Is history now repeating itself? Here, we're going to look at the way that the fifth generation Clio is reinventing itself in hybrid-only form, a strategy that's already seeing its segment market share increase as other brands leave the sector. With all this happening just as the French maker is preparing for the return of the Renault 5 (as a full-EV), another model that will strongly position this marque in the supermini class going forward.
It all sounds very positive doesn't it? The reality here though, particularly in the case of the Clio, is of big gambles. Over 65% of all cars sold in the UK are still of the conventional kind (and more in the supermini segment), so cutting out all the ordinary Clio derivatives from this facelifted MK5 range is brave indeed. Renault thinks it can tap into quite a large audience of people wanting a small car but remaining (understandably) undecided about switching to a full-EV. Is this strategy likely to pay off? Let's take a closer look at this new kind of Clio and find out.
Driving Experience
So, a hybrid-only Clio. But it's the same full hybrid four-cylinder powertrain as before. We had hoped that Renault might take the opportunity here to incorporate its more recently developed three cylinder 1.2-litre hybrid drivetrain, as used in the mid-sized Austral SUV. But no, the old 1.6-litre electrified powerplant continues on, as also used by the Captur and the Nissan Juke Hybrid. There's no option here of being able to plug this hybrid engine in (as you can on the top version of the Captur): Renault reckons that would make this particular Clio too pricey. Instead, it's a 'self-charging' full-Hybrid unit like that in, say, a Toyota Yaris (so it can, for very short periods, run independently on full-electric power, unlike the mild hybrid engines you'll find in segment rivals. Renault makes much of the way the design of this car's engine borrows from its F1 racing technology. Like the racing powerplant, this one is extremely compact and features two electric motors, one with 36kW on the rear of the gearbox and one with 15kW on top of the transmission, along with a four-cylinder 1.6-litre 145hp normally aspirated petrol unit. The gearbox is an auto of course and the motor is powered by a 1.2 kWh lithium-ion battery pack located beneath the boot floor. The rest of the drivetrain has somehow been shoehorned beneath the bonnet.
Design and Build
With the original version of the Clio Hybrid, you had the feel of new-fangled technology paired with previous combustion-era design. But things are a bit different now, thanks to EV design elements borrowed from the Megane E-Tech and the Scenic Vision concept car. Styling chief Laurens van den Acker particularly likes the 'eyes' of this revised MK5 Clio, slim LED headlamps with the brand's latest 'new wave' light signature, each unit incorporating up to five beams (the old car had three). The nose also gets a brushed-satin chrome 'Nouvel R' Renault logo, plus there's an enlarged chequered grille, a sharper bumper design, a lower aerofoil and a restyled clear-lensed tail lamps. Wheel designs are up to 17-inches in size. The bodywork dimensions are unchanged.
Not so much is different inside, though pricier trim levels get a new 10-inch edgeless instrument display for the virtual dials (it's only 7-inches in size with cheaper trim). Plus at the top of the range, there's a 9.3-inch infotainment centre touchscreen. Plusher materials now feature around the cabin, with more soft-touch surfaces around the dash and doors. Leather isn't now used anywhere, with sustainable alternatives employed instead.
The seats on this Clio are much better than what you'd usually find in this segment in terms of comfort and support. They offer a longer cushion base and a more enveloping shape. We weren't especially impressed by the space provided on the rear bench when we first tested the conventional version of this model - and we're still not, though at least the hybrid system's been packaged in such a way as not to detract further from the knee, leg and head space available. The boot space on offer is rated at 301-litres in this case (compromised a little by the battery pack positioning beneath the cargo area floor). Still, that's only 3-litres less than you'd get in a Honda Jazz and it's 15-litres more than you'd get from a Toyota Yaris. If you drop the 60:40-split backrest, up to 1,054-litres is available.
Market and Model
Prices start at just under £21,500. You can order the car online costing from £445 per month, an all-inclusive monthly subscription payment which includes insurance, road tax, maintenance and roadside assistance. The line-up kicks off with base 'Evolution' trim, but most customers will opt for the mid-range 'Techno' version. Plusher variants get features like automatic air conditioning, a hands-free card key and a wireless smartphone charger. And there are 'MULTI-SENSE' ambient lighting settings to alter the cabin ambiance to your mood.
At the top of the range for around £24,000, Renault is now offering sporty 'Esprit Alpine' trim. This comes with 17-inch alloy wheels featuring Diamond Black finishing and smoky grey varnish. Plus the sustainably upholstered, heated seats get a Y-shaped pattern with blue over-stitching. There's a heated steering wheel, navigation and the dashboard features an embroidered French flag, plus there's aluminium pedals and bespoke front door sills.
Cost of Ownership
It's just as well that the electrified elements of the E-TECH powertrain are so sophisticated because the combustion engine that all of it's mated to isn't. It's a relatively old fashioned Nissan MPI unit used in models that the Nissan Renault Alliance sells in less advanced Russian and South American markets - and it doesn't feature any kind of turbocharger. Still, when mated to all of the hybrid tech we detailed for you in our 'Driving Experience' section, it can certainly deliver some eye-catching efficiency stats.
The WLTP figure for combined cycle fuel economy is 67.3mpg and we reckon around 50-55mpg should be regularly achievable without too much trouble. The WLTP CO2 reading is 96g/km. Renault claims this E-TECH powertrain is 40% more economic than a conventional combustion engine, which allows for an attractive 22% BiK taxation rating. Just as relevant is the question of how this Clio Hybrid's figures stack up against its two most direct full-Hybrid supermini segment rivals. The Honda Jazz isn't quite as frugal, managing 62.8mpg and 102g/km, figures that a Toyota Yaris Hybrid, helped by its lighter kerb weight, improves to 68.9mpg and 92g/km. Overall, as you can tell from those stats, there's not much in it between these three.
On the move in this Clio, you can press a dedicated EV button for all-electric progress but it won't take you very far. More usually, the E-TECH system automatically detects when the engine is required, seamlessly engaging to deliver the power required in different driving circumstances. The engine and electric motor can operate in unison or individually, driving all power to the front wheels. Kinetic energy can be recovered during deceleration and braking. This happens automatically either in natural slowing down or via braking, with the driver able to engage a dedicated Brake (B) mode via the gear lever to increase the level of deceleration. Energy recuperated is sent back to the charge the battery. If you're worried about the complexity of the engineering, you'll want to know that this model benefits from Renault's 5-year, 100,000-mile warranty and a 8-year, 100,000 mile warranty for the traction battery.
Summary
With over 16 million worldwide sales on the board, over 11 million of them in the UK, Renault's Clio is one of the last supermini model lines you might expect to fall in the face of the ongoing EV revolution. But then we thought that about the Fiesta, yet historical popularity wasn't enough to save it. The Clio though, looks like it'll be with us for a few years yet. Partly due to the likelihood that a full-EV switch is going to take longer than anticipated. And partly because of Renault's foresight in giving its supermini this impressively frugal take on combustionised electrification.
We're disappointed that this revitalised fifth generation Clio hasn't received the brand's more modern three cylinder based 1.2-litre E-Tech hybrid unit. But the continuing four cylinder 1.6-litre E-Tech full hybrid powertrain is still an impressively frugal device. And, in concert with this car's now sharper look and smarter cabin, creates a product that looks a good fit for a supermini customer wanting electrification but undecided about just how much of it they need. The Clio may no longer be affordable enough to be the ordinary person's choice in this class. But the thinking man's choice in this segment? You could certainly make a case for it.