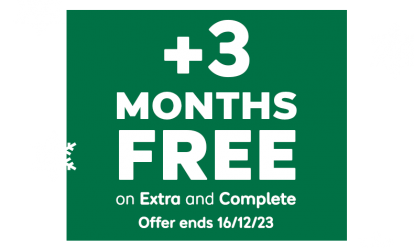 With 12 months of cover, new customers get an extra 3 months for free*.
*Added after 12 months, excludes Basic cover. New customers only. Ends 16/12/23, 7am.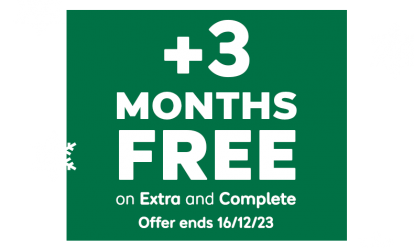 By Andy Enright
Introduction
Quick. Name a middleweight panel van. You'd probably hit on a whole list of likely contenders before you came up with Nissan's Primastar. But don't dismiss the Nissan just because it's not a household name. Look a little closer and you'll realise that here is a van with all of the talents of the top contenders that's available as a used buy for considerably less. So here's the gen on this plucky underdog.
Models
5dr medium/large van (2.0 diesel [SE])
History
If your business is searching for a used medium-sized light van, then you're certainly not short of choice. Volkswagen's Transporter and Mercedes' Vito may both be options that spring to mind, though in truth, these stand-alone models account for a relatively small slice of the European market for mid-range LCVs of this kind. No, the biggest sales in this segment are spread across just two main designs shared by a variety of manufacturers. First there's the model badged variously as either a Citroen Dispatch, a Peugeot Expert or a Fiat Scudo. And up against it is the design that in its time took nearly 30% of the European market in this segment, the vehicle we're looking at here that when sold new was badged as either a Vauxhall Vivaro, a Renault Trafic or, as in this case, a Nissan Primastar.
The Nissan is the least familiar of these three on British roads, despite the fact that when new, it was priced by far the most sharply of the trio. Like its two design stablemates, it was continually developed throughout a long production run that started in 2001 and didn't finish until 2014, most notably with the addition in 2010 of a torquier common rail 2.0-litre diesel engine, available with 115PS and fettled to the eco-conscious Euro5 standard. With anything between just over five and just under nine cubic metres of carriage capacity depending on the model chosen, it fits the bill size-wise for businesses in search of a van not too big and not too small.
What You Get
Anticipating perhaps your most obvious question - why should you buy this Nissan when essentially, it's the same as a Vauxhall Vivaro or a Renault Trafic - we'd like to suggest the answer to be a very straightforward one. It's the more affordable pricing. That's assuming you don't mind this Nissan's lack of engine choice. Both the Vauxhall and the Renault offer an additional lowered-powered 90PS entry-level version of this model's 2.0-litre dCi diesel, a unit that Primastar customers do without. But the 115PS powerplant is the one to choose, so it's no great hardship doing without the 90PS lump in the Primastar.
But if there's little choice under the bonnet, you can at least enjoy all the usual control you'd want over the shape of this model, with four size formats based on short or long wheelbase, low or high roof. That means carriage capacities that range from just over 5m3 for the most compact short wheelbase/low roof variant to as much as 8.36m3 for the biggest long wheelbase/high roof variant. Payloads range from 1045 to 1263 kg, depending on load configuration and engine type. There's a choice of Gross Vehicle Weights that range between 2790 and 3030kg depending on the model chosen. And if your carriage priorities centre around people rather than packages, you can find yourself a Primastar designed as a nine-seater minibus.
As for equipment levels, well across the range, you can expect to find features like an MP3-compatible CD stereo with steering wheel controls and an aux-in socket, tinted windows and a height-adjustable driver's seat. We would though, suggest that you try if at all possible to at least go for a mid-spec model since the entry-level variant doesn't include a full-height bulkhead to keep the cab quiet and even makes you manually wind up the windows. Middle-ranking Primastars also get really useful additions like Bluetooth compatibility for your mobile 'phone, a trip computer and parking sensors, plus, if you find an example specified with the 'Comfort Pack', you'll also get air conditioning, a driver's armrest, front foglamps and auto headlamps and wipers.
Talking of extra cost packs, you might feel the need to find a Primastar whose original owner built upon the rather basic safety provision offered by standard versions of this vehicle. Ordinary variants got a driver's airbag and ABS braking, but try and find one that was fitted with the 'Safety Pack', which further threw in ESP stability control and a passenger airbag.
What You Pay
Please fill in the form here for an exact up-to-date information.
What to Look For
The Primastar has earned a decent reputation for reliability, being the beneficiary of long years of continual development. The interior isn't the last word in sophistication but it is hardwearing. Check for damage to locks, tired rear suspension, slipping clutches and brakes and make sure that the load bay tie-downs aren't bent or broken. The engines tend to be very rugged, but check that the glow plugs are good and those with over 80,000 miles on the clocks are due for alternator replacements. 72,000 miles is also the time that cam belts need changing. If this hasn't been done, you'll need to negotiate a £350 discount.
Check the brake pads and discs as Primastars can eat through these if they're regularly driven fully loaded. The final thing you'll need to look at is the engine management light on the dash when you key the ignition. If it doesn't go out after a second or two, it could point to a potentially expensive fault in the wiring loom or the electronic engine control unit - or a cheaper issue with the camshaft sensor.
Replacement Parts
(approx prices, based on a 2011 Primastar 115 SE panel van) Nissan parts aren't the cheapest in the commercial vehicle world but consumables aren't too expensive. The major jobs for the Primastar will tend to cost you around £500 for glow plug replacements, £1,000 for fuel injectors, £2,000 to swap out the fuel pump and around £1,000 to replace a tired gearbox.
On the Road
Get behind the wheel and the driving position is as commanding as you'd want from a van in this segment. Under the bonnet, a modern Euro V direct injection common rail 2.0-litre diesel engine with a 115PS output and 290Nm of torque is all that's on offer here and with those sorts of stats, ought to feel pretty strong out on the road. So it proves on the move, pulling power constant through the rev range right up to the academic maximum speed of just under 100mph. Peak torque arrives low in the rev range with this unit from as little as 1,600rpm, just where you want it for urban low speed lugging. Or indeed for towing. There are maximum trailer weights of 2000kg (braked) and 750kg (unbraked).
The six speed gearbox manages not to be obstructive to fluid progress, though if most of your work is town-bound, you might want to consider find an example fitted with the semi-automatic transmission option to save all that left foot clutch work. The steering isn't especially communicative - and is rather light for high speed cruising, but you'll be glad of it when trying to thread this van around tight city streets. This also facilitates a relatively tight kerb-to-kerb turning circle, 11.8m for short wheelbase models or 13.2m for long wheelbase variants, with 3.2 turns of the power steering lock-to-lock.
Refinement is reasonably good, but is obviously severely affected if you opt for one of the entry-level models that do without a full-height bulkhead to insulate the cab area. There are nice touches too. Like the way that the doors are automatically locked as soon as the vehicle reaches 5mph. Or the way that at less than 3mph, an intelligent wiping system can automatically move the speed of the wipers down one level, before quickening it up again once the vehicle starts to accelerate. Neat.
Overall
The middleweight panel van market might seem like much of a muchness, with a variety of turbodiesel vans with similar fuel economy and carrying capacities all vying for your money. Look a little closer and it's clear that a bit of homework can pay big dividends - and the Nissan Primastar is a case in point. Because it's not one of the bigger names, it's less sought-after on the used market, but it's still been the recipient of a huge shared development budget and that shows. If you're prepared to put in the legwork, a used Primastar is a very smart pick.