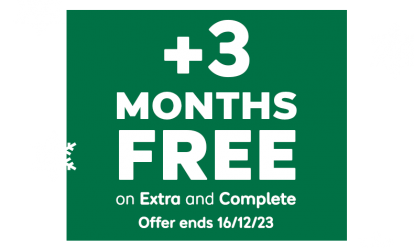 With 12 months of cover, new customers get an extra 3 months for free*.
*Added after 12 months, excludes Basic cover. New customers only. Ends 16/12/23, 7am.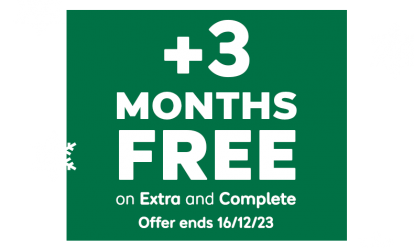 By Jonathan Crouch
Introduction
Some Mercedes models are the epitome of on-road luxury. Others are almost unrivalled for off-road prowess. And then there's one which claims to offer the best of both: the GLS. This original 'X166'-series model (sold between 2016 and 2020) was arguably the only super-luxury SUV from this period that could comfortably seat seven fully-sized adults. And it was certainly the only one that could do so whilst offering an acceptably dynamic drive on road as well as extreme capability off it. Plus, in GLS guise, this car was smarter, plusher, more sophisticated and even more appealing than its GL-Class predecessor. Got a family? You'd like one.
Models
5dr SUV (3.0 diesel [GLS 350d] / 5.5 petrol [GLS 63 AMG])
History
The GLS is a model that Mercedes has always billed as 'the S-Class of SUVs', a luxury conveyance for those whose real - or more likely imagined - commute to the everyday world is from a craggy mountaintop. We first saw this model line back in 2007 when it was launched as the 'GL-Class', built in America for global sale, but primarily seen since occupying super-sized shopping mall spaces from New York to New Orleans. At this car's introduction, there were plenty of experts predicting that a GL would be too large for our market, but not for the first time, they were wrong. Buyers realised sooner than journalists did that this Mercedes could offer something you couldn't get on a rival seven-seat Audi Q7 or Volvo XC90 luxury SUV: namely proper space in the rearmost third seating row for two fully-sized adults.
So Mercedes sold more GLs than they'd expected to in Europe, a sales momentum continued with the launch of a second generation 'X166'-series version in mid-2013. It was practical, luxurious and could go almost anywhere, but whether, as promised, it was 'the S-Class of SUVs' was still more debateable. A GL-Class might be more spacious and versatile than a similarly-priced Range Rover, but it simply didn't offer the same exclusive, up-market feel. The Stuttgart brand had convinced itself that this model could do that though, and in order to prove the point, set to work to entirely re-develop the MK2 GL, before early in 2016, re-launching and re-badging it as this car, the GLS.
The changes brought a smarter, sleeker look and, more importantly, improvements to the automatic gearbox and suspension that were claimed to deliver the greater levels of dynamic sophistication this car really needed if it was really going to be a Rolls Royce for the rough. There was also the state-of-the-art safety and media connectivity that Mercedes knew buyers in this segment would want. All matched with the combination of size and capability that has always set this model line apart. This model sold until it was replaced by an all-new 'X167'-series GLS design in early 2020.
What You Get
This GLS is big, just as its GL-Class predecessor was, a car large enough to make your neighbours question their right-to-light restrictions. As with that GL, there's more than three metres between the wheels and a total length of nearly 5.2m that's even longer than a Range Rover. In other words, you'll need quite a sizeable garage. Having said all that, in this evolved GLS form this 'X166'-series design is more effective in concealing its bulk, thanks to looks that became quite sleek for something so huge and boxy.
As with the previous GL-Class models, attempts were made here to lighten this vehicle's substantial footprint, with a car-like monocoque construction and extensive use of aluminium in the bonnet and wings: pretty unsuccessful attempts, it has to be said, given that this model remains 240kgs heavier than a rival Range Rover. Still, what you get in return for that is what we're going to focus on here - the thing that sets this car apart in its segment from this period: namely, space you'll find at the very back in the third row. Once installed at the very back, there's pretty much the same sort of space as you'd find in a large MPV. In short, this is a first class SUV that doesn't demote third row passengers to third class travel.
And the middle row? Well this is also pretty roomy, though the middle seat occupant does have to contend with quite a high transmission tunnel. Still, there's more shoulder room than you usually get in a car of this class. And plenty of headroom too, despite the standard inclusion of a panoramic glass roof that floods the cabin with light. As in an MPV, occupants can adjust their seats for legroom and backrest angle.
And up-front? Well this was an area that Mercedes prioritised in upgrading the old GL-Class to this GLS status. Whether it's all quite Range Rover-like depends on the spec of the version you've chosen. The beautiful quilted nappa leather trim of the plush 'designo Line' variant certainly feels very high end, as does the DINAMICA mirofibre material used on the roof lining and the sun visors.
That leaves luggage space. Raise the huge powered tailgate and there's actually a reasonable amount - 295-litres - even when you've got all seven seats upright. You also get a bit more room in the provided under-floor compartment, though only because (almost unforgivably in an SUV this capable) Mercedes didn't include any kind of temporary spare wheel as standard - only a fiddly tyre repair kit. The total capacity you get with the boot in this form is the same as you'd find in a rival Audi Q7 but surprisingly, significantly less than would be offered by a Volvo XC90 in the same configuration.
Both Volvo and Audi also have an advantage when it comes to the amount of cargo room you can expect when the third row chairs are flattened into the floor, but neither of those cars have as neat a system for the retraction process: a touch of a button is all it takes here to free up 680-litres of space, about the same as you'd get in a Mercedes GLE from this period. If you go further and fold down the second row seats, the GLS re-asserts its advantage over all its rivals, with an enormous 2,300-litre capacity that's around 350-litres more than you'd get in an XC90 or a Q7.
What You Pay
Please fill in the form here for an exact up-to-date information.
What to Look For
Most GLS (X166-series) owners in our survey were very satisfied, but inevitably, there were some who'd experienced problems. It's the usual things here; interior trim and electrical issues were the most commonly afflicted things that came up. Check for uneven panel gaps and paint flaws. Inspect the electrics and the air conditioning functionality - it should blow our really chilled air. And obviously check the underside for signs of over-enthusiastic off-roading. Specifically check the air suspension too. As usual, look out for signs of interior child damage. And scraped alloy wheels. Obviously insist on a fully stamped-up service history.
Replacement Parts
(approx based on a 2017 GLS 350d - Ex Vat) An air filter is around £30-£44. An oil filter is around £9-£11. A fuel filter is around £66-£92. Front brake pads sit in the £56-£66 bracket for a set (for rears it's around £20-£50). A starter motor is around £90. A set of wiper blades is around £3-£27. A pollen filter is around £13.
On the Road
Not everyone is going to feel comfortable piloting something of this size but provided you do, then GLS motoring is a pretty fabulous way to view your everyday world. There are, in theory, two 'X166'-series models on offer, but given that one of them, the Mercedes-AMG 63 4MATIC, has a thirsty 5.5-litre petrol V8 installed up-front, in practice almost all sales will be of the GLS 350d diesel variant. Compared to its GL-Class predecessor, this derivative features improved ride quality and a smoother-shifting 9G-TRONIC automatic 'box that plays its part in slightly improved efficiency - expect 37.2mpg on the combined cycle and 199g/km of CO2 (both NEDC figures).
On the move, the GLS is easier to push along quickly than you might expect a car of this size to be, thanks to great all-round visibility and the cornering traction from the permanent 4MATIC 4WD system. Get a car whose original owner decided to mate this to the optional 'ACTIVE CURVE' roll-stabilisation set-up and you'll find that body roll is kept in check too. This works with an AIRMATIC air suspension and Adaptive Damping system you can tweak via five different 'DYNAMIC SELECT' driving modes that also adjust steering feel, throttle response and gearshift timings. There's an 'Off Road' option to help off piste - and you can go even further on the mud if you specify an optional 'Off Road package' that includes a low range gearbox, a centre differential lock and three additionally selectable off-road ride heights.
Overall
If you're looking for a luxury super-large 7-seat SUV from the 2016-2020 period, there's nothing quite like this 'X166'-series Mercedes GLS. Certainly, if you're a wealthy American considering it as a used car against obvious US rivals like Cadillac's Escalade or a Lincoln Navigator, then buying this Mercedes must seem like a no-brainer. This side of the Atlantic, it could also be seen as pretty simple choice, provided you're in the unusual position of wanting a huge seven-seat super-luxury SUV from this period that actually can properly seat seven adults - rather than five folk along with a couple of children.
A car that, having done that, can then go on to climb the lower slopes of Snowdon, before stopping by Sainsburys on the way to an evening at the Ritz. If a premium-badged 7-seat SUV that can manage all that is somewhere on your wish list, then you won't be disappointed with this one.