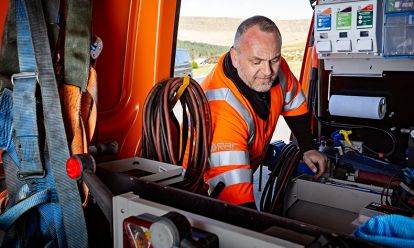 You can get covered in our half price sale from just £5.75 a month.* We're the UK's best breakdown cover provider as voted for by Auto Express drivers 2021.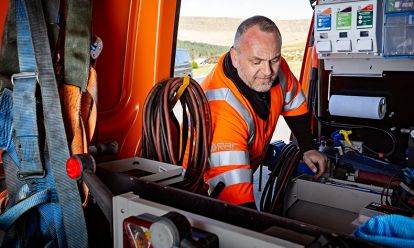 By Jonathan Crouch
Introduction
Jeep reckons that their Cherokee was the 'car that created the SUV segment', which makes you picture the tough, rough off roader this model used to be - but wasn't by the time of the launch of this 'KL'-series model in 2014. Forget setsquare styling and agricultural underpinnings: this fifth generation model was very different - like no Cherokee we'd seen before. Its chassis was more car-like and, in diesel form anyway, its off road credentials were less pronounced, though there was still a clever Selec-Terrain traction control system to offer more capability than most rivals could provide. This won't be a car for everyone but it's a different, welcome contender if you're looking for a RAV4-class mid-sized SUV from this era or shopping for a model from the 2014-2020 period at the upper end of the Qashqai-class family-sized Crossover segment.
Models
(5dr SUV - 2.0/2.2 CRD diesel / 3.6 petrol)
History
'Cherokee' always used to be Jeep's bread and butter brand. This was the first car they first launched in Europe and it used to form the bedrock of their range, until the Americans expanded it upwards with the Grand Cherokee and later downwards with Patriot and Compass models. The brand will tell you that this vehicle's origins lie with the Willys-Jeep that played its part in winning World War II - hence the 'Since 1941' motif on this car's steering wheel. The company's tougher Wrangler model though, has a more direct bloodline to that design.
No, the Cherokee has always been a different kind of product, one born out of Jeep's post-war need to make its offerings suit a wider market. Which was why in 1963, Willys-Jeep underpinnings were used to create a model called the Wagoneer - a vehicle you could actually use as rugged family transport. The idea caught on and when the brand saw the need to introduce a more affordable two-door Wagoneer variant in 1974, they christened the car the 'Cherokee'. If you know the name, then the version you'll probably remember is the second generation 'XJ' design that sold for 17 years from 1984 and established the 'Cherokee' name as shorthand for properly capable compact SUV motoring. Third and fourth generation 'KJ' and 'KK' versions followed in 2002 and 2008 respectively, sold as 'Jeep Liberty' models in the USA but still badged 'Cherokee' in Europe. In truth though, neither properly captured the spirit of the MK2 design.
By 2014 though, Jeep decided that it was time for a version that did - a tough brief given that a car of this kind must in the modern era live in a very different world and sell to a very different kind of customer from the one who might have been easily satisfied with an old 'XJ'. Which is why this MK5 'KL'-series model, launched here in mid-2014 and sold as 'Cherokee' everywhere, was such a very different car to its predecessors. To be frank, it was always going to be anyway, given the Jeep brand's modernday ownership by Fiat and the Turin company's preference for re-using platforms across its various brands. For the modern era, the Italians decided, this model would be designed as a tarmac tool first and foremost, which is why in 'KL'-series form, it sat on the underpinnings of an Alfa Romeo Giulietta hatchback. Yet signs of Cherokee DNA still remained, both in the unusual styling and also in a mechanical specification which aimed to position the car as the most capable choice in its segment. It sold until 2019, after which it wasn't replaced for the UK market.
What You Get
There's no doubt that this fifth-generation Cherokee was distinctive - and rather radical. Though the trademark trapezoidal wheel arches and the seven-bar front grille remained constant, there wasn't much else that linked this model to its predecessors.
The styling concept here was delivered in two parts, with a smooth and flowing top half that extends down to a kink in the beltline that visually transitions you into the tough, durable lower body. Even the styling flourishes have practical application - take the slim daytime running lights positioned above projector headlamps: they sit high for water fording.
The styling at the rear, though less controversial, is equally neat, based around big LED tail lamps and a tailgate that extends right down to a rear bumper that incorporates fog lights and reflectors. Raise it and you'll be lugging your packages over a low loading lip into what was one of the largest cargo areas in the class in this period, 591-litres in size.
And up-front? Well, apart from the branded three-spoke steering wheel, there's nothing that's especially Jeep-like, which is perhaps why that wheel feels the need to parade its 'since 1941' motif. Still, it's neat and reasonably up-market thanks to a design approach shared with the company's bigger Grand Cherokee model. Pride of place in the centre of the fascia is reserved for the 'Uconnect' TFT colour touchscreen, five inches in size in entry-level versions but a biggest-in-class 8.4-inches in plusher versions.
What You Pay
The most afford Cherokee model from this generation is the 2.0 TD diesel, which prices with base 'Longitude'-spec from around £8,600 on a '15-plate, with values rising to around £16,800 for a later '20-plate car. The 4x4 version values at about the same level. Allow around £2,000 more for plusher 'Limited' trim and with that variant, you'll pay around £600 more for a 4WD version. For the 2.2 CRD diesel, a 4x4-only variant, values start at around £10,000 for a base-spec 'Longitude' variant, with values rising to around £20,000 for one of the last '20-plate cars. Add around £2,400 for plusher 'Limited' spec. The rare Trailhawk 3.2 petrol V6 version prices from £12,200 on a '12-plate up to £17,800 for the last '20-plate models. Try for a version with the Active Drive Lock system (worth £500 more).
What to Look For
You'll need to buy carefully here. And look out for the kind of electrical issues that tend to afflict Fiat group cars, this Cherokee's engineering being mainly Fiat-based. Owners tell us that the navigation system updates are difficult to implement. And that the Forward Collision System has a brain of its own at times. When one owner replaced his front windscreen, and expensive re-calibration of forward collision system was required at the dealership. Few Cherokees from this era will have been seriously used off road but check underneath just in case. And avoid models that have had a hard towing life. Check for the usual alloy wheel and parking scuffs. Look out for blocked diesel particulate filters on diesels that have been used too much in town. And insist on a fully stamped-up service record.
Replacement Parts
[based on a Cherokee 2.0 CRD diesel - 2015] As you might expect for a car of American origin, parts are not particularly cheap. However, there is a well-established dealer network so it should be reasonably easy to track spares down. To give you a guide based on the 2.0 CRD diesel model, an air filter would be around £11-£26 and an oil filter around £10-£23. Front brake pads would be around £42 a set; rear pads around £36. Front brake discs would be around £100. Wiper blades sit in the £8-£15 bracket. A pollen filter is around £12. A water pump is around £16-£51.
On the Road
So, what's it like on the move? The looks suggest this car to be more 'Qashqai-like Crossover' than 'SUV-style 4x4' - and so it proves on the tarmac where this Jeep feels most at home. That might sound an odd thing to say about a Jeep, a brand of car you'd normally expect to be designed to master the Rubicon Trail. This one wasn't though. In fact, the only Cherokee variant the brand advertised as what it calls 'Trail Rated' was the rugged 'Trailhawk' version that almost no one in Europe bought as it came only with a thirsty 3.2-litre Pentastar petrol engine.
That car got a 38mm ground height increase, features an underbody skidplate and an optional rear differential lock, plus bumpers designed for sharp inclines - all the things you'd think a Jeep would offer. But there was none of that in the much more ordinary diesel models the brand wanted European customers to actually buy. All this is of course surplus to requirement in the RAV4/CR-V segment in which this 'KL'-series MK5 Cherokee wanted to compete. To be fair, this model did still remain a slightly more capable choice than rivals of that sort, though that's not really because of its standard 'Active Drive I' 4WD system: this simply shuttles torque from front to rear in response to slip, just as you'd find elsewhere in this segment.
No, what makes this car a little more effective in the slush than the unremarkable class norm is the way this set-up combines with Jeep's clever 'Selec-Terrain' system - designed to be like having an off road expert sitting next to you as you drive. For a Cherokee that could manage a bit more than that, you'd have to get a car whose original owner opted for Jeep's extra cost 'Active Drive II' 4WD system that adds a low range gearbox and Hill Descent Control to ease you down slippery slopes.
The 'Active Drive II' set-up though, was only offered on pricier Cherokees fitted with a 170bhp version of the Fiat-sourced 2.0-litre Multijet II unit. This was a variant only supplied with a nine-speed automatic gearbox. If you don't want it, you have to have a version with the 140bhp version of the 2.0 diesel and here, there's a choice of either an entry-level front wheel drive variant or the 4x4 version, both mated to a (rather notchy) 6-speed manual gearbox. There was also a 182hp 2.2-litre diesel variant, offered only with 4WD.
Overall
Progress. It isn't always welcome but sometimes it's necessary. It's what's created this fifth generation Jeep Cherokee, a car that's simply had to evolve under the twin pressures of very different brand ownership and market demand.
Long time Cherokee owners unfamiliar with the unusual looks will also be unfamiliar with the tarmac-orientated driving experience. Still, there aren't many people like that still about and the new brand converts Jeep is hoping to target might find this car easier to adjust to than any model it's made to date. You'll need to buy carefully though.