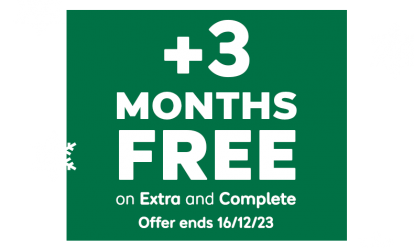 With 12 months of cover, new customers get an extra 3 months for free*.
*Added after 12 months, excludes Basic cover. New customers only. Ends 16/12/23, 7am.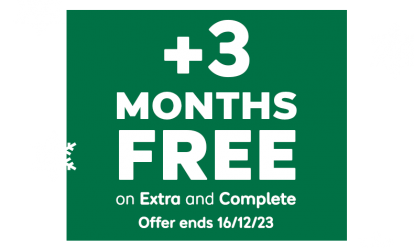 Jaguar's XF Sportbrake estate gets a timely upgrade with the brand's latest mild hybrid tech. Jonathan Crouch looks at what's on offer.
Ten Second Review
The Jaguar XF Sportbrake is an executive-segment estate that looks to offer a refreshing alternative to the usual choices in this segment, station wagon versions of the BMW 5 Series, the Mercedes E-Class and the Audi A6. In this improved form, diesel variants have become mildly electrified, there are sharper looks and the cabin's had a decent upgrade. In addition, as before, this Sportbrake variant offers a 1,700-litre load space and can tow up to two tonnes, plus there's the option of AWD.
Background
You don't associate Jaguar with estate cars. Which if you think about it is a little strange. The British have, after all, always liked them, whether as family load luggers or as stately 'shooting brake'-type designs. Even so, throughout its history, the Coventry brand has stuck to roots that lie in the production of saloons and sportscars. True, we did finally see an estate version of the compact X-Type in 2004, but even that was half-heartedly based on a Ford Mondeo and quickly forgotten when that smallest Jaguar model was quietly deleted from the range in 2010.
Would this famous marque ever develop a proper estate model on its own purpose-built platform? That question was finally answered late in 2012 with the launch of this car, the XF Sportbrake. That model continued to sell, even after the launch of the second generation XF saloon in 2015. Three years on, this second generation Sportbrake model was introduced, a car that was lightly upgraded in the Autumn of 2020 to create the model we'tre going to look at here. What's it like?
Driving Experience
As you'd expect, mechanically, the Sportbrake offers up much the same recipe as you'd find in its saloon counterpart, though in this case, there's the addition of self-levelling rear suspension to ensure an effortless ride, even when towing loads that can be as heavy as 2,000kg. The XF range hinges around a 2.0-litre diesel four-cylinder engine and while that doesn't sound too exciting, it's where the big sales are. It now comes in a single 204PS D200 state of tune, offers customers the option of rear wheel drive or AWD and features the brand's latest MHEV mild hybrid engine tech, which can assist the engine under acceleration. As a result, a rear-driven model gets to 60mph in 7.3s - or 7.5s in AWD form. The conventional petrol options continue much as before, 250 or 300PS versions of Jaguar's usual 2.0-litre Ingenium unit in the P250 (RWD) and P300 (AWD) variants. Both feature the engine technologies including a twin scroll turbocharger and Continuous Variable Valve Lift (CVVL), for a strong combination of refined performance and efficiency. The P250 makes 60mph in 6.7s, which the P300 AWD variant mamnages the same sprint in 5.9s. All engines are paired with Jaguar's eight-speed automatic gearbox, which can be controlled using the steering wheel shift paddles for added driver engagement.
Across the XF range, driving dynamics suit a relaxed but purposeful style. The chassis delivers near perfect 50:50 weight distribution and huge strides have been made to perfect refinement. Ride is another class-leading XF quality. This Jaguar shares its suspension set-up with the smaller XE model, which means struts with double wishbones at the front and an 'integral link' independent set-up at the rear. The steering uses the same electric power-assisted set-up as the Jaguar F-Type and XE, while active dampers are on the options list.
Design and Build
Jaguar is off to a good start on the Sportbrake as the XF is widely acknowledged as one of the cleanest pieces of styling in its class. The rear glasshouse is artfully integrated into the car's existing chassis hard points, with a genuinely sleek roofline which arches over the rear quarter-lights. The window line tapers gracefully as the flanks meet the rear glass area with its continuous wrap-around curve. The one-piece tailgate incorporates a rear spoiler with integrated high-level stop light and a chrome blade finisher. The rear of the XF Sportbrake also sports full LED tail lights. Visual changes to this revised model include sleeker super-slim all-LED quad headlights with 'Double J' Daytime Running Light signatures. There's also a wider front grille and revised bumpers with larger and lower air intakes at the front. Plus the side fender vents now feature the iconic Leaper emblem.
There are changes inside too, with a 'sportier' centre console that sweeps up to a new centrally-mounted 11.4-inch curved-glass HD touchscreen for the new 'Pivi Pro' infotainment system, which has standard 'Apple CarPlay'/'Android Auto' smartphone-mirroring and the latest embedded dual-sim technology with over-the-air updates. The seats have been re-designed with wider cushioning and a Jaguar Leaper embossed on the headrests. And the door casings have been revised too. Through the wheel, the driver now views a new 12.3-inch HD Interactive Driver Display that replaces the conventional dials.
The XF Sportbrake's load space features 1,700-litres of cargo capacity when all the seats are folded down. You also get under floor stowage and of course a 60:40 split rear seat. Cabin Air Ionisation gives you and your family clean air and an optional super-sized panoramic roof floods the interior with light.
Market and Model
XF Sportback prices run from around £36,000 to just over £46,000, which is about par for the course in the full-sized BMW 5 Series Touring/Audi A6 Avant-dominated executive estate sector. There's a premium of around £2,000 to progress from the alternative saloon model. The base diesel and petrol Sportbrakes come with an 'SE' level of trim, but otherwise, XF customers choose between 'R-Dynamic S', 'R-Dynamic SE' or 'R-Dynamic HSE' options.
Key here is the introduction of the standard 11.4-inch 'Pivi Pro' centre-dash infotainment screen, which incorporates two LTE modems enabling the system to carry out multiple functions at the same time, such as streaming media and downloading SOTA updates, without compromising performance. You also get a 12.3-inch digital instrument binnacle screen which can show full-screen mapping. And another screen can be activated via Jaguar's 'ClearSight' interior rear view mirror which gives the driver an unobstructed view of the road behind. Using a wide angle rear-facing camera, the optional system feeds images to a high-definition screen within the frameless rear view mirror; unhindered by tall rear passengers, poor light or rain on the rear screen.
The headlights can now be specified with Pixel LED technology and Adaptive Driving Beam capability so that they alter their range to fit with road conditions and surrounding traffic. You can also now specify a Cabin air ionisation system that improves interior air quality through Nanoe technolgy, which helps remove allergens and unpleasant odours.
Safety technology includes 'Forward Traffic Detection' which alerts you at times of reduced visbility when something is crossing your path up-front. And 'Forward Vehicle Guidance' which helps you place the car in low speed parking manoevres.
Cost of Ownership
As before, it helps the XF Sportbrake's cause that it's relatively light weight, thanks to the fact that so much of the structure of the car (75%) is fashioned from aluminium. The important news with this revised model though, is that its core 204PS 2.0-litre Ingenium diesel engine now features Jaguar's latest next generation Mild Hybrid Electric Vehicle (MHEV) technology for the first time. This uses a Belt-integrated Starter Generator (BiSG) situated in the engine bay to harvest energy usually lost when slowing and braking, which is then stored in a 48V lithium-ion battery located beneath the rear loadspace. It is able to redeploy the stored energy to assist the engine when accelerating away while also delivering a more refined and responsive stop/start system. What about the WLTP-rated results of all this? Well, you're looking at 54.2mpg on the combined cycle and 137g/km of CO2, which is very class competitive and 13-14% better than the previous D180 variant. Plus the D200 is RDE2-compliant, so is tax-optimised.
The petrol variants do without the MHEV tech - and it shows a bit. The P250 RWD version delivers 33.9mpg on the combined cycle and 188g/km of CO2. What else? You get the usual unremarkable three year warranty. And service intervals are set at 21,000miles or every 24 months, whichever comes first and it would be sensible to consider one of Jaguar's Service Plans that cover you for virtually everything in advance. There's a 'Standard Mileage Service Plan' that covers you for five years/50,000 miles. Or a 'High Mileage Service Plan' that covers five years/75,000 miles.
Summary
The Jaguar XF has always been an easy car to recommend if you wanted a saloon. But an increasing number of executive sector buyers don't. They'd like the status of the aspirational badge, but also want an element of practicality that'll get the goods in at IKEA, give the Labrador some breathing space and more easily suit the annual skiing trip to Chamonix. Hence the need for this XF Sportbrake in Jaguar showrooms.
On paper, this car's Teutonic rivals might seem more impressive. But it's easy to be impressed by something without necessarily liking it very much. An XF might not have the last enth of efficiency you'd find in a rival A6 or 5 Series. But for an increasing number of business buyers, it's the car they'd rather have on their driveways. Especially, I'd suggest, if it comes as a Sportback.