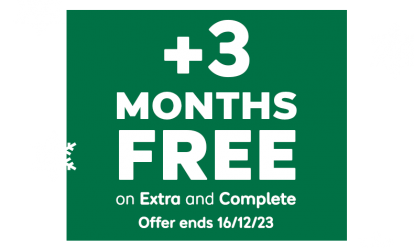 With 12 months of cover, new customers get an extra 3 months for free*.
*Added after 12 months, excludes Basic cover. New customers only. Ends 16/12/23, 7am.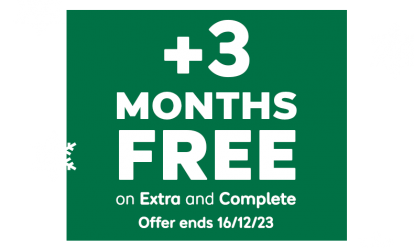 Jaguar's improved F-TYPE Convertible might charm you, thinks Jonathan Crouch
Ten Second Review
The F-TYPE. It's not only a sportscar - it's a Jaguar sportscar: the difference is important. Don't expect a racetrack refugee - but don't expect a luxury GT either, the kind of car sporting fans of the brand previously had so often to be satisfied with. Think instead of what an Austin Healey or a Triumph TR6 might be like re-interpreted for the modern era, a coupe or, as in this case, a roadster designed very much for the road. A machine you can't help but want to drive - and drive hard. That's more than ever what a F-TYPE can be, thanks to widespread improvements that have broadened its appeal.
Background
What do you expect a Jaguar sportscar to be? Charismatic? Memorable? Classically elegant? The company's F-TYPE model claims all these attributes. It's a little bit special. And it's changed quite a bit since we first saw this Convertible version back in 2013. First with the launch of an alternative fixed-top Coupe body style in 2014. Then with the announcement of manual transmission and AWD a year later. A frantic flagship SVR V8 derivative arrived in 2015 with supercar-style performance, just before the introduction of a minor facelift, an uprated V6 engine option and, perhaps most significantly, in mid-2017, an entry-level four cylinder variant.
Finally, at the end of 2019, there was the wider reaching facelift that created the version we're going to look at here. With this, the aging supercharged petrol V6 mid-range unit was finally pensioned off and a de-tuned version of the top supercharged V8 powerplant inserted into the range in its place.
Driving Experience
Speed and drama aren't lacking here. Even the base 300hp four cylinder P300 F-TYPE variant makes 60mph in just 5.4s en route to a top speed that has to be limited to 155mph. It even sounds great - or at least it does if you engage the standard Active Sports exhaust anyway, though some of the aural fireworks are artificially enhanced by the stereo speakers. For some F-TYPE folk though, this car just won't feel right with a mere 2.0-litres beneath the bonnet - and we can understand that. These people may also want the option of AWD, which you can't have on the P300. You can pay extra for that extra tractional system though, with the next powerplant up in the line-up, which is no longer a 3.0-litre supercharged V6, Jaguar having pensioned that aging unit off in favour of a new 450PS version of its classic supercharged V8. This fiery powerplant develops a prodigious 580Nm of torque from just 2,500rpm and makes 60mph in just 4.4s on the way to 177mph. Should that somehow be insufficient, the wild F-TYPE R variant continues at the top of the range with a 575PS version of the same V8, an AWD-only model which covers off that benchmark sprint in just 3.5s en route to 186mph. You can of course hear it all so much better if you switch from the Coupe bodystyle to this Convertible, which can raise or lower its hood in just 12s at speeds of up to 30mph. Inevitably, if you go for the four cylinder derivative, the exhaust melody isn't quite as addictive
But making this car fast was a very small part of making it great. After all, Jaguar's old XK sportscar was certainly quick, but only really ardent fans of the Coventry brand would ever have considered one in the same breath as, say, a Porsche 911. Can this F-TYPE at last do better? Before driving this one, we had our doubts - and in some ways still do, though there's certainly lots about the dynamic repertoire of this car that we really like. Take the steering, an electrically-assisted rack that turns out to be direct and feelsome in communicating what's going on beneath you. Equally good is the paddleshift ZF Quickshift auto gearbox, which F-TYPE folk now have to have, the four cylinder model's optional manual 'box having now, sadly, been discontinued. This auto lacks modern twin-clutch technology, but it's a rapid fire system with eight closely stacked sporting ratios and, for the V8s, has now been further optimised to constantly keep the supercharged engines in the sweet spot of the power band.
Design and Build
This Convertible variant's hood is cloth-covered of course and from start to finish, the mechanism takes just 12 seconds to activate. It's a multi-layered fabric affair with a thick Thinsulate lining to make it waterproof. When retracted, the top doesn't need a panel or a tonneau cover to smooth it over in the stowage position. Instead, the top section of the roof itself keeps everything looking tidy.
The visual changes made to this improved model are significant, centring mostly on a front end now embellished by super-slim pixel LED headlights that blend into the 'liquid metal' surfacing' of the restyled clamshell bonnet with its signature power bulge. There's also a smarter front bumper and a subtly enlarged grille that together aim to deliver more visual impact and presence.
It's certainly very firmly driver-orientated inside, the two front occupants separated by this prominent grab handle which sweeps down from the top of the centre console and wraps around behind the joystick-shaped SportShift gear selector. The main change with this revised model lies with the replacement of conventional analogue instrument binnacle dials with this configurable, high-definition 12.3-inch 'Interactive Driver Display' screen. There are no small rear seats like you'd find in a rival Porsche 911. And the boot space is quite tight too, at 196-litres, but at least this is unaffected by the position of the roof.
Market and Model
This Convertible body style will cost you around £5,500 more than its Coupe counterpart. Prices start at around £60,000 for the P300 four cylinder model - or from around £75,000 for the first of the V8s, the P450, available in rear-driven or AWD forms. If you want the top P575 F-TYPE R, you'll need around £103,000.
All F-TYPE models are very well equipped. Features fitted across the range include full-LED headlights with LED tail lamps, a deployable boot lid spoiler, a solar attenuating windscreen, auto headlight and wipers, power-folding heated mirrors, an Active Sports Exhaust, cruise control, all-round parking sensors and a perimetric alarm with immobiliser. The base P300 in standard form has 18-inch 'Style' 10-spoke wheels in Gloss Sparkle Silver with silver calipers. Across the range, there's no standard tracking system like you get with a Porsche though.
Inside, all F-TYPEs get power-operated Sport seats - 6-way adjustable ones trimmed in Ebony leather and suedecloth in the case of this P300 model. And there's a 12.3-inch 'Interactive Driver Display' instrument binnacle screen. Not quite so cutting-edge is the 10-inch 'Touch Pro' centre-dash infotainment monitor, but it includes a 'Connected Navigation Pro' system, along with the usual DAB and Bluetooth functions. There's a 'Smartphone Pack' too, which now includes 'Apple CarPlay' or 'Android Auto' smartphone-mirroring. The centre screen is also your portal for the standard 380-watt Meridian Sound System and a rear view camera. Single-zone climate control, an auto-dimming rear view mirror, bright metal pedals, deployable front air vents, an Ebony Morzine headliner and a sports steering wheel also feature - and there are two selectable drive settings; 'Dynamic' and the 'Rain, Ice Snow' mode.
Cost of Ownership
So to the costs of running this car. Which are going to take on some significance if you're one of those who'll have to stretch a little deeper than might have been expected to afford an F-TYPE in the first place. It isn't, after all, the value proposition its predecessor the E-TYPE once was. That car cost around £2,000 back when it was launched in 1961, which equates to around £36,000 today, around half the cost of F-TYPEs that'll typically be rolling out of British showrooms.
The WLTP-rated stats suggest that the P300 model's four cylinder is reasonably economic, managing 29.8mpg on the combined cycle and 217g/km of CO2. If you've your heart set on an F-TYPE V8, you'll be expecting cleanliness and frugality to take a bit of a dive - and you'll be right, though the difference over the P300 isn't huge. The combination of a 5.0-litre supercharged engine, auto transmission and (potentially) AWD is never going to translate into a car that would please the Friends of the Earth and, sure enough, for both the P450 and P575 variants, the figures delivered will get you on friendly terms with the staff at your local filling station and see you doing a double-take when your tax return comes in. With the rear-driven P450 V8 model, the figures are rated at 26.5mpg and 242g/km. For the P450 AWD, you're looking at 26.0mpg and 247g/km. Finally, for the top P575 F-TYPE R, the readings are 26.4mpg and 243g/km.
Summary
It's hard not to have pre-conceptions about what this Jaguar might be like, especially if you're the kind of buyer who might ordinarily prefer a German-branded sportscar. We came to this test with just such a preference, but we've ended it understanding afresh just why this F-TYPE is such an appealing prospect.
Of course, it's asking a lot for one model to straddle so many different sportscar segments. At one end of the range, the 2.0-litre derivative could be an alternative to cars as relatively affordable as a well-specified Audi's TTS. At the other, the flagship R version has the performance to worry a McLaren! While in the middle of the line-up, the potent P450 V8 variant battles Porsche's iconic 911.
True, it won't match a rival Porsche model's delicacy of response at the limit, but in compensation, you'll get yourself a car that's arguably better looking, unarguably better equipped, more powerful and endowed with a greater sense of occasion, inside and out. Plus it steers, handles, stops, goes - and sounds - exactly like a Jaguar sportscar should. Don't knock it because it's not a Boxster or a 911: the F-TYPE was never intended to be like anything else. This model is different - powerful, sensual, ultra-precise: a car that feels alive. Jaguar needed to find a younger, more demanding, hungrier audience for its sportscars. It needed to convince people like us that here and now in this market at this time in history, it could be great again. Mission accomplished.