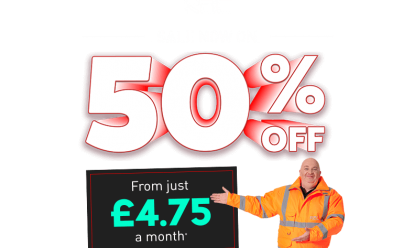 Get covered in our half price Breakdown Cover sale from just £4.75 a month.* We're the UK's best breakdown provider as voted by Auto Express drivers 2021.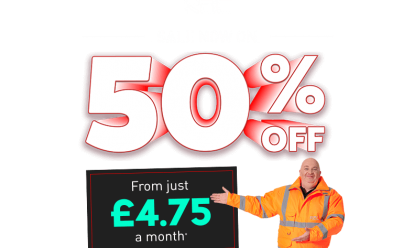 By Andy Enright
Introduction
Buying a used light van used to be something of a headache. That changed in 2003 when the Ford Transit Connect was launched. Ford claimed for some years that it was Britain's only light van built from the start as a commercial vehicle rather than a car. Whether that was true or not, customer response was encouraging in what, at the time, was a niche many wondered would be profitable. As a result of strong sales since, there are quite a few used examples available. Here's what to look for when buying.
Models
5dr light van (1.8 diesel [L, LX, SportVan])
History
The market for small vans always used to be extremely limited and there was a reason for that. They just weren't very good. Most of them were just superminis or family hatches with blanked out side windows, offering little in the way of extra utility for trades people.
These days, when you think of a small van, you think of something like this, Ford's Transit Connect. Though it occupies no more room on the road than your average little family runabout, it's potentially got enough space inside to make commercial vehicle users think twice about going for something bigger.
Though the Vauxhall's Combo, launched at the turn of the century, was arguably the first design seen in this kind of market, it was this Transit Connect that really developed this sector, universally recognised as more sophisticated, far more flexible and higher-tech when it was launched in the UK back in 2002. A whole host of copycat rivals - Citroen's Nemo, Peugeot's Bipper and Fiat's Fiorino - quickly followed. But despite tough competition, this Ford has continued to find a ready band of buyers. The Blue Oval brand says that's because, unless its competitors, it uses fewer car-derived components in its construction, leading to a less compromised commercial vehicle result.
This was a design that had to replace two old Ford LCV models - the Courier (essentially a 1990s Fiesta with a metallic shed bolted to the back) and the Escort van (basically an Escort estate with blanked-out windows). It was a big step forward from both of course, as it had to be, but the need to cover potential future buyers for both these aged products did mean this design had to cover the needs of a rather wide range of customers. So while Peugeot, Citroen and Fiat have long offered two distinct sizes of van - small and compact - to suit LCV buyers who don't quite need to stretch to something Transit-sized, Ford, until late 2013 at least, had just this Connect model.
Short wheelbase versions of this compact Ford LCV were designed to take on little Nemo and Bipper-sized rivals, while long wheelbase variants aimed to deal with Renault Kangoo, Citroen Berlingo and Peugeot Partner-sized competitors. To keep the Transit Connect appeal fresh, 2009 saw this introduction of a revised version, featuring a slightly smarter look, higher equipment levels and, most significantly perhaps, a more sophisticated 110PS 1.8-litre TDCi diesel at the top of the range. Ford even developed a Sport Van version and in 2011 an electric model appeared. This shape Connect ran on until 2013 when it was replaced by an all-new successor. Over a decade is a pretty good innings for a vehicle that still looked and felt remarkably fresh by the time it was at last thoroughly updated.
What You Pay (used_pay)
What You Get
Your first decision in Transit Connect purchase is in the choice between two bodyshapes. Most choose the short wheelbase low roof model - the variant that takes on smaller supermini-based LCV rivals like Citroen's Nemo and Peugeot's Bipper. Whether you choose 75, 90 or 110PS versions of the 1.8-litre TDCi diesel to go with it, you'll have two payload choices, the T200 which can take up to 638kg and the T220, which can take up to 843kg. If that's really not enough for the loads you have in mind, then there's the option, for a premium of around £1,000 model-for-model, of a long wheelbase highroof T230 model with a meatier payload allowance of up to 902kgs. It's available with the same three 1.8-litre TDCi engines and it was originally launched to take on large compact family hatchback-based LCVs like Renault's Kangoo and Citroen's Berlingo.
If your business occasionally needs to transport more than one passenger, then you might be interested in seeking out one of the versatile Crewvan variants, these featuring an occasional fold-out rear bench. Or, if the over-riding need is the transport of people rather than packages, then there's a fully-seated Tourneo Connect model that may even be of interest to car buyers currently considering used versions of small van-based models like Fiat Qubo or Citroen's Nemo Multispace. Mindful of the current need to save the planet, Ford also developed a zero-emissions electric version, capable of up to 80 miles when fully charged.
Inside, where build quality from the Turkish factory is solid, later models featured a wider use of switchgear and design cues from plush Ford passenger car models like the S-MAX. Customers used to early Transit Connect models who find themselves in a post-2009 version may also notice more comfortable seats and higher quality, more durable materials. One of the advantages of the fact that this product had to cover both the small and the compact LCV sectors is that the most affordable models had to be large inside. If you're familiar with small LCV rivals like Citroen's Nemo or Peugeot's Bipper, it's immediately clear upon entry that this Ford offers more head and shoulder room. Getting comfortable at the wheel is easy thanks to a steering wheel adjustable for both reach and rake.
And there's plenty of cabin storage space. Though it's difficult to know where you would put a sandwich box, a flask or a big bottle of water, there are compartments both in front of the gearstick and behind the handbrake, then between them in the centre area between the seats, a holder for coins and tokens and two large cupholders, narrow bins in each door, a lidded glovebox, an optional tray under the front passenger seat and a shelf at the top of the fascia capable of holding A4 documents. Oh and a curry hook for your Friday night takeaway. There's also an optional full-width shelf above your head. If you find a model fitted with the useful fold-forward front passenger seat, then when folded forward, the seatback can double as a desk and has cupholder areas in it. Outside, one nice security touch is that you'll need your ignition key to open the bonnet.
What You Pay
Please contact us for an exact up-to-date valuation.
What to Look For
The Transit Connect is built to be extremely tough, and has benefited from many years of continual development. The interior isn't the last word in sophistication but it is hardwearing. The vehicle when new was covered by a three-year/60,000 mile warranty which also includes Ford breakdown assistance, which may be of use on later examples. Check for damage to locks, tired rear suspension, rogered clutches and brakes and make sure that the load bay tie-downs aren't bent or broken. The engines tend to be very rugged but issues with batteries and alternator wiring have been reported.
Replacement Parts
(approx prices, based on a 2009 1.8 Connect) As with most Ford models, spare parts are reasonably priced and very plentiful. You'll be able to pick up a starter motor for around £50 while an alternator shouldn't cost you much more. A front bumper is around £45. Small wonder these vehicles are so popular. It'll cost you peanuts to replace most parts.
On the Road
You don't buy any van prioritising ride and handling but with Ford's strong reputation in this department when it comes to passenger cars, then it's fair to expect this Transit Connect to dynamically be one of the class leaders. Which broadly, it is. Like any LCV, it handles better fully loaded, but even in an unladen state, cornering response is predictable and body roll well controlled. Once you've dropped off your load, you could even imagine rather enjoying yourself on the way home around the twisty stuff in one of these. To a point.
Of course, to a certain extent, you'll be limited by the modest outputs of the 75 and 90PS 1.8-litre TDCi diesel units that most Transit Connect customers chose - in the post-2009 period anyway. By then, there was very little market for petrol power in this class of van. If that's not enough, then it's worth knowing that Ford offered post-2009 buyers a 110PS variant of the same unit which offers a meaty torque figure of up to 280Nm (up from 220Nm in the 90PS version), something you really notice when overtaking. That helps with a braked trailer towing capacity of up to 800kg. Depending on the variant you choose, the turning circle is between 11 and 11.9m.
There's plenty of technology here as well. Safety-wise, the Electronic Stability Program (ESP) is standard across the entire range, plus there's Hill Launch Assist to stop you drifting backwards on uphill junctions, Anti Lock Brakes with Hydraulic Brake Assist, Active Yaw Control (that assists with oversteer and understeer), Roll Movement Intervention (to reduce body roll) and, if the worst comes to the worst, Roll Over Mitigation.
Overall
The Ford Transit Connect has been one of those quiet successes that has become a part of the automotive scenery in this country. With the benefit of hindsight, it's easy to say that this was a logical development path for Ford to pursue, but at the time, building a specialised small van from the ground up seemed like overkill; a gamble and a potential waste of R&D budget. When much the same vehicle is still selling strongly and has spawned a welter of imitators, that clearly wasn't the case. The Transit Connect is simple where it needs to be, tough, inexpensive and practical. It's the best bits of Ford. As a used proposition, there's plenty of choice but at the lower end of the market, it's well worth spending a bit more to get hold of something that's not led such a hard life. A little extra goes a long way here.