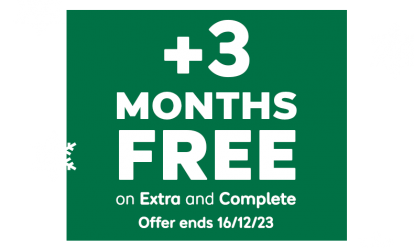 With 12 months of cover, new customers get an extra 3 months for free*.
*Added after 12 months, excludes Basic cover. New customers only. Ends 16/12/23, 7am.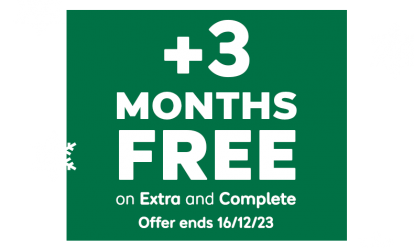 By Jonathan Crouch
Introduction
When it all comes down to it, the right tool can make child's play of men's work and if you're looking for the best all-round contender in the pick-up sector from the 2019-2022 era, then Ford's Ranger for many buyers may be exactly that - the right tool. As well as being practical, spacious for cargo and good for towing, this much improved post-2019 version of the T6 generation MK3 Ford Ranger pick-up got a 2.0-litre EcoBlue diesel engine that was significantly more efficient. It was also smarter, safer and very media-savvy, plus it was very decent to drive for a vehicle of this kind and there was even an extreme Raptor version at the top of the range capable of rally-style off roading. Across the Ranger line-up, the idea was to tempt everyone from builders to surf-boarding, mountain-biking families with what turned out to be a very complete product indeed.
Models
Pick-up - 2.0 TDCi diesel
History
Think of a pick-up and Ford is a name you just can't ignore, the company represented in this growing segment since the turn of the century by the tough, versatile Ranger model. The T6 generation MK3 design, first launched in 2012 and heavily updated in 2016, enjoyed a long production life, but its final updates received in mid-2019, were the most significant of all. That final 2019-2022-era version is the one we're going to look at here.
Globally of course, Japanese brands still rule the pick-up sector but Ford has the longest heritage in this segment, with light truck sales that have run into their millions Stateside. Even the company's very first Model T back in the early 1900s could be bought in small truck form, with a closed cab and a flat deck at the back. In those times - and right up until the end of the last century - vehicles like these could happily be as rough as they were tough. No longer.
These days, the lifestyle part of this market is more important than the section of it that appeals to farmers and construction site workers and the Ranger model line was created in direct response to that customer shift, launched in its rather crude original form back in 1999, when it replaced the previous rather half-hearted Cortina and Sierra-based P100 pick-up models. That first Ranger was facelifted in 2002 but the second generation model of 2006 was a much better effort, updated in 2009, but that contender still couldn't properly compete with the tough Japanese triumvirate that in the first two decades of the 21st century tended to rule this market segment this side of the Atlantic, Mitsubishi's L200, Toyota's Hilux and Nissan's Navara. Hence the need in 2012 for the third generation T6 Ranger design, the original version of the vehicle we're looking at in this Review.
What we're looking at here is very different from the pick-up that first appeared in Ford dealers back in 2012 - and that's the case even if you don't opt for the rather extreme 'Raptor' 'Ford Performance'-engineered flagship version. All variants of the post-2019-era version of this pick-up got an all-new 2.0-litre EcoBlue diesel engine that could be mated to the advanced new 10-speed auto transmission we first saw in the Mustang sportscar. Ford also matched - and in many respects surpassed - the class standard in terms of drive dynamics, media connectivity and camera-driven safety kit. Plus, as before, mainstream versions of this truck could carry over 1.2-tonnes and tow over 3,500kgs.
Sounds promising doesn't it, should you be looking for a pick-up from this period. This model was finally replaced in Autumn 2022 by an all-new design.
What You Get
The kind of Ranger you've chosen will be instantly evident from a glance at its nose, revised on this post-2019 model. The standard range variants now have smarter front grilles with a central horizontal bar split along its length in two slim sections. This styling feature is grey-finished on the utility-orientated XL models, gains silver embellishments on the plusher XLT and Limited variants and is titanium-trimmed on the Wildtrack lifestyle derivative that 64% of Ranger customers choose.
The top Raptor Ford Performance model of course, needs a tad more street presence and gains it with a unique grille that features FORD lettering rather than the usual Blue Oval badge. All post-2019-era Rangers got an improved bumper design with new separated front fog lamp housings and a larger lower skid plate.
At the rear, the size of the cargo bed is dependent on which of the three body styles you select. There are three: a two-seater 'Regular Cab', a so-called 'Super Cab' with occasional rear seats and the four-door Double Cab that most end up buying. The owner of an ordinary Ranger might notice that the top Raptor model is 168mm wider, thanks to its redesigned suspension and a track width that's 150mm greater.
At the wheel, you climb up high to perch behind the wheel of any pick-up and this Ranger is no exception. There are plusher, more sophisticated cabins from pick-up in this segment from this era, but this one does at least seem well put together and features some plush touches on top variants. On all Rangers, the centre part of the dash is dominated by a SYNC infotainment display, the 8-inch SYNC 3 touchscreen featuring on higher-end variants and on these post-2019 models including the useful 'FordPass Connect' WiFi Modem. Plus there's Apple CarPlay' and 'Android Auto' smartphone-mirroring and of course navigation will feature on plusher-spec variants. The instrument binnacle display features a central screen with selectable informational sections and there's plenty of storage space, including a deep 8.5-litre centre console box between the seats and door bins that can hold 1.5-litre bottles.
And in the back of the Double Cab model? Well though this vehicle is actually narrower than an ordinary Ford Mondeo (and up to 100mm narrower than some of its rivals), it is possible to get three adults across the back seat without too much discomfort: two six-footers can certainly sit one behind the other with reasonable ease. If there are only two of you in the back, you'll be able to use the provided central armrest with its built-in dual cup holders. There's also the bonus of being able to flip up the seat base to access two hidden storage compartments and create an extra area for transporting smaller items you don't want to consign to the cargo bay.
Potential business owners may well be approaching this Ranger thinking that sleeker looks, a smarter more sophisticated cabin and decent driving dynamics are all very well, but that they'd trade all of them for the practicality out back that this vehicle will need to earn its keep. They don't have to. On paper at least, it looks as if this Ford's load-lugging stats are as good, if not better, as you'll find with any other pick-up in this segment from this era.
The tailgate is strong enough to deposit weights of up to 200kgs onto it as part of the loading process. When the time comes to lift it again, if you've a higher-end Ranger variant, you'll be glad of the 'easy-lift' functionality that Ford added to this improved model. That sees the tailgate fitted with a torsion bar that significantly reduces the effort needed to pull it up back into its raised position. As for what's inside, well the Regular Cab and Super Cab models offer some of the very largest cargo bays in the class from this period, with load boxes that respectively measure in at 1.82 (for the Regular Cab) and 1.45 cubic metres (for the Super Cab). The Double Cab version is also more than competitive, with a 1.21 cubic metre load box.
If your notebook is at the ready, we'll get into a few more specifics on the load dimensions and payload capacities you'll want to consider in choosing the correct Ranger variant for your needs. The load box length is 2,317mm for the two-seater 'Regular Cab' model and 1,847mm for the 'Super Cab'. With the Double Cab variant, it varies according to trim - 1,613mm for XL, XLT and Limited versions and 1,575mm for Wildtrack and Raptor models. All Rangers have a load box width of 1,560mm, narrowing to 1,139mm between the wheel arches. Which is easily enough to accommodate the kind of Europallet you shouldn't have too much difficulty in lifting up to floor level thanks to a reasonable loading height that on a base-trim Double Cab version starts from 835mm; in the Raptor derivative though, it's up at 906mm. The load box depth on most Rangers is 511mm, rising to 541mm on Wildtrack and Raptor models.
Payload capacities aren't quite as impressive, but you'll still be able to carry a gross figure comfortably over 1.1-tonnes if you choose the right version of the Double Cab model, the base XL variant managing a 1,140kg payload. Bear in mind though, that this capacity will fall to only a fraction over the one tonne mark if, like many Ranger buyers, you choose a Wildtrack model, that variant capable of carrying no more than 1,024kgs. Yes, that's still above the one-tonne threshold for claiming back VAT, but it means that careful calculations will need to be carried out by Ranger Wildtrack purchasers before fitting optional extras like tonneau covers and roller shutters. That is though, at least much better than what's achieved by the top Raptor variant, which doesn't get near that VAT threshold figure, its 620kg payload weight effectively classifying it as a car.
Go for the alternative 'Super Cab' and 'Regular Cab' body styles and of course payload capacity is much less of an issue. On a 'Regular Cab' variant, the gross payload figure can be as much as 1,252kgs, while with a 'Super Cab' model, as much as 1,197kg is possible. As for the weight you can tow, well choose the right variant and you'll be able to lug along up to 3,500kgs, a figure that's un-bettered in this class from this period.
What You Pay
Please fill in the form here for an exact up-to-date information.
What to Look For
Quite a few Rangers will have been seriously used off road - or for really heavy loads - so previously owned examples ought to be thoroughly checked. Have a look underneath and under the arches. The Ranger is built extremely tough, and has benefited from many years of continual development. The interior isn't the last word in sophistication but it is hardwearing. As usual, check for damage to exhausts and suspension from off-roading, check that the load bay tie-downs aren't bent or broken and ensure there's life in the clutch, diffs and dampers. It might have been used for some very heavy towing.
Our ownership survey revealed a few issues. Several owners reported issues with the gearbox - either transmission rattling or difficulty in selecting gears (especially 3rd), so look for that on your test drive. One owner had had a complete engine failure (down to a faulty piston) and various niggling faults were reported with things like the towbar, rear bumpers, trailer wiring and water leaks. Some owners also observed that the paintwork scratches easily. Otherwise, it's just the usual things; check the alloys and the load bay for undue scratching. And insist on a full service history.
Replacement Parts
(approx based on a 2019 Ranger 2.0 TDCi 170PS - Ex Vat) An oil filter is in the £3 bracket. An air filter is in the £25 bracket. Front brake pads cost in the £46-£88 bracket. Front brake discs cost in the £120 to £135 bracket. A wiper blade is around £14-£17. A pollen filter is around £7-£23. A tail lamp is in the £182 bracket. A headlamp is around £267. A water pump costs in the £28-£106 bracket. A thermostat is in the £12-£21 bracket. A radiator is in the £260-££267 bracket.
On the Road
A Ranger remains one of the more agile pick-ups you can choose. Which makes it a good basis for the 'Ford Performance'-engineered Raptor version added to the top of the range in 2019. It's much more probable of course, that you'll be wanting a more mainstream model and analysis of the drive dynamics delivered by more accessible variants is going to be our primary focus here. Changes made to the post-2019 version of the MK3 Ranger saw all derivatives re-fettled beneath the bonnet with the addition of a fresh range of 2.0-litre four cylinder EcoBlue diesel engines. There are two single-turbo versions of this unit, one with 130PS and the other, far more widely available, with 170PS. This more powerful unit, like the top Bi-turbo 213PS version of this engine, could from new be optionally ordered with much more sophisticated automatic transmission, a sophisticated 10-speed unit borrowed from the Mustang sportscar.
By 2019, all Rangers were fitted with 4WD, though you'll need to stay in 2WD if you're travelling at speed in this pick-up on dry tarmac. If conditions get slippery and your speed drops - or you're venturing onto light off road surfaces, then on the fly, you can switch the little controller by the gearstick into its '4H' '4x4 High' mode. For anything more serious than that, you'll want to switch further into the '4L' '4x4 Low range' setting that'll give you a seriously go-anywhere set of off road ratios. If you're using that kind of capability in this Ford pick-up, care and low speeds are needed - unless you happen to have chosen the top Ranger Raptor variant. Here, a stiffened chassis and a bespoke coil-sprung rear suspension set-up mean that you can race along off road trails at astonishing Paris-Dakar Rally-style speeds, particularly if you activate the selectable 'Baja' driving mode. But the Raptor's too pricey and practically compromised to suit more typical Ranger buyers, who'll be pleased to find the updated mainstream models better provided for in terms of camera safety equipment. This Ford is also more efficient to run than it used to be, a typical 170PS manual variant capable of 36mpg on the WLTP combined cycle and 205g/km of CO2.
Overall
You can't deny that this improved post-2019-era version of the 'T6'-generation MK3 Ranger is a thoroughly engineered product. It was the first Ford pick-up to credibly justify market sales leadership. It's spacious, clever, decently good looking, able to carry large loads and in this post-2019 form, finally had engines efficient enough to stand comparison with the competition. Whether the need is for active family weekends, or simply to carry workmates with their kit and tools, this solid do-almost-anything automotive swiss army knife seems to have it covered.
From the back streets of Bangkok to the logging trails of Liberia, you'll find Rangers earning their keep, but this model's most unique selling points go beyond just sheer ruggedness, tough though this Ford is to break. It all means that customers in this class who habitually might simply sign up for another Hilux, Navara or L200 from this period in this segment really ought to consider this Ranger too. That was Ford's objective here. Job done.