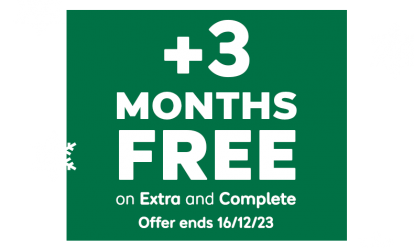 With 12 months of cover, new customers get an extra 3 months for free*.
*Added after 12 months, excludes Basic cover. New customers only. Ends 16/12/23, 7am.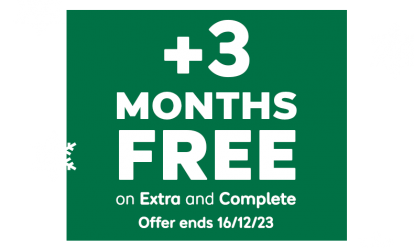 BY ANDY ENRIGHT
Introduction
Very much the car retailing success story of the last few years, the Ford Focus was responsible for forcing every rival manufacturer to up its game. The hatchback models sold in their multitudes but the saloon and the estate models were a little less ubiquitous. Here we take a look at buying one of Ford's compact load luggers and ask whether it's worth looking for a bargain.
Models
Models Covered:
5dr estate: 1.6, 1.8, 2.0, 1.8 turbo diesel [CL, Zetec, LX, Ghia, ST170])
History
Early Ford Focus Estate models date back to 1999 but it's worth seeking out one of the facelifted first generation models we look at here, introduced in 2002 and on sale until the MK2 Focus Estate arrived in Spring 2005. Although the post-'02 models look a little sleeker and are slightly better equipped, the real reason for doing this is these cars featured Ford's new generation of common rail TDCi diesel engines (or at least most of them did: the old 90bhp TDdi unit continued for a year or so after the facelift in some cheap variants, so make sure you know what you're buying).
The whole diesel thing is important since if you're looking for an estate like this, you're probably better off going for diesel power. And the diesel powerplants fitted to early Focus models were woeful. In contrast, their 1.8 TDCi replacements were class-leading, offered in 98 and 113bhp states of tune.
To help publicise the 2002 facelift, Ford also launched a sporting ST170 'warm hatch' petrol range-topper which arrived in estate guise in 2003. The visual tweaks visited on the standard cars after all, weren't likely to get too many tongues wagging amongst potential buyers. For the record, these amounted to the addition of minor things like subtle front bumper rubbing strips much in the style of later Mercedes A-class models. The narrow black strips below the headlights afforded some protection in a multi storey car park, but they were chiefly there to add a touch of gravitas to the front end.
The nose of the Focus also benefited from a slightly more prominent mesh grille as well as the blue-tinged xenon headlamps. The front indicators, previously mounted below the headlamp unit, were incorporated inside the lamp housing in a similar vein to Volkswagen's Golf. The most obvious difference to the front end was the different shape of the under-bumper air intake and the fog lights. Instead of a benign arc to the intake, the late shape Focus featured a unit bounded on either side by some quite aggressive diagonal supports giving the Focus a far more sporting appearance. An LPG powered Bi-Fuel model was launched in June 2003. The range was replaced in 2005 with an all-new Focus model with an even more specialised estate model offered.
What You Get
One of the longest wheelbases in the class (2615mm) means almost unrivalled load-carrying capacity (1580 litres) and a space optimised for shape and access. It also means that Focus estate passengers can enjoy more head and legroom than in any of the other three bodystyles. Three adults can sit comfortably across the rear bench. Other differences include stiffer suspension to facilitate a 500kg payload (or 550kg if you find a car with the extra-cost 'Business Pack').
Despite this, the estate actually has a slightly softer ride than, say, the Focus saloon, thanks to a floor height some 25mm higher (the necessary longer wheel travel creates better ride comfort). Understandably, this might lead you to expect a high loading lip over which to lug heavy items. Not what you need on a rainy afternoon at Tescos. But here again, the facts are contradictory.
The figures show that the Focus estate had the lowest loading lip in the class. Yet at the same time, there's more height in the cargo area than can be found in any other comparable rival. All of which would be of little use if the estate compartment were not particularly wide. Well it isn't by the best class standards but 1156mm ought to be enough. Few small estate customers will regularly want to carry items more than a metre wide.
Some apparently wide estates are also compromised with suspension turret intrusions so that huge items must be tilted or lifted above them. Again, the Focus remains a practical choice, thanks to its multi-link suspension, all of which is concealed under the floor. Passengers are also pretty well taken care of. The car led its class in terms of headroom at the front and also bettered most of its competitors in terms of head, shoulder, leg and knee room at the rear. Equipment meanwhile is pretty average for the class, though buyers did boost it by ordering various option packs. The cleverest of these is the 'Interior Versatility Package (IVP in Ford-speak). This included a fold-away front passenger seat, a 40/20/40 rear seatback, a 'smart' package tray to neatly control items that would otherwise roll around in the boot and additional stowage nets, kangaroo 'pouch-style' pockets and hooks.
What You Pay
Please fill in the form here for an exact up-to-date information.
What to Look For
Ford's 'Zetec' engines are, on the whole, reliable, so give the car the usual once-over looking for signs of wear and indications of hard fleet, company or rental car use. Worn carpets, and scuffed trim are the usual clues.
Check that all the electrical items work properly, ensure that the air conditioner delivers chilled air soon after the engine is started and remember that a full service history always helps when selling on, too. If you're looking at ST model, make sure the tyres still have some tread on them, and that the car hasn't been thrashed or crashed. Focuses are tough but some will inevitably have been abused.
Replacement Parts
(approx based on a Focus 1.6 Estate) As you might expect, parts are plentiful and relatively inexpensive. A clutch assembly will be around £100 and an alternator should be close to £140. Brake pads are around £25 a front set with rear shoes around £45, a replacement headlamp is close to £80 and a manual door mirror should be in the region of £50. A full exhaust is about £200 and a catalyst is about £240. Dampers are around £40 each and a radiator about £100.
On the Road
When you'll really appreciate the Focus is when there's no one in it but you. Under the skin lie a host of engineering novelties that together, enable it comfortably to take the honours as the best driver's car in the class. The body, for a start, is 100% stiffer than that of the Escort and 15% stiffer than its nearest rival. The gearbox is slick enough to make you want to change up and down just for the sake of it. And the fully independent suspension attains a level of sophistication previously unheard of in this class.
We're not just talking about tyre-squealing qualifying laps around your favourite country B-road test route either. Ford's engineers have tuned the Focus to compensate for the times you and I get brain fade; you're lost, it's dark and chucking its down and the kids are screaming in the back. The corner you just entered too quickly is getting sharper and you do exactly the wrong thing; you stamp on the brakes. This car will deal with that: no fuss, no problem.
Performance is reasonable - though not exceptional, with the 1.6-litre engine many will choose making sixty in 11.2s on the way to 114mph. Its fuel economy (41.5mpg on the combined cycle) comfortably beats all comers, however, and there are major components everywhere designed to need minimal or no maintenance.
As we've said, the engine to go for in this car for most buyers should be the TDCi diesel, which was offered in 98 and 113bhp states of tune. Ignore the old-tech TDdi 90bhp budget unit that continued for a year or so after the '02 facelift. The advanced electronics fitted to both TDCi powerplants give some surprising real world benefits. Naturally, the car's performance is way beyond anything yet seen in a diesel Focus. The ability to sprint to sixty mph in 10.8 seconds in the fastest variant is coupled with an average fuel consumption of around 50mpg in both TDCi engines. When the mechanicals detect that hard acceleration is required, an 'overboost' facility is actuated, giving a transient torque increase via the turbocharger. With 280Nm at 1850rpm, the Focus TDCi estate is as gutsy in terms of pure pulling power as many V6 petrol powered cars.
Sportier drivers unconcerned with the diesel's benefits will choose the 2.0-litre ST170 performance-orientated petrol model which is a very nicely balanced enthusiast's estate.
Overall
A Ford Focus estate is never going to be the most exciting choice to most bystanders but if you need a little practicality and don't want to sacrifice fun behind the wheel, it's a savvy choice. The ST170 estate is a very underrated piece of kit but it's the 1.8TDCi diesel models that are most worth your attention.