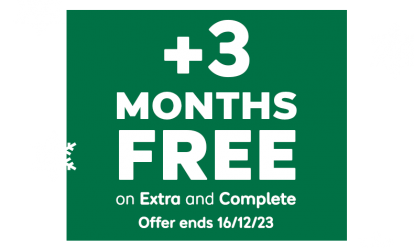 With 12 months of cover, new customers get an extra 3 months for free*.
*Added after 12 months, excludes Basic cover. New customers only. Ends 16/12/23, 7am.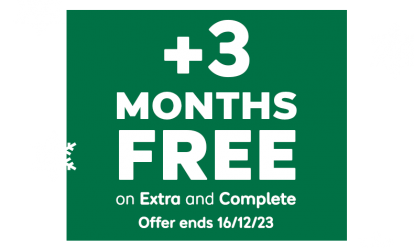 Fiat's E-Ducato offers a big EV van's impressive pulling power - and much else. Jonathan Crouch takes a look.
Ten Second Review
With the E-Ducato, Fiat borrows the Stellantis Group's EV powertrains to take its first step into the market for large segment fully-electric vans. Should you consider one of these? There's a combined cycle driving range of up to 175 miles, unimpeded carriage volume compared to the combustion version and eager performance. All food for thought.
Background
The Fiat Ducato van has long been a shared design, but has a history of going its own way with powertrains. At first glance, this fully-electric E-Ducato version seems as if it might be different, borrowing shared Stellantis Group battery tech. But even here, it offers an entry-level 47kWh battery that you can't have with cloned Vauxhall Movano Electric, Citroen e-Relay and Peugeot e-Boxer models.
Most potential customers though, are going to want the bigger 79kWh battery that is shared with those rival vans (though it offers longer driving range here). Necessarily so because the drive range of the base 47kWh variant would be difficult for many businesses needing a large EV van to stomach. Fiat's approach also differs to its Stellantis Group cousins in cabin design. And the brand claims its Fiat Professional dealer network is more business-friendly too. All enough to move make the E-Ducato a creditable proposition? Let's see.
Driving Experience
The formula here is familiar from the Stellantis Group large EV vans with which this Fiat shares its powertrain. Except that in this case, the lithium-ion battery beneath the cargo bed can additionally be had in a more affordable, smaller 47kWh 3-module size offering a (worryingly modest) maximum of 88 miles of combined range (which rises to a slightly more acceptable 139 miles in the city). There won't be many takers for that battery option, which is why the Citroen, Peugeot and Vauxhall versions of this design don't offer it. So most E-Ducato folk will be choosing the larger 79kWh 5-module battery pack that those three other Stellantis Group models also use. Here it offers a higher mileage capacity though - up to 175 miles of range on the combined cycle, compared to 154 miles for an e-Relay, an e-Boxer or a Movano Electric. The E-Ducato 79kWh model's EV range figure rises to 230 miles in the city.
Whichever of the two batteries you choose in your E-Ducato, it'll be mated to a 122hp electric motor offering 280Nm of torque and predictably eager acceleration. Once you're on the move in this Fiat, you'll be driving in one of three primary driving modes. There's a 'Normal' setting and one for 'Power', which you might select for, say, hilly terrain. Mostly, you'll probably use 'Eco', which muffles accelerator response and turns the climate system off to reduce energy consumption. There is also a fourth mode - 'Turtle' - but you don't actually select it: it kicks in automatically if the battery becomes seriously low on energy, giving you a better chance of reaching the next charging station.
That sort of thing shouldn't be too much of an issue if you make the most out of the regenerative braking system, which recovers energy as you slow or off-throttle. And you can increase its effect by using paddleshifters located behind the steering wheel. Ride quality, a traditional Ducato strong point, isn't too much affected by the extra weight of the battery pack.
Design and Build
Apart from the addition of a charging flap, different badge work and the lack of an exhaust pipe, there's nothing really to visually set the electric version of this Fiat apart from its diesel stablemate. It does though, come only with a choice of three (rather than five) body lengths. This model line remains recognisable but a bit more contemporary-looking in the improved Series 8 form launched early in 2022, which is what we look at here. The Series 8 changes saw the front gain a bolder look, featuring a smarter Fiat badge in its centre, flanked by re-styled three-section headlamp units which can now feature full-LED beams.
And inside the three-seat cab? Well this sixth generation Ducato design may be getting on for a decade old but it'll feel pretty current if you've got a spec including the two optional screens that can be added into the cab of this 'Series 8' model. You have to look closely to see the differences with this EV version. There's a dial on the dashboard telling you how much charge is left in the battery, with a separate display on top of the fascia repeating the information, indicating how much drive range is remaining and showing if the regeneration function is operating. Plus there's another dial telling you how economically you happen to be driving.
Market and Model
After the available £5,000 government Plug-in Van grant has been deducted, E-Ducato prices for the base 47kWh small-battery model start at around £64,000 and range up to around £74,000. If, as is more likely, you want the larger-battery 79kWh model, then prices after grant deduction range from between around £79,000 to around £88,000. Either way, there's a choice of either standard or 'eTecnico' trim levels. And you can choose between three body lengths and three roof heights. To give you some perspective on those figures, prices for diesel Ducato models start from around £36,000.
All models are decently equipped, even base-spec variants including cruise control, a speed limiter and a DAB audio system with Bluetooth. Top versions have features like 17-inch alloy wheels, High beam assist, power-folding mirrors and front parking sensors. Top-spec variants get camera-driven kit like speed limit recognition, lane departure warning, Side Blind Spot Alert and Driver Attention Alert systems. There's also a clever 'Intelligent Speed adaptation' system that enables you to maintain a constant speed at a cruise.
Across the E-Ducato range, your Fiat Professional dealer will encourage you to look at three functional extra-cost Packs. There's a 'Professional Pack', which gives you a wireless charger, keyless entry, an LED interior light, 270-degree opening rear doors and a tablet holder. Alternatively, the 'Style Pack' gives you a smarter front look with full-LED headlamps - that also feature in the 'Night Vision Pack', which additionally adds fog lights and a digital rear view mirror.
Practicalities and Costs
Choose this E-Ducato rather than a Ducato diesel and you'll find no practicality compromises with the under-floor battery installation. The E-Ducato Panel Van can be had with three heights and in three different body lengths. The full-height twin rear doors open conventionally, but we'd want to specify the optional 270-degree feature which allows you to fold them back along the vehicle sides. Depending on variant, cargo capacity varies between 10m3 and 17m3. Gross Vehicle Weights range between 3,450 and 4,035kgs.
There's the usual sliding side door (with the option of another on the other side) and if you use it to swallow really heavy loads, you'll want to choose the right payload variant - there are E-Ducato payload options between 690kgs and 1,570kgs - some way down on the payload capacities of the diesel version, which can be up to 2.1-tonnes. As usual, we'd recommend that you add the ply-lining kit for the load area sides we have fitted here. The bulkhead's tough, but offers no load-through flap into the cab for longer items.
We gave you the driving range figures in our 'Driving' section. The base 47kWh derivative takes 2 hours 25 minutes to charge via AC or DC chargers. The bigger-battery 79kWh E-Ducato takes four hours to charge.
Summary
For us, the E-Ducato is the best of the four available Stellantis Group EV vans in the segment for large LCVs, edging its Peugeot e-Boxer, Vauxhall Movano Electric and Citroen e-Relay design stablemates in terms of both cabin design and dealer back-up. It also offers a wider battery choice and longer driving range too. For all that though, we'd still need some convincing to take this Fiat over a Ford E-Transit, though if the price offered is right (which knowing Fiat it could be), then the E-Ducato could still make a case for inclusion in your company's fleet.
Like other contenders in this segment, it suffers a bit over the combustion version in terms of payload capacity. But if that doesn't matter too much, the price is palatable and your delivery schedule can cope with the driving range, there are good reasons to consider this Fiat. Better big EV commercials than this are on the way, but for now, this one could suit the right kind of company just fine.