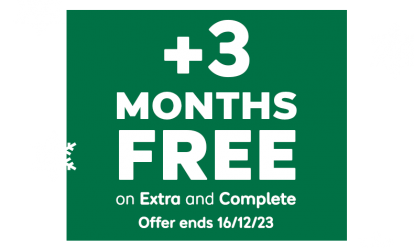 With 12 months of cover, new customers get an extra 3 months for free*.
*Added after 12 months, excludes Basic cover. New customers only. Ends 16/12/23, 7am.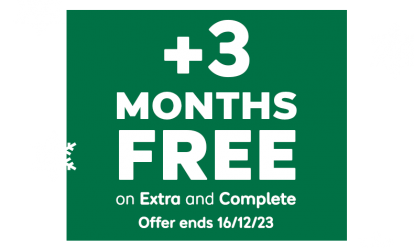 BY CLAIRE EVANS
Introduction
If you want to buy a well-built and capable used off-roader, but don't want to pay the premium necessary for vehicles with a Land Rover badge on their bonnet, then you might consider a Daihatsu Sportrak.
Priced from £9.995 when new, Daihatsu claimed its Sportrak soft top and station wagon estate line-up represented the bank manager-friendly face of four-wheel drive motoring. On the second-hand market, prices of this obsolete model are very reasonable, thanks to the ever increasing competition from a wide range of car makers.
The first Sportrak models were rather basic and utilitarian compared with today's lifestyle machines. But in recent years the 4x4 was freshened up with improved engines and suspension and trim upgrades making it a more appealing proposition.
Models
Models Covered: First generation Sportrak - 1989-1990 1.6 three-door station wagon and soft top [EL, DX]. Second generation Sportrak - 1990-19911.6 three-door station wagon and soft top [EFi]. Third generation Sportrak - 1991-19931.6 three-door station wagon and soft top [EXi, ELXi]. Fourth generation Sportrak - 1993-1998 1.6 three-door station wagon [Xi, Xi-SE, EXi, ELXi]
History
The first Sportraks arrived in the UK way back in 1989 and offered basic off-road petrol-powered transport in short wheelbase three-door soft top and station wagon estate form. The soft-top DX had a full-length removable hood, while the station wagon EL featured a detachable rear hard top and sunroof panel. Both versions were offered with the same 16-valve 1.6-litre engine.
In 1990, they were replaced by the more user-friendly 1.6 EFi versions, which boasted a fuel-injected, catalyst engine and power steering. Within a year, these too were discontinued, this time in favour of the STi soft top and ELi hard top. The differences here were largely cosmetic, the later models gaining larger bumpers, with restyled tail lamps incorporated into the rear, plus a new front grille and a split/folding rear seat.
This pair continued until 1993 when Daihatsu started to turn its little off-roader into more of a lifestyle machine. The soft-top version was killed off, and in the following years the Xi, Xi-SE, EXi and ELXi variants gained more sophisticated equipment. Electric windows and mirrors, a removable sunroof, central locking and a decent face-off stereo all became standard items on the inside. Meanwhile, exterior styling was enhanced with alloy wheels that sat under wider, flared wheel arches.
Imports stopped in 1998 and the final examples are on R plates.
What You Get
The final range included three models, all powered by identical 1.6-litre 16-valve engines. The flagship ELXi offered wider wheels and tyres under extended arches, as well as an RDS audio system, electric mirrors and luxury interior trim plus power steering and a removable sunroof.
However, in its final form the price leader Xi had no rear seats, making it what the importers called 'a versatile load and people carrier'. If you do want to carry more than two people, check you're getting the optional dealer-fit extra row of seats. In comparison, the Xi-SE came with split folding rear seats, central locking, electric windows, additional instrumentation and a Pioneer audio system.
Thoughtful touches included interior releases for the fuel flap and tailgate, remote control door mirrors and an immobiliser security system. Popular options were metallic paint, multi-play CD system and leather upholstery.
What You Pay
Please fill in the form here for an exact up-to-date information.
What to Look For
The Sportrak is not quite as tough as it looks and can suffer from body damage, as well as suspension and steering problems due to off-road use. The engine can be temperamental if it hasn't been properly cared for.
Replacement Parts
Parts prices are relatively low for an Oriental make. A clutch assembly for a 1996 1.6 ELXi will cost around £165; shock absorbers (front and rear) should cost around £50; brake pads pitch in at £53 for the front pads and £42 for the rear shoes; a tail lamp costs £50 for the lower section and £68 for the upper part; a headlamp is £63 and a new alternator is around £290.
On the Road
The all-alloy, fuel-injected 94bhp 1.6-litre engine used in all versions certainly makes the Sportrak reasonably lively. Ultimately, it will reach 94mph, though if you choose not to drive it in that manner, the 13.2-gallon fuel tank should enable you to cruise for reasonably long distances between fill-ups. Around 37mpg is possible at a steady 56mph.
Sportraks aren't really intended to be really serious off roaders, but having said that, they're a great deal more capable than their contemporary rivals from Toyota and Asia Motors. As usual in 4x4s of this size, the all-wheel drive is selectable, with a choice of high or low ratios.
The ride of early cars was awful, though enhancements to the independent front suspension and the leaf-sprung rear beam axle improved on-road comfort without sacrificing off-road ability on the later models. That said, it still isn't a great tarmac car, but it's certainly a great deal more acceptable.
Overall
Tagged as the affordable face of 4x4 motoring, the more recent versions of the Sportrak are just that. Don't expect car-like levels of refinement on the road, but what you can expect is a sturdy and well-equipped off-roader that even gained rakish good looks in its swansong years.