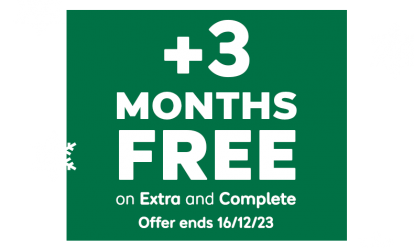 With 12 months of cover, new customers get an extra 3 months for free*.
*Added after 12 months, excludes Basic cover. New customers only. Ends 16/12/23, 7am.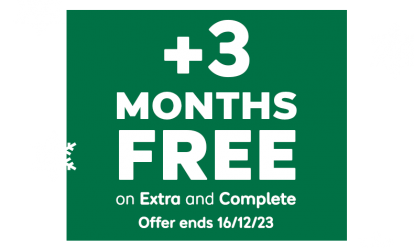 BY ANDY ENRIGHT
Introduction
The Lanos represents the second generation of Daewoo models to arrive in the UK. A more sophisticated offering than its predecessor, the little-lamented Nexia, the Lanos pitches itself into a marketplace brimful with quality offerings from the mainstream manufacturers. Sized somewhere between a Fiesta and Escort, the Lanos' closest rival is probably Rover's 25, both cars offering keen value for money and a healthy amount of equipment.
Traditionally appealing to a mature clientele who place a premium on reliability and a watertight warranty agreement, Daewoo's models, and the Lanos in particular, won't attract those who prioritise refinement and handling. One important aspect to consider is that the attractive three years free servicing offer on new models becomes invalid unless the car is bought through Daewoo, although the AA cover and warranty for the same period become the property of the new owner. If this level of after sales service sounds attractive, a nearly new Lanos, whilst not about to set pulses racing, will undoubtedly help you rest easy at night.
Models
Models Covered: 3 & 5DR HATCH, 4DR SALOON: 1.4, 1.6 [S, SE, SX]
History
Daewoo launched the Lanos alongside its larger sibling, the Nubira, to the public in September 1997. The range remained largely unchanged since launch, and comprised three and five door hatchbacks and a four-door saloon. Engine options available consisted of a 1349cc (but badged as a 1.4) fuel injected unit that developed 74bhp and a 1.6 injected item for the plusher variants.
Three trim levels are available. The S model boasts a high standard equipment level for a base model in this class including twin airbags, side impact beams, tinted glass, engine immobiliser and RDS radio/cassette. This model was only available as a three-door hatch and the options range stretched to alarm and metallic paint. The midrange trim level, dubbed SE, could be specified as a three or five door hatch and was identified by body coloured bumpers. Metallic paint was standard, as was a tachometer. The range topping SX model was available with both hatchback body styles plus a four-door saloon body, surely a case if ever there was one of 'you pays your money and makes your choice.' An automatic gearbox option proved popular and expect to find electric front windows, air conditioning and a tilt adjustable steering column.
In Summer 2000, minor improvements were introduced, highlighted by redesigned rear light clusters. Specification tweaks included revised door trim, a 'metallic-look' fascia, and improved seat fabrics and wheel trim covers on both the SE and SX models. The SE variants now had electric front windows, while the plusher SXs now got body-coloured side strips, wing mirrors and door handles. In three-door form, the SX also featured 'discreet' body-coloured side skirting and a rear spoiler. It was early 2003 when the last of the new Lanos models left the dealerships.
What You Get
Whilst even the most ardent Daewoo supporter wouldn't argue that these are the most stylish or best handling choices in the sector, the Lanos offers reliable transport at attractive prices. Esteemed partners such as ItalDesign and Ricardo were drafted in to work on the car, and those expecting economy basic wheels may well be in for a pleasant surprise.
As is always the case with previously owned cars, however, a generous standard specification has relatively little bearing on the residual value of the model. Of greater import is the perceived image and the Lanos doesn't have much of that so prices won't be high.
What You Pay
Please fill in the form here for an exact up-to-date information.
What to Look For
No significant faults have been noticed with the Lanos to date. It's always important to check to ensure that servicing has been carried out at the specified intervals.
Replacement Parts
(approx based on a Lanos 1.6 SX) This is one area where Daewoo's reputation for value slips slightly. As with many foreign cars which sell in modest numbers, parts prices will never rival those of mainstream manufacturers such as Ford and Vauxhall. A clutch assembly will be around £124 and an alternator should be close to £235.
Brake pads are around £45 a front set with a starter motor relieving you of £195. A full exhaust system is a sobering £658 and a replacement catalyst will knock a £346 sized hole in your wallet. A radiator retails for about £185.
On the Road
Three years ago Daewoo was producing warmed over previous generation Vauxhall Astras and Cavaliers, so viewed in this context the steps forward made with the Lanos are little short of remarkable. Despite this, anybody expecting the Lanos to be within sight of Ford Focus, Vauxhall Astra or indeed junior Skoda models of similar age will be sorely disappointed.
The design aspiration for the car was for a competitive mainstream product, and whilst the Lanos won't cut a dash in the car park or make its driver seek out a favourite set of bends, it nonetheless makes a fair fist of the basic requirements. If the budget will allow, go for the 1.6 injection models, as the 1.4 struggles a little carrying the surplus weight of generous equipment. The brakes are adequate, although the five-speed gearbox could best be described as clunky. With a modest power output on tap, if air conditioning is fitted, expect performance to step back a bit.
Overall
Go for the Daewoo Lanos if low involvement, hassle-free motoring is your aim. Look for cars that are in tiptop condition and haggle hard on those that aren't. They're a relatively rare sight on British roads due not so much to any great inherent deficiencies, rather the perceived excellence of the established opposition. If you hanker for more style or performance, look at a slightly older Fiat Bravo or Rover 25.