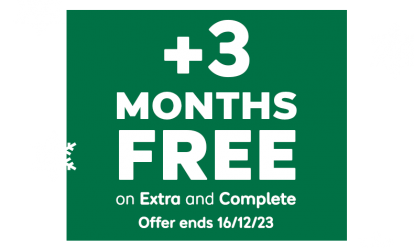 With 12 months of cover, new customers get an extra 3 months for free*.
*Added after 12 months, excludes Basic cover. New customers only. Ends 16/12/23, 7am.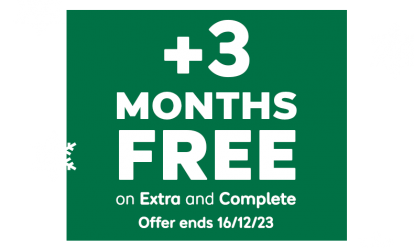 BY ANDY ENRIGHT
Introduction
Although the Xsara Coupe range was a reasonably successful product line for Citroen, it never created the same stir as its PSA sister vehicle the Peugeot 306 did, nor did it enjoy the cult following of its junior sibling, the Saxo. All of which should tell you that here is a bargain waiting to be discovered.
And so it proves. The Xsara Coupe offers scalpel sharp handling that many thought had been excised from modern coupes under the sheer weight of over regulation. Dismiss it as a throwback if you will, but Citroen have showed with the introduction of the diesel VTR that it still had what it takes to stay abreast of the changing demands of the market. Citroen offered extensive cut-price deals on new Xsara Coupes throughout the vehicles life, so even a late used car can be yours for a price that reads like a misprint.
Models
Models Covered:
Xsara - March 1998 -October 2000: 1.6, 1.8 VTR & 2.0 VTS Xsara [facelift] - October 2000 - to date: 1.6 16v VTR / 2.0 16v 163bhp VTS / 2.0HDi 110bhp VTR]
History
The Xsara Coupe was launched in March 1998, Citroen needing an image builder for a range that had underwhelmed most. A three engine line up was available a launch; the 90bhp 1.6 and 112bhp 1.8-litre petrol engines that powered the VTR models were expected, but few were prepared for the introduction of a 2.0-litre VTS 167bhp version using the same engine from the Peugeot 306 GTi-6 hot hatch.
In October 2000, the range was facelifted and considerably revised. The 1.8-litre engine was dropped and a new 110bhp 2.0-litre 1.6-litre unit added in its place. Minor improvements in handling were introduced and prices reduced with specs increased. July 2001 saw the fitment of Emergency Braking Assist and an automatic rear wiper across the range. In summer 2002 the HDi 110 engine was fitted to the Coupe VTR and a minor facelift followed. The Xsara Coupe was replaced by the C4 Coupe near the end of 2004.
What You Get
Coupe buyers, according to Citroen at the time of the Xsara Coupe's launch, were having to put up with too many unappetising compromises. Too many of the market's more affordable offerings separated attributes like style, practicality and performance; in the Xsara Coupe, Citroen claimed to be able to offer all these things complete in one package.
Rivals from Renault, Hyundai and others would argue with this of course. All would class their offerings as reasonably priced coupes that really cut it as everyday transport. The facts are, however, that none of them is as practical or as spacious as the Citroen.
The first generation Coupe handled well but was forgettable in just about every other respect. In response, Citroen's stylists really went to town on the second generation facelift, introducing a look that established a family face for the marque. Most of the money was clearly spent on the nose, with huge, clear glass headlamps that incorporate projector foglights and indicators. These required a new bonnet of course, ribbed three ways for a curvier look. The grille's more prominent too, with a large pair of corporate double chevrons also duplicated on the largely unchanged bootlid.
These styling improvements were particularly important for the Coupe sector of course, since looks rate high on every potential buyer's agenda. The original Xsara Coupe didn't score that highly in this respect, mainly due to the fact that, unlike most of its competitors, this particular variant wasn't originally designed as a coupe at all. It was originally signed off as nothing more than a slightly prettier three-door version of the five-door Xsara family hatchback.
The subsequent boom in Coupe sales at the end of the Nineties forced Citroen into a re-think. Realising that in the attractive Xsara three-door, they had a car that could, with a little cosmetic prettying, be targeted at this growing market, the marketeers didn't hesitate. No, it wasn't going to be the prettiest coupe out there - and time hasn't altered that - but it could be promoted as the most practical small coupe you could buy. Three adults can fit across the rear bench without too much difficulty - though the middle occupant will have to be a weight watcher (the space doubles as an armrest). All benefit from full three-point safety belts and all will be amazed by the generous headroom on offer. There'll be enough space for their luggage too, with 408 litres available the other side of the split-folding rear seats.
What You Pay
Please fill in the form here for an exact up-to-date information.
What to Look For
Build quality is good and few faults have emerged so far. Check that all the electrics work as billed and do the normal checks for over-enthusiastic use on VTS models. Shocks, bushes, tyres, brakes pads and discs may all have taken a hammering if the owner had used their VTS as nature intended!
Replacement Parts
(approx. based on 1998 1.6 VTR excl VAT) A clutch assembly is around £110 and an exhaust system about £385 including a catalytic converter. Front and rear brake pads will be in the vicinity of £50-55 each.
A radiator is about £150, an alternator about £250, a starter motor £220, and a replacement headlamp can be up to £75-80.
On the Road
Nearly all the Xsara's hardware was either carried over from the ZX it replaced or borrowed from Peugeot's 306 - so it's proven in terms of ride and handling, both were amongst the best you can find in the family hatchback sector at the turn of the Century (the last Century that is).
Three Xsara Coupe models were offered in the final line-up and it was the base 1.6-litre VTR model that most customers chose. This 110 bhp 1.6-litre 16-valve unit replaced the previous 1.8-litre model, offering a compromise that will cost potential buyers little in terms of performance. This powerplant revs happily from rest to sixty in 11.0 seconds on the way to 121mph. Those looking for a more cerebral blend of power and parsimony can opt for the HDi 110 diesel engine.
If that's not enough, the more affordable 167bhp 2.0-litre flagship VTS model should suit. It uses the same engine originally developed for Peugeot's old 306 GTi-6, but alas, not that car's snappy six-speed gearbox. Nevertheless, there's the same firecracker performance, with 60mph only eight seconds away en route to 137mph.
There's handling to match too: the car changes directly quicker than a shark turning towards a meal and there's little body roll whilst it's doing it. The power steering set-up too is driver-orientated, with plenty of feel at high speed - though the trade-off is that couch potatoes could find it a little heavy around town.
Overall
Buyers of performance cars tend to be a pretty clued-in bunch who rarely miss a trick. The Citroen Xsara Coupe, especially in VTS form, is the trick that they've missed, blinded by the more overt attractions of the Peugeot 306 and the Citroen Saxo. As something of a cerebral coupe alternative, the Xsara represents that rare thing - the bargain sports coupe.