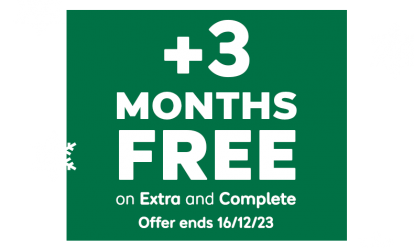 With 12 months of cover, new customers get an extra 3 months for free*.
*Added after 12 months, excludes Basic cover. New customers only. Ends 16/12/23, 7am.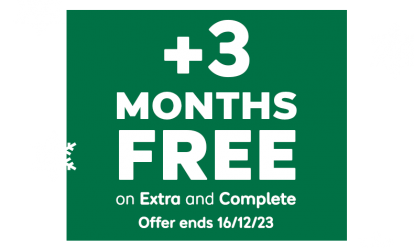 This small affordable electric hatch, the E-C3, shows us Citroen's future direction. Jonathan Crouch takes a look.
Ten Second Review
Citroen's E-C3 aims to redefine what a small EV can be. And makes most other compact electric hatches look needlessly expensive. The brand's smallest hatch gains a crossover vibe - and a new-found fresh direction.
Background
So. Affordable electric motoring for the masses. We been promised that before. But this car, Citroen's E-C3, might just get a little closer to it. The starting price point of just over £20,000 isn't much different to that of its most obvious competitor, the Dacia Spring, but unlike that rival, the E-C3 is a proper five-seater and has a significantly higher driving range. Which is why Citroen feels it can describe this model as 'the most affordable proper electric car on the market'. It's also European-built, unlike the Chinese-made Dacia.
This is the fourth generation of C3 we've seen, a line-up that will also include a (significantly cheaper) conventional petrol version. It's a model range that accounted for over 40% of Citroen's total sales in its previous generation, so it could hardly be more important. This time round, there's a chunkier crossover vibe which will initially rather duplicate what the brand offers with its existing C3 Aircross until the company relaunches that model as a seven-seat SUV. The E-C3 will be key to Citroen's realignment going forward as an affordable electric mobility brand. Let's take a closer look.
Driving Experience
To achieve its low asking price, the E-C3's engineering is quite different from that of similarly-sized but much more expensive Stellantis Group models like the Vauxhall Corsa Electric and the Peugeot E-208. First, it has an electrified version of the simpler 'Smart Car' platform the brand developed for emerging nations in India and Latin America. Second, it uses an 'LFP' 'Lithium Ferro Phosphate' battery pack, instead of the more usual lithium-ion one, LFP packs being cheaper to produce, partly because they lack cobalt. The downside to the LFP tech is extra weight, though the E-C3's 44kWh pack is still rated at 199 miles, well ahead of its Dacia Spring market rival. There's a possibility of a smaller-battery variant with a lesser 124 mile range for the future.
The volume 44kWh version has a 111bhp electric motor on the front axle, propelling the car to 62mph in around 11s en route to 84mph. Ride comfort is a traditional Citroen attribute, so the Advanced Comfort shock absorber hydraulic bump stops from larger models are carried over to this one. The remainder of the damping set-up is conventional, with MacPherson strut front suspension and a torsion beam rear end. For those still unconvinced by (or unprepared to pay the price for) EV technology, Citroen will offer its usual 1.2-litre three cylinder petrol engine as part of this fourth generation please C3 line-up, with a choice of manual or automatic transmission.
Design and Build
Those familiar with the C3 model line will immediately notice that this time round, curvy cuteness has been swapped for a boxier, crossover-inspired more mature vibe. Which may be what the market wants but potentially makes this model a much less distinctive and individual proposition. To try and preserve some of that, there are styling cues from the wacky Oli concept car, an unusual bluff nose section with the brand's latest badge and 'colour clip' inserts on either side of the car which allow owners to add swappable, colour-contrasting accents. This C3 is only 80mm longer and 6mm wider than the old MK3 model, but sits 70mm taller.
Inside, it's nothing like any Citroen interior you've ever seen before. There's no instrument binnacle for a start. Only what the brand calls a 'head-up display', which actually isn't that at all; instead, it's a narrow letterbox-like strip which houses a small selection of digital instruments, primarily speed and range. This works with the almost equally unusual oblong-shaped over-buttoned steering wheel. Avoid base trim and you get a central infotainment screen, a 10-inch monitor that at last Citroen has learned not to over-burden with climate controls, which are separated out lower down. Fabric inserts and novel detailing supply the required Gallic vibe, as do the squashy Active Comfort seats.
At the back, where the budget vibe is emphasised by wind-up windows on most models, you shouldn't expect rear seat legroom to be any better than the previous generation model, but the boxy silhouette should mean improvements in headroom. This ought to benefit boot space too. The battery compartment under the rear seat has been altered to a T-shape to enhance trunk capacity, rated at 310-litres.
Market and Model
E-C3 pricing starts at under £23,000 and there's a choice of three trim levels - 'You!', 'Plus' and 'Max'. If the smaller-battery version makes it to the UK with its 124 mile driving range, that could be priced from under £18,000. For some perspective, we'll also tell you that Citroen are targeting a starting price for the 1.2-litre PureTech combustion petrol version of this car of around £15,000.
All models get the brand's Advanced Comfort suspension, along with manual air conditioning, rear parking sensors and auto headlamps. Base 'You!' spec does without the central infotainment display but with this variant, Citroen does provide a docking point for your phone. Most EC-3 customers will start their perusal of the line-up from mid-spec 'Plus' level, which includes 17-inch alloy wheels, squashier Advanced Comfort seats, two-tone paint and a 10.25-inch central infotainment display with 'Apple CarPlay' and 'Android Auto' smartphone-mirroring. Top 'Max' spec adds LED tail lights, navigation, a wireless charging mat, a rear parking camera tinted rear glass, automatic air conditioning and rear electric windows.
Across the line-up, there are some trendy options and the main one you'll want to look at would be the swappable colour-contrasting accents you can add to the car via two 'colour clip' inserts. Three paint choices will initially be available - orange, neon green and white, with a wider palette of shades available as the range expands.
Cost of Ownership
Range figures for EVs usually need to be taken with a degree of scepticism and that'll certainly be the case here, particularly if you'll be driving your E-C3 in very cold conditions. The LFP 'Lithium Ferro Phosphate' battery's more sensitive to external temperatures than a more usual lithium-ion battery would be, so you can expect the claimed 199 mile range figure for the 44kWh model to plummet in the depths of winter. You can't compensate with a heat pump either because that won't be offered here. The driving range though, should still be comfortably ahead of the 137 mile figure claimed for a rival Dacia Spring. To give you some class perspective, much pricier Stellantis Group EV superminis like Vauxhall's Corsa Electric and Peugeot's E-208 with their more conventional 51kWh batteries deliver around 248 miles of range.
Citroen claims that the E-C3 is capable of rapid charging at rates of up to 100kW, which allows for a 20-80% charge in 26 minutes. At home, you'll be able to AC charge from 20-80% from 7.4kW garage wall box in just over 4 hours. If your property has a three-phase supply, you'll also be able to charge at 11kW, in which case the 20-80% charging time will fall to just under 3 hours. We don't yet know whether Citroen will be importing the smaller-battery E-C3 with its 124 mile range. All versions of this model will be covered by the brand's usual unremarkable three year/60,000 mile warranty, plus the battery will have its own eight year cover package.
Summary
It's clever to make a small, usable, fashionable electric car. But it's even cleverer to make it affordable in the way Citroen has with this E-C3. The company's future as an affordable mobility brand starts right here. This car could (and was expected to be) merely a repackaged version of other Stellantis Group small hatches like electric versions of the Vauxhall Corsa and Peugeot 208. Instead, it's a lot more - for a lot less.
Not everyone will like the squarical new looks or the divisively-styled cabin but customers are tolerant of individualistic design in this part of the market and those who like it will probably love it. We can't really see why you'd pay almost as much for the cheaper-feeling rival Dacia Spring with its feebler operating range. And we'd certainly think twice about paying vastly more for a more conventional electric supermini. We're still not being served up a small EV for the masses here, but the E-C3 gets closer to that goal than any car before it.