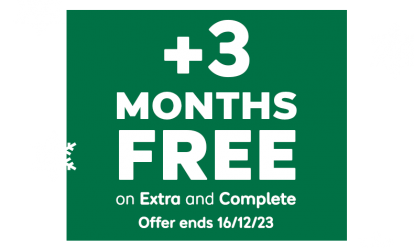 With 12 months of cover, new customers get an extra 3 months for free*.
*Added after 12 months, excludes Basic cover. New customers only. Ends 16/12/23, 7am.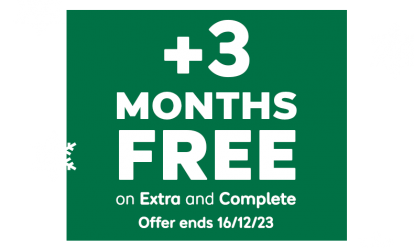 Citroen's C3 supermini offers by far its best value in this entry-level 'You' guise. Jonathan Crouch checks it out
Ten Second Review
Many thought the Citroen brand had given up on really affordable small cars. But then along comes this one, the C3 You, at the time of this test costing just £14,000, vastly less than any other C3 - or any other mainstream-brand supermini come to that.
Background
Not many auto makers offer tiny city cars any more. Citroen is one of those manufacturers who've only recently exited the segment (in 2022 with the C1), partly because by the end, that car had become priced almost at supermini levels (the next class up), so there wasn't much reason not to buy a supermini. Perhaps one like Citroen C3. But that'd be a fair bit more expensive wouldn't it? Well this one isn't. Welcome to the C3 You.
If the French maker had been able to keep this cut-price C3 derivative at the same pricing level it was when originally launched in Spring 2022 (£12,995), we'd be talking here about parity with the cheapest Dacia Sandero for the title of Britain's cheapest new car. Even as it is, tested a year on priced at almost thousand pounds more than that, this C3 could still be considered a best buy on price if you take equipment into account. Let's see what you get here.
Driving Experience
As you'd expect, the You comes with the most basic possible powertrain and transmission combo, a naturally aspirated 82bhp 1.2-litre three cylinder petrol engine mated to a five-speed manual gearbox. This doesn't provide quite the driveability that you'd get from the rival Dacia Sandero's little turbocharged unit, but if you're prepared to give your left arm a workout with the stick shifter, acceptably hurried progress can be managed on the rare occasions it might be necessary. 0-62mph takes 12.5s en route to 103mph.
Soft damping disguises the old PF1 platform's ultimate lack of sophistication and it's this approach you'll feel almost immediately when you set off on your test drive. Rather refreshingly, no attempt has been made here to provide a dynamic Fiesta-style driving experience. Instead, the suspension has more compliance than you'll find with rival superminis and the result is that things like potholes and sleeping policemen will bother you far less than they usually would. It's almost enough for small but subtle changes to the way you go about driving. In this C3, you don't have to anticipate and avoid poorly-surfaced stretches of road; you simple drive over them as if they didn't really exist.
The downside to this is predictable; extra body lean through the corners. There's certainly more of that than you get in obvious rivals and when you're dealing with this, it doesn't help that there isn't a great deal of feedback from the steering. Stay with it though and you'll find that there's actually more grip and traction on offer than you might think.
Design and Build
You wouldn't think this was the super-cheap budget C3 model. You get body colour for the bumpers and door handles, contrasting C-pillar styling and white door mirror caps, plus white finishing around the standard front fog lights. You can even have a white roof. So no judgement points for austerity will be lost in the gym car park. At 3.99m in length, this current generation C3 is slightly smaller than some of its rivals, but it's arguably more interesting to look at. At the front, there's the distinctive two-tier front light signature, along with a deliberately high bonnet line and short overhangs.
It's not quite as nice or jaunty inside unfortunately, with dark mouldings, a cheap-feeling plastic steering wheel and an ancient-looking 5-inch monochrome infotainment set-up that can't do anything with your 'phone apart from Bluetooth-link to it. As usual with a C3, the perception of space is heightened by the horizontal dashboard, which runs across the whole width of the vehicle.
In the rear, it's quickly evident that this isn't one of the more spacious superminis in the segment. The room on offer will be fine for kids of course, but adults stuck behind reasonably tall compatriots up-front may well struggle a little when it comes to room for their legs and knees. Out back, there's a decent 300-litre boot, extendable to 922-litres with the rear seat backs folded.
Market and Model
The C3 You cost £13,995 at the time of this test in Spring 2023. To give you some perspective on that, the market's cheapest new car, the Dacia Sandero, costs £13,000 in its cheapest form. The next-cheapest C3 variant is vastly more expensive, the 'C Series Edition' version costing from around £17,000. A comparably equipped version of a small city car like the Kia Picanto or the Hyundai i10 would cost a similar figure to that being asked for this Citroen.
Despite the budget price, the C3 You comes pretty well equipped. The sticker figure includes front fog lights, LED headlights, a Lane Departure Warning system and a DAB digital radio with a 5-inch black-and-white touchscreen and Bluetooth. The 15-inch steel wheels have 'Arrow' plastic covers. And you get manual air conditioning, cruise control with a speed limiter, a height-adjustable driver seat, an alarm, powered door mirrors, tinted glass and white finishing for the fog light surrounds and mirror caps. There are six different paintwork choices. And the cabin is trimmed in grey 'Mica' cloth.
Cost of Ownership
The Citroen C3 has always been reasonable efficient. Firstly because it uses frugal Stellantis Group PureTech engines. And secondly because it's usually been lighter than the class norm - this base petrol variant tips the scales at just 980kgs, which makes it still one of the lighter superminis you could choose. And that's quite impressive, given that this car rides around on a relatively clunky PF1 platform dating back to the 21st century's first decade.
Hence the 82bhp three cylinder engine's agreeably frugal efficiency figures, up to 54.3mpg on the combined cycle and up to 123g/km of CO2. The engine comes of course with the brand's Stop and Start system and there's a 'Gear efficiency indicator' to tell the driver which is the best cog to be in to use the least fuel. Keep an eye on this and drive with frugality as priority and you should be able to eke an impressive 600 mile range from the 45-litre fuel tank. The BiK tax band is 29%. Insurance is group 14E.
Regular service intervals come round every 16,000 miles or 12 months, depending on which comes sooner. For many supermini owners, this will mean a visit to a dealer once a year and there are plenty of Citroen outlets to choose from, so you should never be too far from one. Like any C3, this one comes with a three-year and 60,000-mile warranty and there's also Europe-wide breakdown assistance included from new for the first year you own the car. Looking at the longer term, you also have a 12-year guarantee against rust and 36 months cover for any paintwork defects, though that doesn't include stone chips and other wear and tear damage.
Summary
After looking at this C3 You, we can't really see why you'd pay vastly more for a conventional mainstream C3. The price difference between the You and one of those (or more likely a Corsa or Polo-sized rival) is so great that with it, you could probably buy a perfectly acceptable second-hand city car as an extra family run-around.
True, the You isn't quite the outright bargain it originally was. Priced as it is now, similarly positioned rivals from Dacia and MG offer more cabin space for the money. But the You feels less of a 'hair shirt' budget choice and the equipment downgrade to create the eye-catching sticker price hasn't robbed it of all the conventional version's infectious joie de vivre. As a result, if you're looking for a starter car and it has to be new, this one deserves to be high on your list.