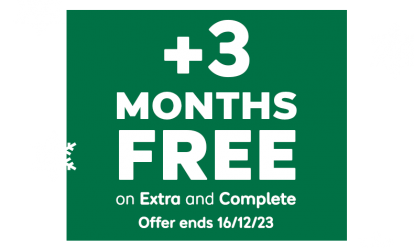 With 12 months of cover, new customers get an extra 3 months for free*.
*Added after 12 months, excludes Basic cover. New customers only. Ends 16/12/23, 7am.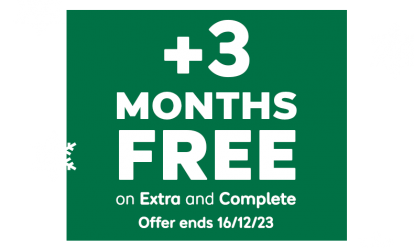 BY ANDY ENRIGHT
Introduction
Sometimes there's no substitute for sheer size. It has taken some MPV manufacturers longer than others to realise that if you're going to transport a family and all their gear, no amount of clever cubby holes or folding seats is really going to cut it. Some customers need a serious amount of automotive real estate and for a number of years, the prime candidate in this field has been the Chrysler Grand Voyager. The MK2 version that debuted in 2001 is a notably superior model to its predecessor and brought with it attributes demanded by European buyers. As a used buy, it's well worth looking into.
Models
Models Covered:
Chrysler Grand Voyager - 2001-to date: (Five-door, 7-seat People Carrier: 3.3 petrol, 2.5, 2.8 CRD diesel [LX, Limited])
History
Although the very first European Grand Voyager models can be traced back to 1997, the earlier models lacked the safety features and technical sophistication of this model which debuted here in February 2001.
Buyers of the previous model didn't have any trouble recognising one, for the look was little different. In fact, the exterior visual changes were so few - wider wheelarches and a deeper front grille with PT Cruiser-style headlamps - that you might mistake this for a facelift rather than an all-new car. Where change was needed was under the bonnet - and it was duly provided. Petrol customers got one big engine, a 3.3-litre V6 with a power hike from 158 to 180bhp, although this unit was largely targeted at the US market. European family buyers are understandably reluctant to incur the running costs that come with a car which will average little more than 23mpg. As a result, most customers here opted for the 2.5-litre turbodiesel engine.
In Spring 2004, a larger 2.8-litre CRD turbo diesel was unveiled to power the Grand Voyager. Its arrival coincided with a facelift for the whole range which included a new chrome grille and projector headlamps plus the innovative Stow 'N Go seating system.
What You Get
This is arguably the largest MPV in its class, excluding obviously van-based things like the Mercedes Viano. The long wheelbase Grand Voyager has a hefty 671 litres of luggage room as well as 150mm more cabin space. Take all but the front seats out and the capacity rises to a vast 4880 litres - almost enough to move house with.
Nice touches on plusher models include optional electric operation for the sliding side doors and tailgate - which would be a real boon in the supermarket carpark with your hands are full of shopping. Another extra worth seeking out is the optional cargo organiser for the boot, which neatly divides the space into three separate cargo bays. For stowing smaller items, there's a removable central storage box, which slots into place between either of the front two rows of seats. The three-zone air conditioning's neat too, with the temperature for rear seat occupants controlled by a panel in the roof lining. As you'd expect, cup holders are everywhere and the multi-speaker Infiniti stereo system is brilliant.
Post-2005 models also offered the Stow 'N Go system that allows the seats in the Grand Voyager to be folded flat into the floor in less than 30 seconds. Stow 'n Go seating allows the second and third-row seats to be folded into, and uniquely not onto, the floor. Folding the seats involves a virtually effortless one-hand operation without the need for the head restraints to be removed. With both the second- and third-row seats folded, the Chrysler Grand Voyager has a completely flat load floor and a maximum cargo volume of 4690 litres (165.6 cu.ft). With the second and third row seats upright, spacious, covered storage bins are available providing a total of 340 litres (12 cu.ft) of extra under-floor storage space.
What You Pay
Please fill in the form here for an exact up-to-date information.
What to Look For
With a vastly improved diesel engine and tighter quality control, the MK2 Grand Voyager is a far safer used proposition than its rather less resolved predecessor. The interior on this model looks a good deal better bolted together than that of the MK1 version, although some of the plastics quality of the minor parts can still be surprisingly insubstantial. Given that kids seem to have an uncanny propensity to locate a dodgy moulding and then kick it clean off, it may pay to go over the interior of any prospective purchase with a fine toothed comb and be prepared to negotiate hard.
Check that all the 'convenience' features like the central locking, electric windows and mirrors, plus the air conditioning are working properly as they're expensive to fix. Check the body extremities for parking scrapes - these cars are often driven by people unused to their sheer bulk.
Replacement Parts
(Based on a 2003 3.3-litre Limited - approx excl VAT) A replacement clutch assembly will be about £370. A new starter motor is close to £315, a radiator is around £495 and a replacement headlamp will cost you around £210.
On the Road
The Voyager's hi-tech 140bhp diesel powerplant is a world away from the wheezy old unit it replaced, with a CV featuring all the latest industry buzz words: common rail, 16 valves, twin overhead camshafts and twin balancer shafts. As a result, it's far quieter than its predecessor and has far more acceptable levels of performance (0-60mph in 13.5s on the way to 115mph). Fuel consumption's good too: you should average around 35mpg, with over 40mpg perfectly possible on longer trips.
In fact, the only real drawback is pulling power. Don't get us wrong - there's plenty of it: some 230Ib ft, which is more than the 3.3-litre V6. The problem is the relatively narrow rev range over which it's developed - which necessitates over-frequent use of the baulky manual gearbox. All of which makes the automatic gearbox (standard only on the 3.3 V6) a must-have option.
The later 2.8-litre CRD unit is a far preferable thing. With 266lb/ft of torque available, the 2.8 CRD has way more pulling power than the 3.3-litre V6 petrol car. With this amount of sheer lugging intensity, the 2.8 CRD can tow 3.5 tonnes, making it an ideal vehicle for those who want to tow serious caravans, boats or other large trailers. You could even go on a family holiday and put a Lotus Elise on a solid towing bar for a little fun!
In fact, so good is the CRD that it makes one question the viability of the alternative 3.3-litre petrol model. This engine might have 172bhp on tap but it never feels as muscular as the diesel and consumes fuel at a rather frightening rate (around 22mpg). Despite the strong engine line-up, don't get the idea that the Grand Voyager is a thrilling steer. It was never an MPV that had a remotely sporting bias and the presence of rather antiquated leaf-sprung rear suspension might warn you of that before you even set out. But then, driving satisfaction is pretty low down on the priority list for potential buyers of cars like these. Over bumps and ruts, you'll notice a general lack of shudder and vibration, courtesy of a 20% increase on this MK2 model in torsional stiffness. This was brought about as a by-product of making the structure more crashworthy, though at the cost of a lot of extra weight, one reason why even the 3.3 V6 fails to feel that rapid.
Overall
The Chrysler Grand Voyager is a decent pick for big family that doesn't want to arrive in something that looks as if it's about to disgorge a cluster of wheel clampers. With this model more than most others, it's well worth going for as late a model as possible. Chrysler hasn't always been the earliest adopter of safety and luxury fitments and while the Grand Voyager is now well up to speed in these departments, it wasn't always thus. Otherwise you should be rewarded with a very competitive large MPV that doesn't think it's a sports car and is all the better for it.