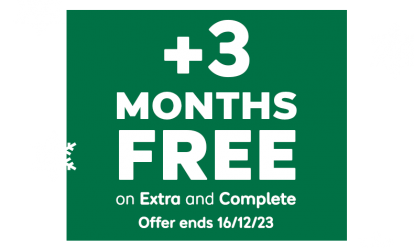 With 12 months of cover, new customers get an extra 3 months for free*.
*Added after 12 months, excludes Basic cover. New customers only. Ends 16/12/23, 7am.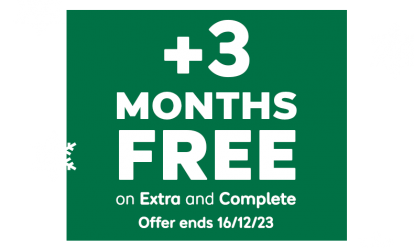 Ford's plush S-MAX Vignale gets the brand's latest EcoBlue diesel technology, which extends the appeal of this uber-luxurious sporting family MPV model. If you'd normally buy an executive saloon or estate but need space for a family, it could be a tempting package. Jonathan Crouch looks at what's on offer.
Ten Second Review
Just how far can the appeal of family MPV models be extended up-market? That's the question posed by the car we're looking at here, Ford's improved S-MAX Vignale, which now gets the brand's latest EcoBlue diesel engines. The S-MAX we know about: it's the best handling and arguably most desirable large-ish seven-seat family People Carrier out there. But could it also really appeal at a more exalted price point close to around £42,000 if Ford were to up the spec and include a premium customer service package? It's a big ask
Background
Large MPVs aren't only bought by families full of sticky-fingered children looking for the least expensive way of getting a super-sized brood from A to B. At the top end, they're also purchased as business conveyances. Or by business people who have more than 2.3 kids and who want in their People Carrier all the niceties they're used to enjoying in their usual executive saloon. And the kind of dealer service they might expect to get from a prestige brand. Ford thinks that there are enough of these sort of people around to justify the inclusion in its S-MAX range of this super-luxurious Vignale model.
Driving Experience
As you'd expect, Ford has chosen the most powerful S-MAX engine for this top Vignale version. That means the 2.0-litre EcoBlue diesel powerplant in its 190PS form, mated to 8-speed auto transmission. There's a choice or front wheel drive or intelligent all-wheel drive (I-AWD). This system continually measures how the car's wheels are gripping the road surface every 16 milliseconds; can adjust power delivery to individual wheels in 100 milliseconds; and can send 100 per cent of available engine torque to the rear wheels. This car benefits from its refined, smooth-shifting 8-speed auto gearbox which alters its shift pattern to suit your driving style. It also enables the fitment of Adaptive Cruise Control and includes an engine Stop & Go system.
On the road, this S-MAX is as good to drive as it in its lesser guises. Ford's clever integral link rear suspension helps enhance the signature car-like, sporty driving dynamics with a configuration that features reduced-weight aluminium components. Additional sound-deadening materials and improved door seals contribute to a very quiet cabin too, creating a level of refinement appropriate to this Vignale model's more exalted price point. If you're graduating into one from a very plush version of the previous generation S-MAX, you'll find that road noise has been reduced by 2.5 decibels in the front and 3 decibels in the rear and Ford claims there's noticeably less wind noise than before.
Design and Build
From the outside, there aren't too many visual cues to distinguish this top Vignale variant from plush 'Titanium' or 'Titanium Sport'-trimmed S-MAX models in the standard range, but if you look closely, a few things will start to stand out. The 18-inch 10x2 spoke alloy wheels with their Premium painted finish for example. The bespoke 'flying V' Vignale front grille is unique too, plus there's 'Dark Chrome' detailing and the door handles have chrome inserts. Inside, Vignale models get leather of course but in this case the hide has been extended to wrap around the instrument panel. The doors get it too - and feature smart 'tuxedo' stitching. New medically-approved AGR-certified 18-way adjustable front seats feature too.
Otherwise, the recipe is as it would be in any other second generation S-MAX model. The seats have a 2-3-2 layout, and offer no fewer than 32 seating and load-space combinations, as well as Easy-Fold second and third row seats. The system enables each rear seat to be folded flat from a push-button control panel. The S-MAX now features Easy-Entry second row seats that provide one touch access to third row seating with a new design that tips and slides the seat forward in one action. Storage also includes new covered stowage in the instrument panel top, a media storage area incorporated into the centre stack, and concealed under-floor stowage behind the third row. Out back, there's plenty of room in both second and third seating rows and a luggage capacity that varies between 285 and 2,020-litres, depending on the seat configuration.
Market and Model
Pricing starts at just under £41,000 for a front-driven variant - with around £1,800 more to pay if you want AWD. Either way, you have to have the 2.0 TDCi 190PS engine and an 8-speed auto gearbox. Standard equipment on all S-MAX Vignale variants includes high-grade leather trim, special 18-inch alloy wheels and the brand's latest 'SYNC3' touchcreen infotainment system.
Like all S-MAX models, this one can now feature the 'FordPass Connect' media system. In addition to enabling WiFi hotspot capability, this technology allows for a range of convenient features via the FordPass mobile app, including a Vehicle Locator; a 'Vehicle Status' feature that checks fuel levels, alarm status, oil life and more; and a remote Door Lock/Unlock system. Local Hazard Information functionality - enabled by the FordPass Connect on-board modem - can inform drivers of a hazardous situation on the road ahead, even if the incident is not visible due to a bend in the road or other vehicles.
Cost of Ownership
The diesel engine returns excellent economy. The figures are 47.9 and 134g/km. Or 47.1mpg and 151g/km with AWD. The warranty is a 3 year/60,000 mile deal with Ford Assistance for 1 year, providing roadside assistance in the UK and throughout Europe. In addition, buyers should get healthier residual values that they might expect from a Ford. Low-ish depreciation has long been an S-MAX staple, used buyers recognising its safety, durability and low ongoing running costs.
Summary
The key here lies in perception. Think of this as a Ford S-MAX with all the bells and whistles and you might think that around £42,000 is a lot of money to pay for it, however much equipment and premium service might come included as part of the deal. Ford however, wants you to take a different view.
You could easily spend the asking sum being demanded here on a high-spec mid-range four cylinder diesel-powered compact executive estate like a BMW 3 Series Touring or an Audi A4 Avant. An S-MAX Vignale, in contrast, offers you so much more and will suit a growing family so much better. Looked at that way, it's a clever choice. And for the right kind of buyer, it's one we'd be inclined to recommend.