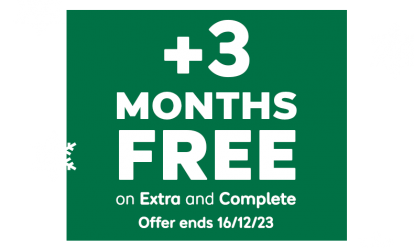 With 12 months of cover, new customers get an extra 3 months for free*.
*Added after 12 months, excludes Basic cover. New customers only. Ends 16/12/23, 7am.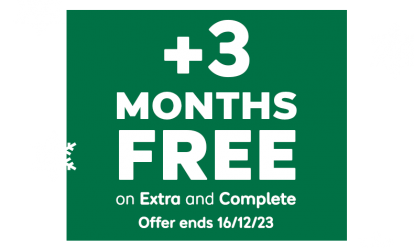 BMW's M4 Competition carries an illustrious badge but that doesn't appear too big a burden for this 510hp powerhouse. Jonathan Crouch reports.
Ten Second Review
This second generation BMW M4 Competition is probably the last combustion engine BMW M model of its kind, so it'd better be good. This MK2 model, offered in both Coupe and Convertible forms, ups the ante in a number of regards. It's quicker, cleverer, better looking than its predecessor and offers more equipment. You even get the option of AWD for the first time - mandatory on the fabric drop-top variant. Plus in all its forms, this car keeps to an enhanced version of the classic straight-six engine configuration. One thing's guaranteed: a proper driving experience.
Background
If you're seriously interested in this model, then you'll probably be well aware that its heritage lies in an unbroken line of M3 coupe models dating all the way back to 1985. The M4 badge dates back to 2014 when BMW separated out the coupe versions of its 3 Series model with a '4 Series' designation. That first M4, the 'F82'-series design, swapped the previous 'E90' M3 Coupe's thirsty high-revving 4.0-litre V8 for a 3.0-litre twin turbo straight six, a format that continues on here though, inevitably, with a little more power.
In 'G82'-series form, the M4 (only offered in our market in this top 'Competition'-spec form) has evolved from hairy-chested racer to cultured street supercar. It's a matured, though still magnificent prospect. Does that make it fit to wear this famous badge? One that evokes a rich history of competition, tyre smoke and unremitting motorsport development. Let's find out.
Driving Experience
There are no mechanical differences to differentiate this M4 Competition model from its four-door M3 Competition showroom stablemate. So here are the key things you need to know. Power from the latest version of BMW's twin turbo 3.0-litre straight six (codenamed 'S58') is up 66hp to 510hp, with a thumping 650Nm of torque. That's in M4 Competition form, which is the only M4 variant our market will get. The standard M4 with 473hp won't be coming here, which is a pity as it alone can be had with a manual gearbox option. The M4 Competition has to be had with a freshly developed paddleshift 8-speed torque converter automatic with M Drivelogic software; this transmission replaces the previous model's 7-speed dual clutch auto.
The possibly more important news is that the 'G82'-series M4 Competition Coupe variant is still available in rear-driven form. BMW though, expects most customers to want the xDrive 4WD set-up now also offered (which is mandatory on the Convertible version). AWD will certainly make this BMW more seasonably usable; it offers three driving modes - '4WD', '4WD Sport' and (with the Dynamic Stability Control system disabled) '2WD', in which form most of the torque goes to the rear. As for performance, well think rest to 62 mph in 3.9s, 0.2s quicker than before. Top speed is still limited to 155mph, mainly to give BMW an opportunity to sell an optional 'Drivers Package' which lifts it to 180mph in combination with Z-rated tyres.
Design and Build
This is a vastly more expensive car than its 'F82'-series predecessor and those who can afford that kind of outlay tend to want their cars to stand out. As this one does in both Coupe and Convertible forms, helped by the latest 4 Series look, which sees a large vertical grille featuring seven double horizontal louvres and a front number plate mounting point. This appendage differs from that on an ordinary 4 Series by being two separate elements, rather than a single frame design. The classy carbon fibre-reinforced plastic roof is carried over from the previous model, with two lengthwise 'rails' that optimise airflow back to the boot-mounted spoiler and the multi-channel rear diffuser, which incorporates a pair of chrome tailpipes on either side.
Inside, there are newly developed M Sport seats which can now be cooled. There are M-specific graphics for the bigger head-up display. If you're wanting this M4 Competition, then rear seat space is possibly not very important to you because otherwise you'd probably have chosen the alternative M3 saloon version of this car. Getting into the back isn't the easiest task in the world, but once you're inside, you'll find a slightly strange combination of surprisingly decent legroom but slightly compromised headroom. Still, assuming they're not sat behind a couple of basketball players, most adults will be fine back here on all but the longest trips, aided by the 41mm increase in wheelbase enjoyed by this 'G82'-era design. Out back, there's a 440 litre boot.
Market and Model
The M4 Competition retails at around £76,000 in Coupe form, which is around £1,300 cheaper than its four-door M3 stablemate. That's for the rear-driven version; you'll need a little more (around £78,500) if you want the xDrive AWD system, which BMW expects around 80% of customers to specify. The xDrive version can also be had in Convertible form for around £82,000. An eighty grand budget might seem quite a whack for a fast BMW 4 Series and some will ask whether this M4 is really worth all the extra over the quite extravagantly talented M440i xDrive model.
Of course, you get a lot for the asking figure, particularly inside where signature M details include red accents for the M buttons on the M leather steering wheel and the start/stop button on the centre console. The selector lever with-Drivelogic switch is leather surfaced with an embedded M logo and stitching in M colours. An anthracite-coloured BMW Individual headliner and interior trim strips in Carbon Fibre High-gloss are standard. Fine-grain Merino black leather trim is standard as are M sport seats, which are electrically adjustable and heated. These seats have pronounced side bolsters, integrated head restraints and an illuminated model badge.
A highlight of the options list is the new M Carbon bucket seats for the driver and front passenger, which include CFRP in their construction and save 9.6kg over the standard M sport seats. These can be specified on their own or within the M Carbon Package.
Cost of Ownership
BMW has made great strides in improving the M4's economy and emissions and to put those figures into perspective, let's wind the clock back a bit to the E46 generation six-cylinder M3. That car, which was only retired in 2006, emitted 287g/km and managed a combined fuel economy figure of 23.7mpg; this from an engine that developed 340hp. This current G82 generation M4 Coupe develops a massive 510hp yet can see 27.7mpg and 234g/km (the same as the M3 version). The xDrive Coupe variant manages up to 28.2mpg and up to 227g/km. The figures for the xDrive Convertible variant are 27.7mpg and up to 231g/km. The M4 Competition's BiK Benefit in Kind taxation rate is a lofty 37%.
Insurance is as expensive as you'd expect from a car with that sort of potency under the bonnet, so younger drivers ought to ensure they can get halfway sensibly priced cover first. Residual values should hold up well too. This isn't a tired old platform that's being rolled out for one last hurrah. Used demand for this generation M4 should prove very healthy indeed. On to the warranty package. BMW's warranty only lasts for three years but it includes an Emergency breakdown service and at least it isn't mileage limited - unlike the comparable package you'd get as standard with a rival Audi. You can of course extent the warranty with either monthly or annual payments. There's a three year paintwork warranty and the usual 12 year anti-corrosion warranty.
Summary
There's not actually a lot of commonality between early M3 coupe models and this modern day M4 interpretation of the same street racing formula. The focus has changed from a raw, track-tamed screamer to something a lot more measured.
Don't get me wrong; the M4 is still hugely thrilling - even if you invoke just 50 per cent of its capability. Its agenda though, has changed. If you were one of those who had a poster of an E30 M3 on your bedroom wall back in the Eighties, then the mature adult in you would probably find that car too wearing now. Instead, you'd want something like this. That's where the M4 is so clever. It's taken its customers with it, understanding that people spending this sort of money on a sports coupe don't necessarily want something that'll bite back, give them the shakes and necessitate a trip to the chiropractors.
Are there drawbacks? Well, steering and throttle response aren't quite as sharp as they were in this model's predecessor. Nor is the engine note quite as memorable. Many will feel though, that these are small prices to pay for the much bigger benefits offered elsewhere. And the fact that this still remains the most exciting and involving car of its kind. Even its closest rival, the Mercedes-AMG C63, can't come close to this M4's agility and driver feedback. So yes, if this is progress, I'll take it. I'd better start saving.