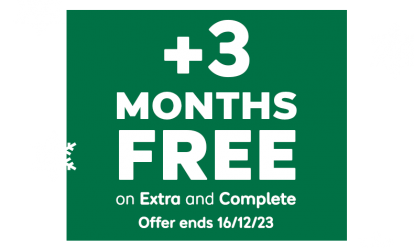 With 12 months of cover, new customers get an extra 3 months for free*.
*Added after 12 months, excludes Basic cover. New customers only. Ends 16/12/23, 7am.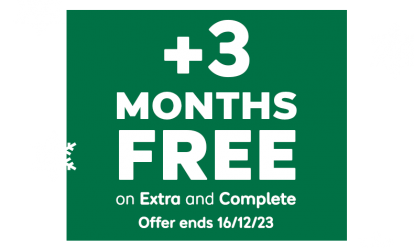 The improved version of Audi's SQ5 TDI brings massive power and torque to the premium part of the mid-sized SUV sector. It's one heck of a package. Jonathan Crouch reports.
Ten Second Review
The Audi SQ5 TDI does what few thought was either advisable or possible, namely packing a 341PS diesel powerplant into a mid-sized SUV. Do you really need that much power? Not really. Would you like it though? You bet. It's not cheap but it does bring a welcome shot of sparkle to the Q5 line up.
Background
Yes, it's an SUV. But it's an SUV unlike any you've probably ever experienced before. The key reason why lies beneath the bonnet. Tucked under here is a twin turbo V6 TDI diesel powerplant endowing this mid-sized 4x4 with phenomenal punch. In 2018, this second generation SQ5 was first launched in 3.0-litre TFSI 354PS petrol form, but in 2019, that engine was then replaced by the Electrically Powered Compressor-boosted 3.0-litre TDI mild hybrid diesel unit from the S4, here putting out 341PS. That's created a very credible performance flagship for the Q5 range.
With the SQ5, you have all of the practical aspects of a normal Q5. That means it'll quite happily do the family duties, commute in comfort, put in a performance at IKEA and be low key enough for you to happily park on the street without a worry. Yet somehow, this model still retains the ability to keep up with a Porsche Cayman sports car. Quite an all-rounder then.
Driving Experience
Like the first generation SQ5, the basis for this model's well-rounded CV is a muscular V6 TDI engine, but the original car's BiTDI powerhouse was replaced a couple of years back by a unit supported by a single turbocharger, a separate electrically powered compressor for split-second response and a mild hybrid system to underpin the thrilling performance with appropriate efficiency. That engine's now been further tweaked to produce its peak power a fraction earlier and across a wider torque range. The result is mammoth maximum torque of 700Nm from barely more than idling speed, peak power of 341PS and a 5.1-second 0-62mph sprint capability. All that torque offers instant go, channelled through an eight-speed tiptronic automatic transmission to the road via quattro all-wheel drive. Like most Audis, the top speed is electronically limited to 155mph.
This car's electrically powered compressor is the ideal assistant for the turbocharger. It is active whenever the exhaust gas flow provides too little energy to drive the turbocharger, i.e. when starting off and accelerating in the low-rev range up to 1,650 rpm. Options include 'S-specific adaptive air suspension', Dynamic steering and a sport differential on the rear axle which actively distributes the power between the rear wheels during dynamic cornering.
In case you were wondering if a diesel 'S'-series model might sound a bit, well, dieselly, Audi has fitted the SQ5 with a specially developed sound actuator in the exhaust system which brings a bit of bass and purpose to the exhaust note. The SQ5 sports a broadly similar electromechanical power steering system to the rest of the Q5 range while sport suspension reduces its ride height by 30 millimetres. The Audi drive select driving modes system alters ride, steering, throttle and gear change timings. Needless to say, with the lowered ride height and low-profile tyres, this is one SUV that you won't want to be pointing at a rutted track.
Design and Build
The SQ5 certainly looks the part. Sat low on its standard 20-inch wheels the revised version of this model has a powerful stance, with striking details that give it an even more rugged appearance. Vertical fins provide structure to the large side air inlets on the front bumpers, and in the octagonal Singleframe grille that is specific to the S models, large octagonal honeycomb sections are linked by narrow bars. These have an aluminium finish, as do the fins on the air inlets. Flanking this grille are full-LED headlights that now use Audi's intelligent 'Matrix' technology. At the rear, a matte aluminium strip is integrated in the lower bumpers, below which are the diffuser insert and four chromium-plated oval tailpipe trims.
Inside, the main change is the addition of a larger 10.1-inch MMI touch display central screen as part of Audi's latest MIB 3 modular infotainment platform. The 12.3-inch Audi virtual cockpit instrument binnacle screen is naturally also standard and provides three different graphic layouts: Dynamic, Sport and Classic. In SQ5 TDI Vorsprung models, it is also supplemented by a head-up display projecting important information onto the windscreen in the driver's field of vision. The S sport seats are upholstered in fine Nappa leather with diamond stitching and are electrically adjustable. Matt brushed aluminium inlays are standard and an exclusive carbon inlay is optionally available. Aluminium-look shift paddles enable the driver to quickly shift the tiptronic's gears. The pedals and footrest are finished in stainless steel.
The standard 'rear seat bench plus' seating in the SQ5 is split into three segments. Depending on the position of the rear seat bench, the luggage compartment has a standard capacity of 500 to 610-litres. When the rear bench is folded down, this volume grows to 1,550-litres.
Market and Model
There are two SQ5 variants, the standard model, priced at around £58,000 and the top 'Vorsprung' version, which costs around £73,000. You'll need around £2,500 more in each case if you want the sleeker Sportback body style. With either body style, most will want the base-trimmed derivative and will be considering key options like 'S-specific adaptive air suspension', Dynamic steering and a sport differential on the rear axle. The headlights and rear lights feature Matrix LED technology and the dynamic indicators at the front and rear send distinctive signals. Inside, the standard 10.1-inch centre-dash MMI touch display incorporates Audi connect, which connects the SQ5 TDI to the internet via LTE and provides a WiFi hotspot for passengers' mobile devices. The UK equipment list also includes Audi phone box inductive charging and the Audi smartphone interface, bringing Apple CarPlay and Android Auto into the car.
SQ5 TDI 'Vorsprung' models feature a wealth of upgrades such as a Bang & Olufsen 3D Premium Sound System, a panoramic glass sunroof and electric steering wheel adjustment, as well as virtually the full complement of driver assistance features available across the Q5 range. Chief among these is the Tour Pack, which incorporates an adaptive cruise assist system that can assume responsibility for accelerating, decelerating and keeping in lane over long distances, and predictive efficiency assist to foster a predictive driving style with the goal of lowering fuel consumption, plus turn assist and collision avoidance assist functions.
Cost of Ownership
Somewhat remarkably for an SUV that will get to 62mph in around five seconds, should you choose to drive the standard model in a less demented fashion you could see 34.4mpg, according to WLTP combined cycle tests. Of course, it'll be hard to resist prodding the turbo and electrical compressor into life at any opportunity and in the real world, if you can get anything over 25mpg, you've got some rather saintly restraint, but that's still not a bad return for such a potent and useful vehicle. The WLTP CO2 figure is 215g/km. These figure apply to both variants and both are BiK rated at 37%.
Audi says that the MHEV mild hybrid tech used in this SQ5 TDI can reduce real-world fuel consumption by as much as 0.7 litres per 62 miles. At its core is a belt alternator-starter (BAS) connected to the crankshaft. During deceleration, it can recuperate up to 12 kW of energy. This electrical energy is stored in the lithium-ion battery, from where it is dynamically distributed to the consumers in the electrical system.
If the driver lifts off the accelerator at speeds of between 34mph and 99mph the car can, depending on Audi drive select setting and driving situation, either recuperate, run at idle with the clutch disengaged or coast with the engine off for up to 40 seconds. The BAS restarts the engine the next time the accelerator is depressed, and does so noticeably more quickly and smoothly than a conventional starter. MHEV technology allows for start/stop operation at a speed of up to 13mph.
Summary
The Audi SQ5 TDI is a fascinating glimpse into the state of the SUV building art. Okay, so shoving a hugely powerful diesel engine into a mid-sized SUV doesn't sound like rocket science, but this is no ordinary engine and the Q5 is no ordinary vehicle. The combination of these constituents moves the genre on a good few steps. All too often with premium brands, and especially with Audi, the fast all-wheel drive estate cars already on offer are so good it leaves you wondering why you'd bother with the SUVs. The SQ5 poses just one question to that mindset: why not?
With 341PS on tap, you're never short of power and with 700Nm of torque on tap, you won't even need to buy a caravan. Just screw a towing eye to the side of your house and drag it up the road. But is this car a wee bit over the top? Probably. Will you love it regardless? Most definitely.