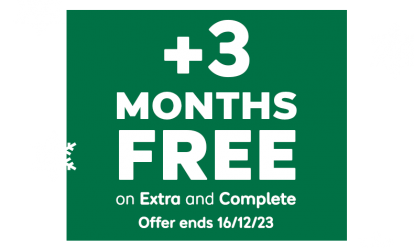 With 12 months of cover, new customers get an extra 3 months for free*.
*Added after 12 months, excludes Basic cover. New customers only. Ends 16/12/23, 7am.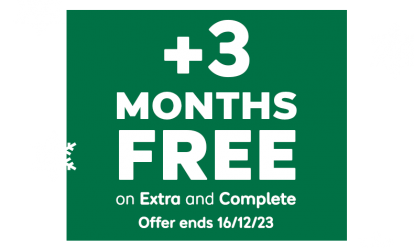 The MK4 model Audi A3 Sportback demonstrates that class is permanent. Jonathan Crouch drives it.
Ten Second Review
The premium compact car. If that concept means anything to you, then it's the car we look at here, Audi's A3 Sportback, that might well come to mind. True to the brand's Vorsprung durch Technik philosophy, this model once again aims to set fresh standards, incorporating a completely digitalised interior and cutting-edge infotainment, plus more unique light signatures, powerful engines and a suite of innovative assistance systems enveloped in a completely redesigned, yet immediately recognisable body. The result is a car that should show you just how far things have recently progressed in this segment.
Background
The Audi A3 firmly established the premium compact class in 1996. Now, more than a quarter of a century further on, the fourth generation of this highly successful model is ready to make its mark. These days of course, this Audi faces strong competition, but back in 1996 when we first saw the A3 model line, the idea of being able to move a car up-market in class and appeal without increasing its size was new and rather different.
Cynics dismissed it as a way of dressing up ordinary family hatches and charging a lot more for them. Customers though, loved the idea and by the time the second generation A3 arrived in 2003, BMW and Mercedes rivals had also arrived to swell the market. Initially, those two brands struggled to produce products good enough to overtake Audi and the result was that nearly a quarter of a million MK2 A3s were pounding global roads by the time the third generation model arrived in the Autumn of 2012. It sold for nearly eight years until this more cutting-edge MK4 model arrived.
Driving Experience
Everything about this car is designed to deliver on the concept of a Volkswagen Golf with just a touch more polish - and the driving experience it offers is no exception. If you're an A3 regular - or a graduate from a Golf - you'll find that this Audi now has even more of the mature drive dynamics you'll be looking for, helped by a fully digital at-the-wheel experience and the optional embellishment of hybrid power and self-driving tech. Differences with this MK4 design initially seem quite subtle, primarily centred around slightly sharper steering and handling that's now a little more responsive. That's thanks to a wider track and the introduction of a 'modular dynamic handling control system' that, based on steering movements, predictively co-ordinates interplay between all the car's dynamic systems - like a conductor with an orchestra - so the car can always be one step ahead of the drive inputs you want to make. As before, you'll need to avoid the lowest-powered petrol and diesel variants if you want the brand's suppler, more sophisticated multi-link rear suspension set-up.
Ah yes, engines: they've evolved too: the two volume petrol units - a 110PS 1.0-litre three cylinder and the 150PS 1.5-litre four cylinder powerplant we tried - both get Audi's latest mild hybrid MHEV electrified tech, provided you order them with the 7-speed S tronic auto transmission that most A3 folk tend to want. That MHEV set-up sees an integrated 48-volt 'BAS' belt alternator starter-generator powers a 12-volt main electrical set-up in which a 48-volt compact lithium-ion battery in the boot stores energy harvested via a 'KERS' kinetic energy recovery system. If you don't care about Friends of the Earth, you can do better with the alternative conventional 30 TDI diesel model of course - which now develops 116PS using a larger, more efficient 2.0-litre unit with the brand's latest 'Twin Dosing' tech. There's also a 150PS 2.0-litre 35 TDI model option. The better eco-minded alternative though, is the 40 TFSI e Plug-in Hybrid, which mates a 150PS 1.4-litre TSI petrol engine to a 6-speed DSG auto gearbox, the combination working with an 85kW electric motor powered by a 13kWh lithium-ion battery which, when fully charged, can offer a WLTP-rated all-electric driving range of up to 41 miles. If you purely prioritise performance, you're more likely to be drawn to the S3 quattro hot hatch, which, as before, uses a 310PS 2.0-litre TFSI turbo petrol unit, which is now exclusively mated to S tronic paddleshift auto transmission. At the top of the range is the 400PS RS 3.
Design and Build
Audi's given this MK4 model a more athletic stance and its concave flanks introduce a completely new element into the company's design philosophy. These days, there's no three-door A3 model, so the range is primarily based around the five-door Sportback body shape, which features heavily slanting C-pillars above the rear wheels and measures in at 4.34m in length, around 3cms longer than the previous model. The shoulder line tapers upward from the headlights to the rear lights. The front end is dominated by a wide, hexagonal Singleframe with a honeycomb grille, flanked by full-LED headlights that can be ordered with optional matrix technology.
The biggest changes are reserved for the cockpit, which gains the digitalised 'black panel' technology lately introduced into most of the company's other models. A 10.1-inch centre-dash MMI touch display is standard and can be used to adjust the settings of the media selection, navigation, and extensive connect services. Also standard is the 10.25-inch 'Virtual Cockpit' digital instrument cluster we first saw offered as an option on the previous model. A larger 12.3-inch version of this display is also available.
Audi claims that the slight dimensional exterior size increase benefits passengers directly and, sure enough, they get more elbow room at the front and rear and more shoulder room in the rear. Headroom in the front's better too - though only because the driver's seat has been positioned a little lower for a slightly sportier feel.
Out back, the boot is much as before, offering a capacity of between 380 and 1,200-litres. The loading floor can be adjusted to different heights, and the rear shelf can be stored underneath it to save space.
Market and Model
As before, prices for A3 Sportback ownership start from around £26,500 and sit primarily in the £30,000 to £35,000 bracket, though with more powerful variants, much more will be required. 'Sport', 'S line' and 'Black Edition' specifications are available. You will at least be getting plenty for your cash. The 'MIB 3'-generation MMI infotainment system has ten times more computing power than this set-up did in the previous model. MMI co-operates closely with the separate communication box, which performs all tasks relating to connectivity, including telephony and the LTE-compatible 'Audi connect services' package, plus of course it integrates a WiFi hotspot. Individual settings can be stored in up to six user profiles. They range from the seat position to the air conditioning settings, frequently selected navigation destinations, and frequently used media. Handwriting recognition (you can trace commands with your fingertip) and an advanced natural language voice control system also both feature.
Audi has also upgraded its 'MMI navigation plus' sat nav system, which recognises the driver's preferences based on previous journeys, allowing the GPS software to generate suitable route suggestions. In doing so, it takes statistical experience values on time and traffic density into account, as well as real-time data on the traffic situation. Online radio and hybrid radio can also be installed upon request. The former provides access to online stations that are available worldwide, while the latter automatically switches between FM, DAB, and the online stream to ensure optimum reception at all times.
There are two option packs available - 'Technology Pack' and 'technology Pack Pro'.
Cost of Ownership
Audi is continuing is electrification strategy in the premium compact class, hence the emphasis on the MHEV mild hybrid 1.5-litre 35 TFSI petrol model in this MK4 A3 Sportback model range. The figures suggest that in manual or auto forms, this variant manages 49.6mpg, with a CO2 return of 129g/km of CO2. The 35 TDI diesel S tronic auto model manages 61.4mpg and 121g/km.
Most A3 buyers will want the MHEV auto petrol model which uses the same sort of set-up we've already seen on larger Audi models. A 'BAS' belt alternator starter-generator that with this four cylinder engine, powers a 48-volt main electrical set-up in which a compact lithium-ion battery in the boot stores energy harvested via a 'KERS' kinetic energy recovery system. During braking, the 'BAS' package can recover up to 12kW of power and feed it back into the battery.
If the driver takes their foot off the accelerator at speeds between 34 and 99mph, the mild hybrid system will recuperate energy, while the car rolls in idle or coasts with its engine automatically switched off for up to 40 seconds. The belt alternator starter-generator restarts the engine the next time the accelerator is depressed, and does so faster and more gently than a conventional starter. All of this you'll particularly notice at urban speeds where the engine start-stop system is cutting in and out. The start stop range begins at just under 14mph, so you'll often find the car coasting up to the end of a traffic queue, a traffic light or a level crossing.
If you want a full-Hybrid, you'll need the 40 TFSIe Plug-in version, which offers 256.8mpg on the WLTP comnbined cycle and up to 26g/km of CO2.
Summary
In the search for a compact car that's also a premium purchase, there are probably more charismatic choices than this Audi A3. But we think there are few better ones. Light in bulk, heavy in technology, it's a logical evolution of a breed that's long been one of Britain's favourite company cars.
This improved version might look little different at first glance but it'll feel so once you get to grips with the fresh digitalised cockpit with its two sophisticated screens. Otherwise, things are much as before - which means that there's lot's to like. If you're one of those still questioning the need for a premium peoples' hatch, then in this Audi, you have your answer. From the outside, it's as home in Belgravia as it is in Brixton. But the interior is where this design really strides apart. You could be in a luxury car.
And of course, in many ways, you are. By pioneering the premium compact hatch segment with original versions of this model, Audi has in many ways redefined the meaning of automotive luxury, democratising it without the desirability being diluted. Other brands claim to have done the same of course and many have used a few more visual or dynamic fireworks to grab the attention. Ingolstadt though, doesn't think this A3 needs them and legions of loyal global buyers seem to agree. Cool, class-less and clever, it remains desirably definitive.