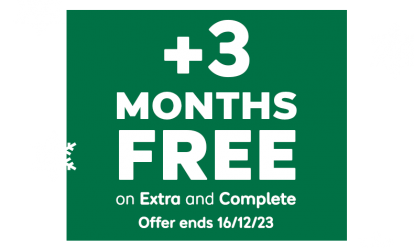 With 12 months of cover, new customers get an extra 3 months for free*.
*Added after 12 months, excludes Basic cover. New customers only. Ends 16/12/23, 7am.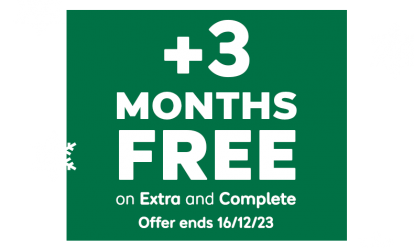 By Andy Enright
Introduction
The Aston Martin Virage had to be one of the most puzzling vehicles launched in the last decade. The fact that it was only on sale for a year probably tells you all you need to know about the public reaction to this vehicle. Slotting between the existing DB9 and DBS models into a gap that was imperceptible to many, the Virage was always going to face an uphill task and so it proved. That doesn't make it a bad car and, if anything, makes the few used examples you can find even bigger bargains. Although the marketing may have been questionable, there was precious little wrong with the hardware.
Models
2dr coupe/convertible (5.9 petrol)
History
It's fairly common knowledge in the motoring world that Aston Martin enjoyed the considerable largesse of the Ford Motor Company, who bought a 75 per cent stake in Aston Martin in 1987, before the Newport Pagnell firm became wholly owned by the Blue Oval in 1994. This tenure lasted until 2007, when the company was sold to a consortium led by Prodrive chairman Dave Richards. During the Ford years, cars like the DB9 and Vantage were developed and in the subsequent years we've seen several spin-offs of these themes, with the updated DB9, DBS, Vanquish and Virage all based on much the same chassis and engine technology.
The Virage had a tough start. Unveiled at a Geneva motor show that saw the limelight stolen by the Lamborghini Aventador, the Ferrari FF and the E-type Jaguar's 50th birthday, the Virage was overlooked by much of the world's press. Compound that problem with a cramped stand, a show car in an unflattering colour and with styling that most found virtually indistinguishable from the DB9 - a car that continued in the Aston Martin line up - and it was a low-key launch. Things didn't get much better with initial reviews that were broadly positive about the car but questioned what the point of it was when the DB9 and DBS models were also on sale. It was, perhaps, the ultimate manifestation of Aston's hidebound 'Russian Doll' styling philosophy and its short lifespan told of a certain customer weariness of this policy. The Virage was deleted quietly in 2012, replaced by an updated DB9. The DBS shortly followed it.
What You Get
Aston Martin CEO, Dr Ulrich Bez countered criticism of the Virage's lookalike styling by pointing out that "100 years of automotive history has demonstrated that evolution delivers the best solutions in time." As we've seen, evolution can also branch off into dead ends though. The front wings feature side strakes each housing six LEDs forming the side repeaters. Custom side sills carry the simplicity of the front bumper through to the rear diffuser which houses a body-coloured blade accentuating the width of the car. Open the swan wing doors and you'll find hand-stitched Bridge of Weir leather with a pinstripe welt that flows down either side of the fascia and along the seat and door, drawing your eye through the car. Aston regulars will be relieved to know that here, the clunky Volvo-sourced satellite navigation system was replaced with a fully integrated system developed in conjunction with Garmin, operated via a four-way joystick and outputting mapping information to a 6.5 inch high resolution display.
Equipment levels are as good as you'd expect for a vehicle carrying this price tag and which features a grand touring remit. A full-grain leather interior with alcantara headlining, walnut fascia trim, iridium silver centre console and electroluminescent displays set the tone and there's a whole host of electronics to play with, chief attraction being the 700W Dolby Pro Logic stereo system with integrated iPod connection. Customers also receive a tracking device, a hard disk for the sat nav, cruise control, front and rear parking sensors, a glass key and even a boot-mounted umbrella.
What You Pay
Please fill in the form here for an exact up-to-date information.
What to Look For
Make sure the dashboard electronics are all functioning as they should as there have been some issues with the display screens and the satellite navigation system switching itself into night mode at random times of the day. Look out for stone chipping on the front of the car. Diligent owners usually specify paint protection. The engines are generally bulletproof but there are a few small things to look for when buying. Insurance will be extremely expensive, it's in the top band for road fund licence and there's a £250 Horizon Eurowatch Tracker annual fee to take on. Make sure you get at least one Tracker fob and ensure that the seller demonstrates how to pair your phone to the Tracker. If you're shopping for a Volante model, make sure the hood operation is completely trouble-free and check for abrasions to the hood material.
Replacement Parts
(approx based on a 2012 Virage Coupe) Prices are supercar steep. You'll need deep pockets if you do any panel damage and don't want an insurance claim, with a front wing costing around £1,400 and a front spoiler £1,200. Air filters are around £82 and should you hole your front grille, you'll need £650 to purchase a new one.
On the Road
While it's just to question the place of the Virage in the Aston Martin line up, it's hard to find fault with the product itself. Scarily so, in fact. So good is the Virage that it made the DB9 appear a little passe. A little more unexpectedly, it also drew into question the wisdom of paying the additional £25,000 for the DBS. Depending on how you look at it, the Virage is powered by it either a tweaked version of the DB9's 6.0-litre V12 or a modestly detuned version of the DBS's similarly sized unit. Either way, it has 490bhp at 6500rpm and generates 420lb ft at 5750rpm, which slots it conveniently halfway between the 470bhp DB9 and the 510bhp DBS.
Despite giving away a few kilograms to the DBS, the Virage is barely any slower in real-world scenarios. It rides a lot more quietly over poor surfaces thanks to adaptive electronic dampers and its Sportshift six-speed paddle-shift gearbox is also the superior item. Performance? You can expect to launch it to 60mph in 4.6sec and it'll only run out of puff at 186mph. As impressive as the numbers are, they give no clue as to how well sorted the chassis is, Aston having poured huge resources into getting the balance of the car fundamentally correct. With a perfect 50:50 weight distribution and a 'Sport' button on the fascia allowing the driver to select a sharper throttle response and faster gear changes, the Virage is no bloated boulevardier. Compared to the Newport Pagnell bruiser that first bore its name, the tactility of the current Virage is from another planet.
Overall
It's interesting how a car many derided as pointless when new suddenly becomes something wholly worthy as a used proposition and few cars embody that quite so well as the Aston Martin Virage. Why? Because here you have an exclusive badge with a model that you'll never see coming the other way. It's the ultimate piece of one-upmanship. It's left-field and that makes it cool in a way that a more ubiquitous DB9 or a Vantage never can be. True bargain hunters may gamble on waiting another year or two before picking one of these up, but we have a suspicion that values for this car might firm up somewhat.