Parking in the United Kingdom can be confusing to navigate. With expensive multi-storey car parks, streets where you need to pay on an app, or areas where you pay through a roadside machine – it can be difficult to find a spot.
Across the country, there are areas where you can park for free, or for however long you need, but some of these streets have specific markings or signs that illustrate the rules for drivers.
This guide looks at what you should do when you are in one of these areas.
Can you park on single yellow lines?
In the UK, single yellow lines on the side of the road indicate different parking restrictions depending on the signs on the street you are looking to park on.
The time of day can also play a factor in the rules that are in place.
Parking restrictions are typically enforced to manage traffic flow and ensure safety – but they can also be to restrict traffic in certain area. This is common in many larger cities.
Single yellow lines with no sign
If you can't see a sign with rules stating that you can park, then parking is allowed outside of the restricted hours that are displayed.
Outside of these hours, you can park on the single yellow line for free – without any restrictions.
Before you leave your car on a single yellow line street, make sure to check for any additional restrictions or local regulations.
Single yellow lines with sign
If there are signs accompanying the single yellow line, they will provide specific instructions regarding parking restrictions.
These signs may indicate restricted hours or other limitations.
What all drivers should be aware of?
It's crucial to note that parking restrictions can vary across villages, towns, and cities – and by rules dictated by local authorities and councils.
Before you set off on your next road trip, search for the local parking rules at your destination.
This means you will avoid any potential parking fines.
What other lines on the road are there in the UK?
Across the UK, you can find various types road lines that instruct drivers of where they can park.
You will now be aware of what to do with single yellow lines, but for doubles, it means you cannot park there at any time.
White lines
If you see a single solid white line, then you should not cross it unless it is safe and necessary. However, you can cross a single solid white line to overtake a slower-moving vehicle if it is safe to do so.
With a double solid white lines, crossing them is not allowed, except in certain circumstances, such as when turning into or out of side roads, or when directed to do so by a police or a traffic officer.
You may also cross these lines if there are road works with signage that instructs you to do so.
Zigzag lines
These lines indicate a no-stopping zone – and where parking is strictly prohibited.
Dashed lines
Dashed white lines in the centre of the road indicate that overtaking is allowed if it is safe to do so.
Sometimes these can be yellow lines.
Bus and cycle lanes
These lanes will be marked with the image or words saying what type of vehicle is allowed in them. Driving or parking your car in them, can lead to a fine.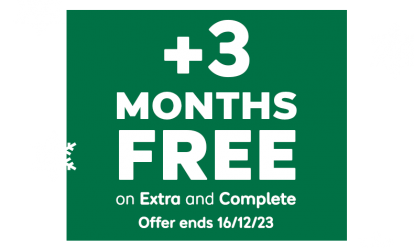 With 12 months of cover, new customers get an extra 3 months for free*.
*Added after 12 months, excludes Basic cover. New customers only. Ends 16/12/23, 7am