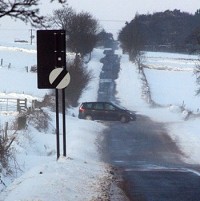 Snow, ice and blizzards will continue to disrupt the roads and cause problems for motorists this week.
Following heavy snow in some parts of the country towards the end of last week, the Met Office has now issued yellow warnings for all of the country.
The yellow warning indicates the public should be aware of the weather conditions, with more snow forecast for the Midlands, northern England and Wales, Scotland and Northern Ireland.
Low overnight temperatures could see ice forming on road surfaces and higher parts of the country could see heavy snow. Meanwhile north-west Scotland could see strong 60mph winds which could lead to blizzard conditions.
RAC spokesman Simon Williams said: "Preparation is really the key to coping with difficult driving conditions, especially as it's expected to stay cold over coming days. If it is possible, try to avoid leaving your car unused for days on end as that affects parts such as batteries and we have already attended around 30,000 callouts since the start of the to deal with flat batteries.
"It also makes sense to give yourself more time as you may need to scrape the ice off the car in the morning, and expect traffic to be moving more slowly if there is ice on the roads as motorists take greater care. For more advice, see our winter driving pages online .
"This is potentially the worst week for travel disruption due to snow and icy conditions that are forecast."
The Met Office's chief forecaster Eddie Carroll warned that road surface temperatures will be below freezing, meaning those roads which aren't gritted could become icy. Scotland will see the worse of the snow, with up to 10cm settling in the higher parts of the country.
Further south will see mostly rain and sleet, with snow settling above about 200m.
Copyright Press Association 2015
%20http:/www.rac.co.uk/advice/winter-driving (winter driving pages online)