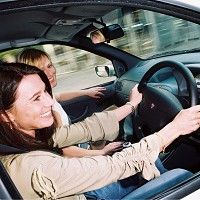 Women drivers are safer than their male counterparts, new research has revealed.
Female motorists are involved in fewer road accidents and they have fewer penalty points on their licence than male drivers, according to the study by carrentals.co.uk.
The research suggests that women have the added benefit of having to make fewer car insurance claims than men thanks to their better safety records.
While 57% of male drivers have been involved in at least one accident the figure for women drivers was 44%.
The survey also showed that almost double the number of men than women had both points on their licence and had been caught speeding.
More than 700 people over the age of 18 from across the UK were involved in the study, for which they had to identify common road signs and answer a series of questions about their driving ability and experience behind the wheel.
Carrentals.co.uk managing director Gareth Robinson said that the overall performance by men in the questionnaire was poor and they typically had a worse driving history, yet men still believed that they were good drivers.
Copyright © Press Association 2012