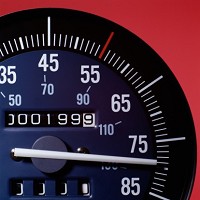 New smart technology surprisingly suggests that women are more prone to speeding than men.
An in-car telematics device was fitted in over 10,000 hired motors and the results measured across six months.
Such gadgets are increasingly becoming attached to privately-run cars to reduce car insurance and business fleets to track costs.
The research found that female drivers are typically 17.5% more likely to break legal speed limits than men, according to In-Car Cleverness. Women were involved in 67 of the speeding cases seen, men in 57.
The telematics technology supplier also showed that men are more likely to return rented vehicles in a damaged state.
Well over four in five (84%) of vehicles brought back with punctures, scratches and dents had been driven by men.
In-Car Cleverness's Paul O'Dowd said the statistics show a definite link between bad driving - such as speeding, acceleration and harsh braking - and car damage.
Copyright Press Association 2015