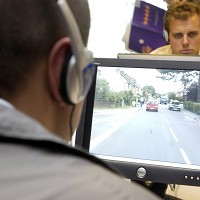 A woman from London has taken her driving theory test 110 times - but she is not alone in finding it tricky or persevering with multiple tries.
The unnamed woman is from the south east of the capital and has racked up the most attempts at the driving hurdle, figures from the Driver and Vehicle Standards Agency (DVSA) show.
There is a man aged 30 from Peterborough who's done it 86 times and another aged 27 in Pembrokeshire who has 64 attempts under his belt.
Birmingham provided a success story, as a learner driver there passed on his 80th crack at the compulsory test at the age of 41.
Sticking at the two-part test after so many failures is also hitting people in the pocket - each try costs £31.
Learners are not allowed to book their practical driving test until they have cleared the theory hurdle, which has a multiple choice quiz and a section for people to show they can identify hazards on the road.
Whether you want to drive a car or have a motorcycle in mind, you must pass the theory test.
A spokesman for the DVSA says the way people are tested before they can get behind the wheel aims to make sure they are safe. He says it is "essential" they prove they know enough and have the right skills to be responsible on the road.
Today's information comes from a Mail Online query to the DVSA under Freedom of Information rules.
Other figures from the body show the most times anyone has taken the practical driving test is 24. The woman, aged 24, with that record is among eight people who before the end of 2013 had more than 20 goes at passing.
Copyright Press Association 2014