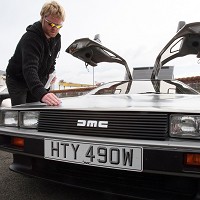 An electric version of one of the big screen's most iconic cars - the DeLorean - is to be unveiled.
Made famous by Marty McFly in the Back to the Future trilogy, the car has enjoyed a cult following ever since.
Queen's University Belfast has created a hi-tech electrical model to mark the 30th anniversary of the first film - and it will make its public debut on Wednesday, the exact date when McFly went Back to the Future.
Experts and students have worked tirelessly at the institution's Electrical Energy laboratory to develop the car's electric engine, turning what was a dilapidated DeLorean into a state-of-the-art motor.
The ambitious project, led by Dr David Laverty, has taken the best part of two years to complete.
DeLorean Motor Company, headquartered in Northern Ireland, went out of business in 1982. It only ever produced one car, the DeLorean DMC-12, which simply became known as the DeLorean, and three years later its silver gull-wing door design was immortalised by the 1985 film starring Michael J Fox.
The project was all about modifying a car into an electric vehicle, but Dr Laverty wanted to do it in style. He says the DeLorean was the obvious choice because of its strong connection to Belfast and its starring role in the Back to the Future movies.
Copyright Press Association 2015