The Mayor of London Sadiq Khan has announced that the expansion of the £110m
Ultra Low Emission Zone (ULEZ)
scrappage scheme will allow thousands of residents and businesses to claim for financial support.
Londoners who are receiving child benefit and all small businesses will be eligible for grants to help replace polluting vehicles ahead of the ULEZ expanding on 29th August 2023.
Following various consultations over the last few months, the Mayor, in partnership with Transport for London (TfL), revealed the plans as part of a wider goal to remove more polluting vehicles and encouraging the use of greener forms of transport.
Currently, charities, sole traders, and businesses with 10 or fewer employees registered in London can apply to scrap a van (£5,000 grant) or a minibus (£7,000 grant), retrofit certain vans or minibuses (£5,000 grant) or scrap and replace a van or minibus with a fully electric vehicle (£7,500 or £9,500 grant respectively).
Residents receiving certain benefits can apply for cash grants of up to £2,000 to scrap their non ULEZ-compliant vehicles.
There are currently 874,710 London families in receipt of child benefit. With the expansion a further 578,315 families will be eligible in outer London.
If a parent earns £50,000 a year or under, they can claim the full entitlement of child benefit, and families claiming child benefit if both parents earn less than £60,000 a year can also apply for a similar claim.
The current scheme is already open to Londoners on other benefits, such as Universal Credit and Personal Independence Payment. This means those eligible can include anyone single earning up to £30,000, couples earning up to £40,000 per year and anyone with children and renting.
After the expansion is in place businesses registered in London with fewer than 50 employees can also apply.
Overall, the ULEZ Scrappage scheme has received 6,892 approved applications, with £25,372,800 committed to date.
According to Khan's office, the rate of applications continues to increase the closer to the expansion in August.
The scrappage scheme will be kept under ongoing review by the Mayor's office.
Additionally, TfL has announced a series of offers for successful scrappage scheme applicants including car/van clubs, car/van rentals, car/van finance, E-Scooter hire, bike hire, bike and cargo bike purchases and bike subscriptions. As well as exclusive offers for scrappage applicants, for the first time there are also general discounts and promotions available to all Londoners to take advantage of, whether they are eligible for a scrappage grant or not.
Currently on London's roads, the majority of vehicles in the capital are already ULEZ-compliant.
This means that most Londoners will not need to pay the ULEZ charge of £12.50 a day, or change their vehicle.
In fact, the latest data shows that 90% of cars, and around 80% of vans seen driving in the ULEZ on an average day are already compliant. However, RAC research published in March 2023 showed that as of 22 February 2023, DVLA data suggested a total of 691,559 licensed cars in the whole of Greater London could be non-compliant. This figure rises to 851,065 when counting all non-compliant vehicles, rather than solely cars.
The Mayor of London, Sadiq Khan, said: "The majority of vehicles in London are already ULEZ compliant and will not have to pay anything. But I completely understand the concerns of people who may not have a compliant vehicle and are worried about how they'll make the transition.
"We already have the biggest-ever scrappage scheme in place to support Londoners on low incomes, London based micro-businesses and charities and disabled Londoners. But I've listened to families and small businesses in outer London who want more support and I'm pleased to be able to announce today a major expansion to the scheme run by TfL to ensure we can help them.
"Expanding the ULEZ was an incredibly difficult decision for me. But with toxic air damaging the health of millions of Londoners and the need to tackle the climate crisis, I believe the cost of inaction would simply be far too high a price to pay."
Christina Calderato, TfL's Director of Strategy and Policy said: "The vast majority of those travelling in the zone when it expands will not have to pay the charge, but we recommend all drivers use our vehicle checker, so they know whether they need to take action ahead of the expansion of the zone."
RAC head of roads policy Nicholas Lyes said: "Irrespective of whether you agree or disagree with the ULEZ expansion, drivers using their vehicles in London must firstly check whether their vehicle is compliant with the ULEZ standards which they can do via Transport for London's checker.
"Secondly, those with non-compliant vehicles, who will now face charges for driving in the Greater London area, should check whether they are eligible to take advantage of the newly expanded scrappage scheme or other offers such as discounted bike hire or car clubs."
What do you make of the ULEZ? And will this scrappage scheme really make a difference to businesses and families? Leave your comments below.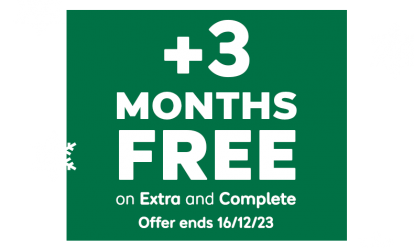 With 12 months of cover, new customers get an extra 3 months for free*.
*Added after 12 months, excludes Basic cover. New customers only. Ends 16/12/23, 7am