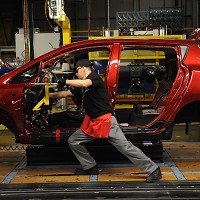 Britain is home to the most productive auto industry in Europe, figures show.
Each employee delivers more than Û100,000 a year in added value, according to the Automotive Council, pushing Germany into second place.
But it warns a lack of new engineers and technicians could put the brakes on production in the future.
Increased investment in manufacturing means the UK produces more than 1.5 million vehicles a year.
A bias towards higher value cars, thanks to Jaguar Land Rover's dominance of the sector, also boosts productivity levels.
But Tony Walker, of the Automotive Council and Toyota UK's deputy managing director, says the improvements in productivity are mostly down to labour flexibility, the constant elimination of wasted time and effort and lean manufacturing.
Britain's labour flexibility is ranked top in Europe and second globally. While it ranks number one out of 10 European car-producing nations, it is seventh out of 16 on the world stage, so there is room for improvement.
The Automotive Council claims more engineers and technicians will be needed to maintain current levels of productivity.
Motoring News articles do not reflect the RAC's views unless clearly stated.
Copyright Press Association 2015