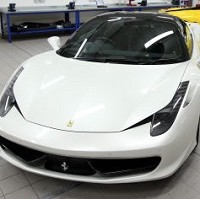 White is again the colour of choice among British motorists.
Those buying a car in the UK chose this shade above all others in 2014, just as they did in 2013.
As many as 544,815 of the 2,476,435 new motors registered last year were white - that's 22% of them.
The Society of Motor Manufacturers and Traders (SMMT) figures suggest that motorists are not deterred by the practicalities of white cars being more difficult to keep clean.
The stats certainly reflect a change in trends. Ten years ago less than 1% of all new motors were white. In 2010 this figures was under 10%.
Ford's Fiesta was the most bought white car in 2014, with 25,845 white finishes sold.
Black accounted for nearly a fifth of the new car sector with 19% in second place, with grey third (14%) and silver sixth (13%), SMMT found.
The society's archive research found that the most popular white vehicles of 1996, 2000 and 2010 were Citroen's Xantia (only 2,489 sales), Vauxhall's Astra (4,775) and Fiat's 500 (13,049) respectively.
Copyright Press Association 2015