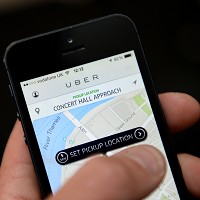 Taxi app Uber is to launch a car-sharing service in London which it claims will help cut congestion.
UberPool will go live in the capital on December 4, allowing up to three passengers to share a cab and save money on the standard fare, provided they are heading in the same direction.
It was first launched in San Francisco in September last year, while Paris is the only other European city where it operates.
Uber claims the service will help to cut congestion and pollution in London, as people will be sharing rides rather than travelling in separate cars.
Passengers stand to save 25% compared to the standard uberX fare, Uber's most affordable option.
Each pick-up is restricted to a maximum of two people, with no more than three passengers in a car at once.
UberPool will initially only be available for journeys starting in central London or Heathrow Airport from 4pm on Friday.
But the service could be affected by the conclusion of a consultation on a series of measures by Transport for London (TfL), which could impact on Uber's activities.
This includes enforcing an interval of at least five minutes between a booking and the start of a journey to give drivers time to plan an appropriate route.
Copyright Press Association 2015. Motoring News articles do not reflect the RAC's views unless clearly stated.