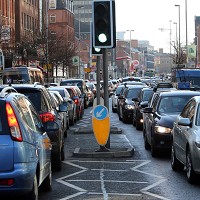 Traffic noise can shorten your life, according to a new study into 8.6 million residents living within the M25 area.
Noise pollution has already been linked with raised blood pressure, insomnia and even weight gain .
And now scientists have associated long-term subjection to road traffic din with increased stroke risk and reduced life expectancy, for the first time. The report's lead scientist thinks it could add to growing proof that road noise reductions would benefit people's health.
The London School of Hygiene & Tropical Medicine 's Jaana Halonen says the study - the biggest investigation of its type - analysed all residents within the capital's orbital motorway from 2003 to 2010.
Residents subjected to 60-decibel-plus (dB) traffic noise during the day faced a 4% increased risk of dying compared to people living in places where the noise rates were under 55dB.
The majority of these additional deaths were artery disease or heart-related. These in turn can be associated with sleeplessness, tension and increased blood pressure caused by noise, the study argued.
Over 1.6 million of the Londoners had to endure daytime traffic noise which exceeded the 55dB threshold, which the World Health Organisation has established as a potential trigger for health difficulties.
Studies suggest that even 55dB can be damaging to people if it is continuous - even though this is only comparable to hearing loud conversations.
The new report showed that adults residing in places with the loudest daytime traffic noise had their chances of being treated in hospital with a stroke raised by 5%, compared to those living in quieter communities. The risk jumped to 9% among the elderly.
Researchers analysed traffic noise on roads in two timeframes - from 7am to 11pm and from 11pm to 7am - across separate postcodes. They then tied up the results with hospital admission and death rates.
Scientists took into account factors such as socio-economic deprivation, ethnicity, smoking levels and air pollution as well as a person's gender and age.
Warwick University epidemiology expert Francesco Cappuccio urged public health policy shapers to start taking more notice to this growing evidence.
Prof. Cappuccio added that it is well documented that night-time traffic noise disturbs both the quality and quantity of sleep.
Copyright Press Association 2015