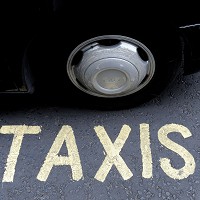 Parts of central London could be hit by traffic chaos on Wednesday as taxi drivers stage a protest against unregulated competition in the capital.
Unions have criticised mayor Boris Johnson for "shrugging his shoulders" when the popular cab-hailing smartphone app Uber came into operation, which taxi drivers described as a "disaster for their trade."
Trafalgar Square and Westminster are among the areas most likely to be affected by the demonstrations, with motorists advised to stay away during the protest to alleviate possible jams.
Peter Kavanagh, of the Unite union, slammed the overseas-based app firm for "not taking bookings or even paying tax in this country," saying the mayor had "shown his true colours" by allowing the private hire firm to operate unlicensed - causing many drivers in the city to lose out on work.
He went on to say that confusion over emissions policy, congestion, privatisation and outsourcing of the regulatory functions at Transport for London (TfL) have all been a "slap in the face" for cab drivers and their passengers.
However, Leon Daniels, TfL's managing director for surface transport, urged the protesters to communicate with TfL directly, describing the "unnecessary disruption" to other road users as regrettable.
Copyright Press Association 2014