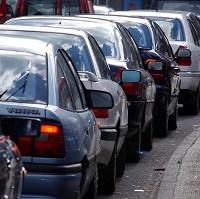 One of the UK's leading motoring experts is offering advice on how to make the vital commute to and from work safer for drivers and other road users.
Britain's top advanced driver, theInstitute of Advanced Motorists' (IAM) chief examiner Peter Rodger, says the rush hour is when the most vulnerable road users are out and about, including children walking and cycling to school. He says it is important for motorists to give children and cyclists plenty of room.
Drivers become careless about routes they know well and Mr Rodger is urging drivers to try to be as professional on the way to work as they are when they get there.
Mr Rodger says commuting drivers should be prepared for the impulsive actions of tired and frustrated road users. Knowing a back-up route to the office can be useful when accidents close roads and listening to traffic and weather updates before setting off can help drivers avoid hold-ups. Regular checks of tyres, washer fluid, lights and oil will keep cars in tip-top condition and guard against accidents andbreakdowns on the way to work.
Few employers see traffic congestion as a legitimate excuse for being late for work, but Mr Rodger says it is "better to arrive late than never".
Copyright Press Association 2013