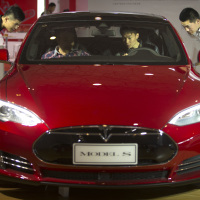 Electric car-maker Tesla Motors has announced it is to step up production after seeing an increase in demand right across its range.
The firm said it is in line to produce half a million cars in 2018, two years earlier than its initial target of 2020.
Its announcement follows reports from the company that it saw a loss in the first quarter of the year of around £195 million.
Despite this, shares in the company jumped by 4% during after-hours trading thanks to the firm's commitment to step up production.
has benefitted from an increase in demand for all of its motors, in particular the Model 3, a five-door vehicle said to be the company's cheapest ever.
Orders for the Model 3, which is set to hit the market in 2017, hit an estimated £8.1 billion in under a week.
Yet in spite of the rise in orders, the manufacturer is still to turn a profit, and has faced some issues with its production process in the past.
In a letter to investors, Tesla chief executive Elon Musk said: "Increasing production five-fold over the next two years will be challenging and will likely require some additional capital, but this is our goal."
Copyright Press Association 2016. Motoring News articles do not reflect the RAC's views unless clearly stated.