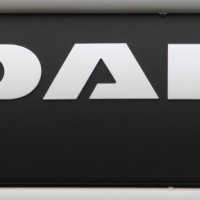 Motorists on Europe's congested highways could face fewer jams in future thanks to a trailblazing experiment carried out this week.
Organisers believe that the arrival of half a dozen convoys of "smart trucks" at a Dutch port could help revolutionise road transport.
The "truck platoon" experiment concluded in Rotterdam on Wednesday (April 6).
Six of the biggest vehicle makers in Europe are behind the trial.
Volvo, Scania, DAF, MAN, Daimler and Iveco are the firms pioneering the scheme.
The president of an umbrella group representing the companies, Eric Jonnaert, says the semi-autonomous trucks are linked up via wireless tech.
He says the lead truck controls both the speed and route of the rest.
Such a cross-border trial has never been conducted before, with southern German and Swedish-based trucks among the lorries involved.
Melanie Schultz van Haegen, Holland's environment and infrastructure minister, says these self-driving motors will make the highways safer, suggesting there could be fewer claims.
This is because human error is behind the majority of accidents, she says.
Ms Schultz van Haegen also claims truck platooning is a cleaner, more efficient mode of transporting goods.
She believes motorists will be involved in fewer jams as a result, with trucks driving at a constant speed.
Human input was still needed to be present in the cabs during Wednesday's experiment.
Copyright Press Association 2016. Motoring News articles do not reflect the RAC's views unless clearly stated.