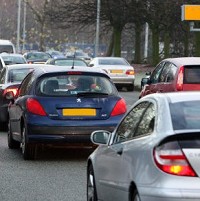 The RAC Foundation is urging drivers to "have their wits about them" after figures showed the daily commute in Britain is getting more dangerous.
Government data has revealed a 5% jump in the number of road deaths and injuries in the morning and evening rush hour periods last year compared with 2013.
Casualties in the two hours after 8am totalled 23,191, while in the two hours after 4pm there were 33,435.
The largest rise, however, was in those killed while driving before dawn between 4am and 6am, which rocketed by 38% to 87.
Data on what contributes to road accidents shows a significant rise in road users failing to look over the past 10 years.
Last year, the problem accounted for 44% of accidents, compared with 32% in 2005.
Steve Gooding, director of motoring research charity the RAC Foundation, said: "With more of us working anti-social hours and trying to beat the jams, our roads can be busy at all times of day and night.
"The danger is that more of us are driving tired and the steep rise in people killed just before dawn could be as a result of workers coming home weary from the night shift or getting up extra early to avoid congestion. The key thing is that whenever we are driving we need to have our wits about us."
The Department for Transport's figures also highlight which parts of England have the most and least dangerous roads based on their populations.
Westminster heads the top 10 most dangerous areas, with 7,823 casualties per million people, followed by Kensington and Chelsea (5,058), Surrey (4,772) and north Lincolnshire (4,756).
Apart from the tiny Isles of Scilly, the least dangerous place to drive is Wigan with 1,396 casualties per million. Stockport (1,412), Solihull (1,810) and Gloucestershire (1,911) were not far behind.
Copyright Press Association 2015