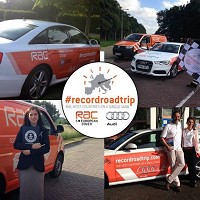 The RAC is about to help answer the question: how many countries can be visited on just one tank of fuel?
Together with Audi, the world record attempt got underway on Tuesday morning - as two motoring experts set their journey planners from a starting point in Holland, setting out towards the Balkan region.
The route will take in countries such as Italy, Luxembourg, Liechtenstein, France, Switzerland, Germany, Austria and Belgium.
Racing driver Rebecca Jackson and Andrew Frankel, the motoring writer, set off on June 9 in an A6 Ultra, courtesy of Audi.
The Euro-crossing began their epic #RecordRoadTrip trip from Maastricht - taking turns at the wheel in four-to-five-hour shifts, motoring almost continuously to optimise their miles-per-gallon figure worthy of a place in the Guinness World Records.
The records authority insists that the two must employ standard fuel and an A6 Ultra from a standard production line.
The pair are not permitted to alter anything, except tyre pressure and speed. They are not even allowed to take away any pre-installed spare parts.
Audi's engineering department, therefore, have endeavoured to pinpoint the optimum tyre pressure and perfect speed to achieve the best results. The car's builder promises top ratings of 109g/km CO2 and 67.3mpg.
Night driving could even improve upon these figures, the team feel. This is because the quieter roads will help the pair keep to their 56mph optimum speed, while the cooler night air bolsters engine efficiency.
Frankel and Jackson are determined to carry as little on-board as possible to help them on their quest.
This means that in-car items are restricted to essentials, such as first-aid kit, navigation support, energy bars, water, breathalyser and other Euro-motoring kit requirements, licence, insurance, passport and registration.
The RAC is using its expertise to provide the drivers with European motoring tips .
Copyright Press Association 2015